From student to teacher: Mr. Meurer's return to Cotter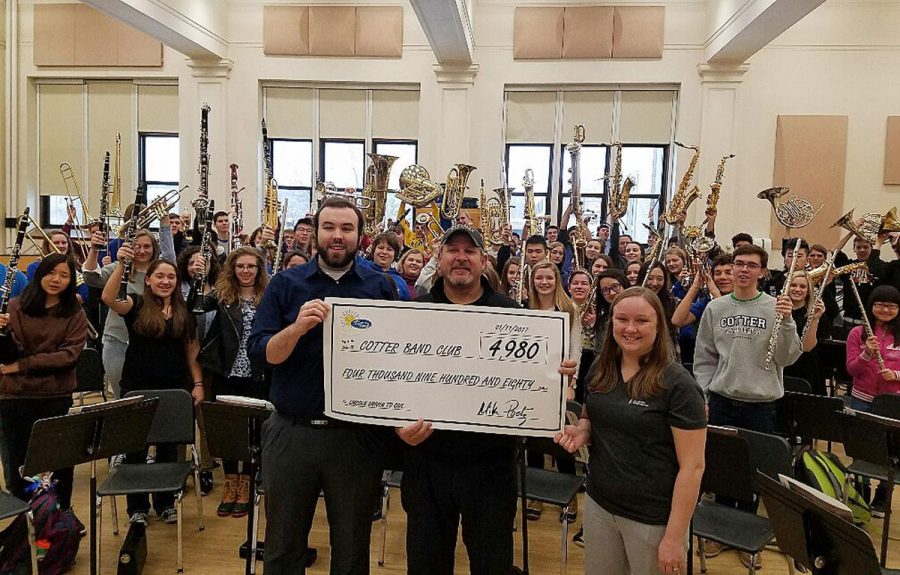 Four years after Andy Meurer graduated from Cotter as a student, Cotter announced a new band director: Andy Meurer.
Cotter band teacher, Mr. Meurer is a graduate of Cotter, but he says Cotter is "very different" than when he went to school.
"I was worried about teaching with old teachers of mine, and I wanted to be seen in a professional light," Meurer said.
However, despite the initial nervousness, Meurer was confident that Cotter was a good place for him.
"I knew that I would be teaching in a place where my program was supported, and that I would get the support I needed so that the band program could be the best that it could be," Meurer said.
After graduating Cotter, Meurer attended Minnesota State University-Mankato for one semester.
"When I started looking at colleges, the school counselor mentioned music education. I knew the Mankato trumpet professor from jazz fests that Cotter went to, and I received a nice scholarship, so I was super excited to go to Mankato," Meurer said.
However, Mankato was not quite what Mr. Meurer was hoping for. He was only one of four trumpet players, and there was not a lot of challenge for him. Meurer described himself as "coasting."
So Meurer reapplied at four different schools, and one of those schools was University of Minnesota-Duluth. Meurer went on a tour of the school, and met many of the professors in the music department. Meurer chose to transfer to UMD, and it was much more successful for him.
"UMD was much more challenging. I was one of 16 trumpet players, so I was pushed a lot more."
Meurer graduated with a bachelor's degree in Music Education from UMD in the spring of 2016, before starting at Cotter in the fall of 2016.
Now in his second year teaching at Cotter, Meurer has learned from his first year.
The main lesson Meurer learned is to "keep people happy. Cotter has many passionate parents and teachers, and any decision I make is taken very seriously. In my first year, I was offended when I would send out an email and receive tons of responses. But I learned that the parents just want what is best for their kids and the band program."
Meurer has also tried to make some changes he felt like the band program needed. This semester, Mr. Meurer changed the band grading system. This system is not only based on attendance, but also on attending outside concerts, participating in outside music ensembles, playing scales in lessons, and other musical experiences.
"I wanted to add to the accountability of the band program. I wanted people to take ownership of their own musical learning. It used to be show up, and get an A. But I think students should be expected to learn curriculum as well."
For the high school, Mr. Meurer directs the Symphonic Band, Jazz Band, and Marching Band.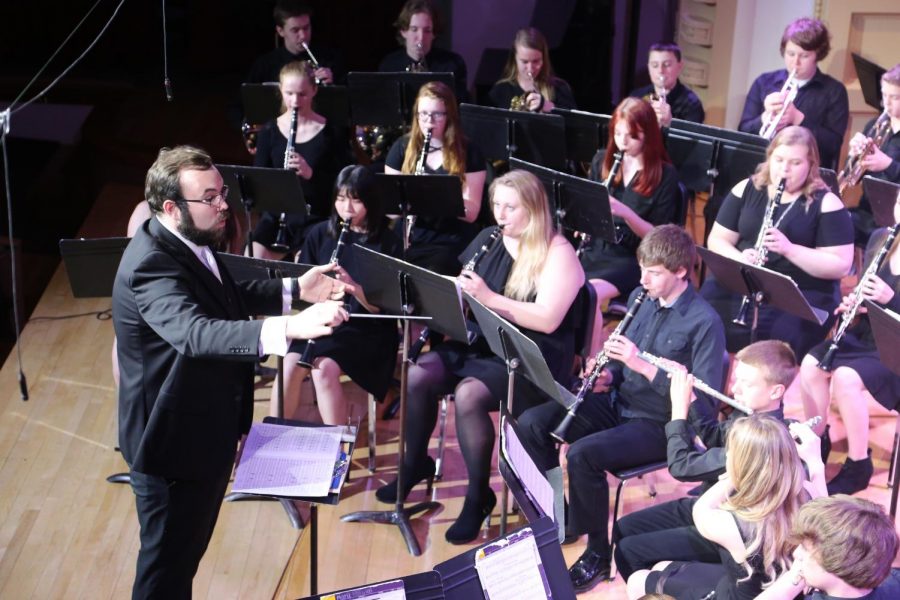 Meurer said he is "excited" for the upcoming summer marching band season.
"We have a great group of kids this season, many strong players, and great leaders in each section," Meurer said.
The show for this season is titled "Malaguena" and Meurer states that a challenge for this piece is that it is "well-known in the marching band world." While Meurer says playing a "traditional piece is a little worrisome" because the judges will know the piece before the band plays it, he is excited to "make the piece ours."
The trip is "set down on stone" for Michigan. The previous trip was to Calgary, Canada, which was a huge success for the band.
The Cotter Marching Band performed the show "Quidam" in the Calgary Stampede, and it won Best Band in its class, best color guard, best drum corps, and Best Unit overall.
Meurer was also very impressed with how organized the Stampede was, despite the size. However, the parade was long- 3 and a half miles- and it was very hot. Meurer estimated about 95 degrees Fahrenheit.
Meurer described the trip as very "successful."
"Even though lots of time was spent on the bus, I hope that every band kid gets to do that trip at least once," Meurer said.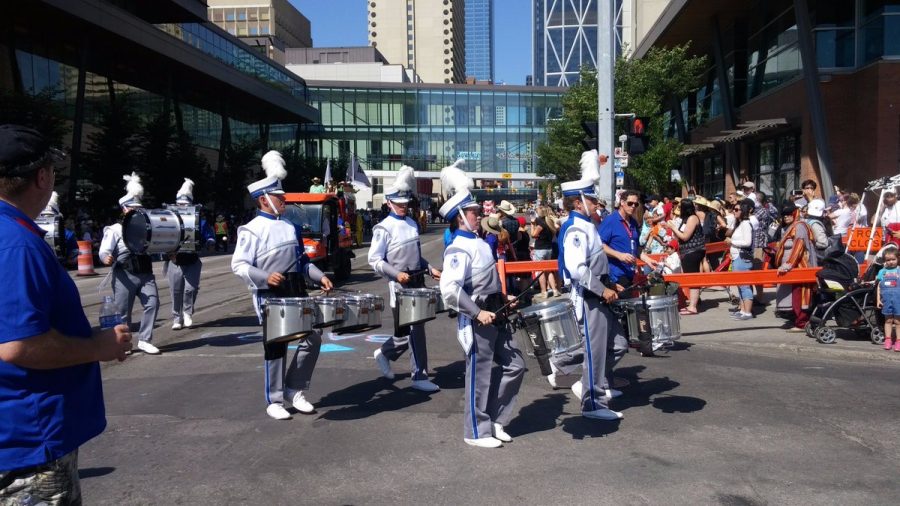 Even though the high school band job is significant, Mr. Meurer also heads the junior high program.
When asked about how he handles both programs, Meurer said he "hires help." Having the ability to hire Ashley Buhr to help with the junior high marching band, as well as hiring teachers to help with lessons, which allows for Meurer to get his preparation done.
"I also rely on students for their leadership, and I try to hold the junior high to the same standard as the high school," Meurer said.
Even though Meurer's job is a lot of work, Meurer remembers why he chose to be a band director in the first place.
"I love that my daily goal is to make music. Even with organizational things and stress, no matter what, I get to set everything down and make music. I love making music, and I love getting others to love making music as much as I do."
"
"I love that my daily goal is to make music. Even with organizational things and stress, no matter what, I get to set everything down and make music. I love making music, and I love getting others to love making music as much as I do.""
— Andy Meurer
Meurer's love for music has indeed been contagious. Stop by Mr. Meurer's office before school, and you will find his office packed with high school band students.
Two of those students are sophomore trombone player Megan Zenke and senior clarinet player Alexa Hesch.
Megan Zenke credits Mr. Meurer for much of her improvement on the trombone.
"Without Mr Meurer I would not love band as much as I do now. I wouldn't have found half of the wonderful friends I have. I would not have developed my musical skills or recognized my talents without him. Overall, [he is] a very encouraging teacher who cares for each one of his students," Zenke said.
Hesch had the same impressions of Mr. Meurer.
"He has pushed me to be a better clarinet player and to be at my full potential, before he came I never tried that hard and didn't want to work hard to be good, but after he came in he pushed me and I have improved immensely because of him…. Mr. Meurer is a very sassy sarcastic teacher but without him I wouldn't be who I am today," Hesch said.
There is a reason Meurer's office is packed before school days. His students relate to him and gravitate to him. His energy and love for music is contagious, and it has inspired his students and all people who have come into contact with him.
"Mr Meurer is incredibly relatable and fun to talk to, especially about band," Zenke said.
It seems Mr. Meurer's mission of sharing his love of music has been accomplished.