Moving down to move up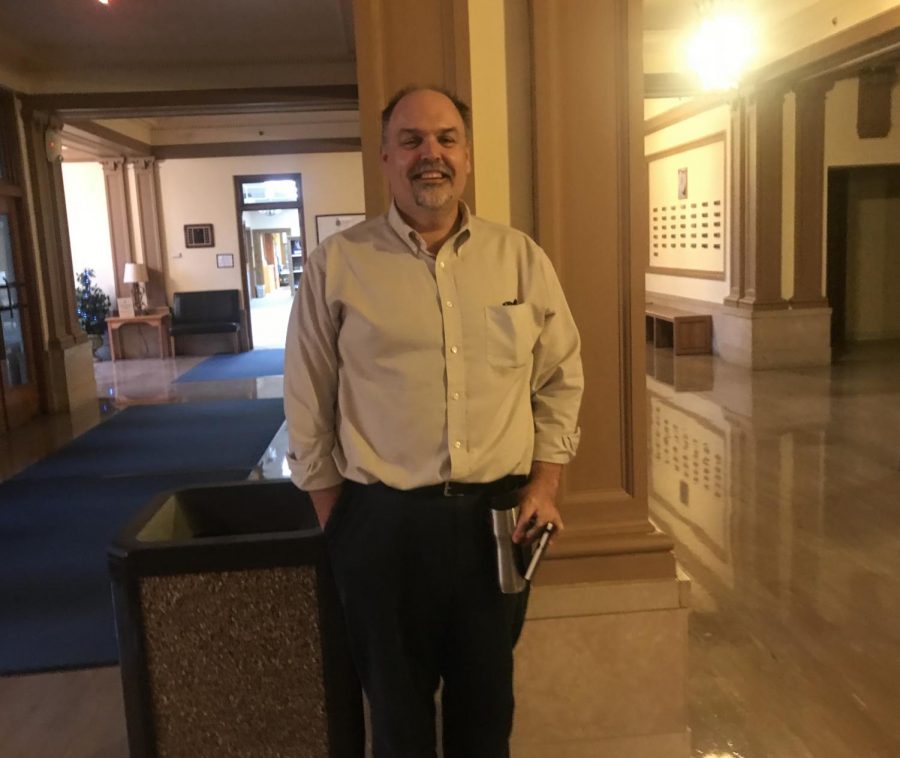 Steven McGlaun transitioned from fourth to first floor this past summer.
McGlaun, a former religion teacher,  is the new Director of Development at Cotter Schools. In this position, he works with donors and benefactors to raise money to help the school operate and develop special projects.
Mr. McGlaun works closely with Sr. Judy, Erik Christenson,  Anne Marie DeMarais, and Anna Koopman. A current project they are all working on is the Annual Appeal, set to launch November 5.  The main purpose of this event is to reach out to the community, alumni, and other benefactors to help raise money to support Cotter Schools.
"Most students don't realize that tuition does not cover the school's essential costs, so raising money is essential for the school to keep running," McGlaun said.
"I miss some of (teaching)… but I like what I do now because I get to impact Cotter in a bigger and different way." McGlaun said.
He sees this position as an exciting new challenge.  A reason that McGlaun decided to switch positions is because he likes the students, he would like to Cotter continue on and grow as a community. This is a real opportunity to help the students in a way he could not as a teacher.
"
I like what I do now because I get to impact Cotter in a bigger and different way."
— Steven McGlaun
He still has some chances to act as a teacher. The other day, McGlaun found himself wondering up to the fourth floor and found a couple of freshmen struggling in the learning center, he instantly went into full teacher mode for a couple minutes trying to give them his assistance.
"Mr. McGlaun was one of my favorite teachers, not because his daughters sell Girl Scout cookies, but because he had a way of making class more enjoyable. And he's also really good with his students, he makes everyone laugh," Manya Kamara said.
Kamara explained her favorite thing about McGlaun teaching is that he cares about his students a lot and what will help them succeed in their learning, instead of what will just stress them out.
Now working side by side with McGlaun is Erik Christenson, Cotter class of 2000 alum.
Erik came back to Cotter this last July, Christenson's role here at Cotter is to drive international recruitment for the boarding school program and Alumni Relations.
"Working with Mr. McGlaun has been a very positive experience. Despite his love for the Astros and he propensity to say "Y'all" frequently. I really do enjoy working with him. I have been impressed with his passion for the students of Cotter and allowing that to drive his focus around development."
McGlaun and Christianson work with Sr. Judy to find the needs for Cotter Schools, the students, and for the future. The two together are able to get work done, because they are able to fill in the "gaps" for each other.
"I have found Mr. McGlaun to be a selfless, friendly, and helpful person. He is always open to new ideas and opinion. More than anything, he cares about the students of Cotter Schools and there success."
Mr. McGlaun is missed as a teacher, but he is still doing important work for the Cotter Community.