Workin' 5 to 9: a look at high school employment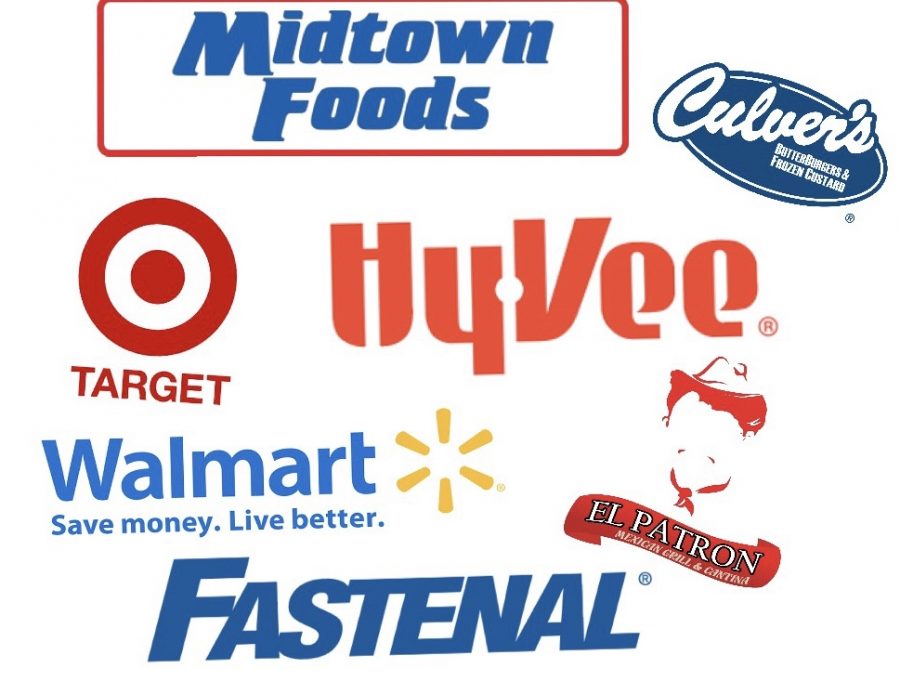 The majority of us will spend much of our lives sitting behind a desk working for hours on end until retirement. Pretty exciting, right?
As teenagers transition into adulthood, they're taught responsibility and basic life skills. This may come from the influence of their parents, or maybe through student employment.
However, the percentage of high-schoolers involved in the workforce has declined tremendously over the years.  In 2000, 51.7% of teens were employed, this number dropped to 35% in 2017, according to a recent study.
This begs the question, why are the rates of student workers falling over recent years?
There are definite  pros and cons to student employment. It teaches the student skills that are necessary for their future, provides experience that looks good on an application, and it gives teens responsibility during a time of development. However, it takes away a lot of free time from students and causes them to miss out on some amazing high school memories.
Applying this topic to our own community we polled sophomores, juniors, and seniors at Cotter to see how many students worked, what kinds of jobs they are working, and how often they work.
We separated the responses into three categories: employed, unemployed, and unemployed dorm students (who's visas do not allow them to work in the US.) The resulting pie charts show a trend towards employment that continues to increase throughout high school.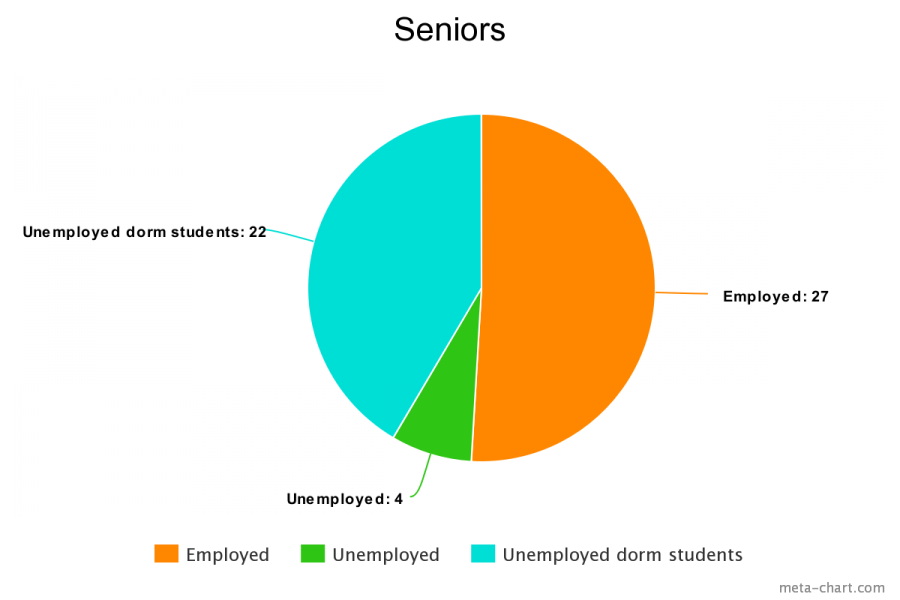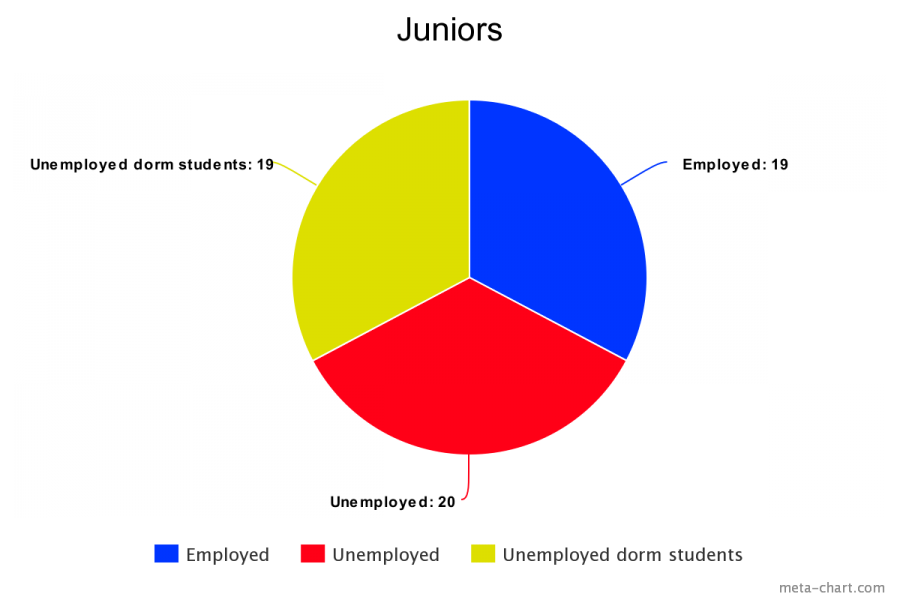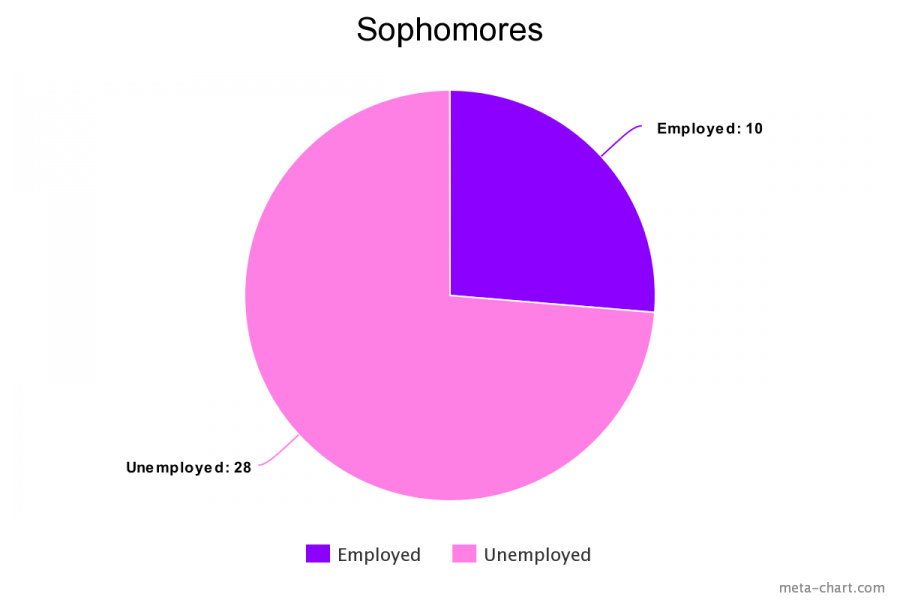 Seniors had the highest percentage of student workers, with about 87% of non-dorm students involved in some type of employment. Juniors are runner up, with almost half of non-dorm students employed, while just more than a quarter of the sophomores polled are currently employed..
"Students should have jobs because it is a way for them to get money for gas and activities that a teenager should have the responsibility to pay for themselves." said Joe Danielson, a student that works at Culvers.
A counter argument to this stance is that a job would prevent students from a social life, and they would have to deal with a difficult environment in the workplace from management and/or customer service.
Joe claims to have missed some activities due to work, but he typically had a flexible schedule.
"Most customers were usually nice. The work can be pretty bland since you're doing the same job every time, but I was pretty helpful with my co-workers so my boss liked me," Danielson said.
Danielson said he used most of his paycheck from Culvers for extra spending money.
Mackaylee Kohner, a junior at Cotter, who works at Callista Court, an assisted living facility in Winona, also agrees that student employment is a mostly positive experience.
"It is a good thing for students to have a job in high school because it paves their way for the real world. However, it is also good to keep balance with a social life as well, and not devote these primary years only for working," Kohner said.
Kohner has a routine, simple schedule and doesn't over schedule herself, so that she still has some time for friends. Her work is willing to build their staff around events or sports.
She has made a lot of bonds with her coworkers as well.
"My work friends and I are like a little family. It is a very active and busy place, but they keep me sane."
Mackaylee takes a little bit of spending money out of her paycheck, but most of what she makes is applied towards her savings for college and the future.
Ella Reilly, a senior, is currently employed at Fastenal's distribution center, thinks it's a good thing for students to have jobs, especially juniors and seniors, because it teaches them to be more independent and not so reliant on their parents for money.
"Over the summer, I felt that my work prevented me from going to certain events such as Ashley for the Arts, basketball tournaments, and outings with my friends, but my boss was pretty flexible when I gave him a heads up a week or two in advance," Reilly said.
Reilly has somewhat of a difficult time in the work environment, however,  "It can get pretty hostile, not going to lie."
Though her boss was pretty lenient with her taking time off for other needs, her coworkers were harsher and didn't take much of a liking towards it.
"
The benefits of having high school students work are that they are local, so they can work holidays and summer hours, and they do not need to be guaranteed a set amount of hours and will fill in for 3 and 4 hours shifts if needed"
— Amy Gossen
Reilly is going to be attending college next year, and is working usually 4-6 hours a week to save up for that cause, while balancing homework and sports.
Over the years, there has been a tradition of Cotter students working at Winona's largest locally owned grocery store: Midtown Foods. Midtown is owned by Ernie Gorman, whose four kids are all Cotter graduates. Kevin Gorman, Ernie's third eldest child, is preparing to take over the business when his father retires.
A manager at Midtown Foods, Amy Gossen, is in control of training new applicants and making several decisions.
"The benefits of having high school students work are that they are local, so they can work holidays and summer hours, and they do not need to be guaranteed a set amount of hours and will fill in for 3 and 4 hours shifts if needed. The biggest con about having high schools workers is their flexibility."
"Years ago we didn't have good luck hiring any high school students, now we hire a lot of students at 16 and they work throughout their high school years," Gossen said.
Midtown Food's staff is  currently about 20% high school students.
"It's hard if they start before 16 as you have to depend on someone else driving you to work. But really depends on maturity. If you can balance school work and a job, age doesn't matter. I have had 16 year olds that communicate better than 20 year old college students. Plus, does the student want the job or is a parent pushing for it? The student must want it," Gossen added.
Gossen believes that students "gain responsibility and the ability to deal with a lot of different people. With being close to management, co-workers, and customers they develop people relation skills that last a lifetime."
"If you can look friendly and want to learn anyone can be taught to work at Midtown. An employee has to be able to take directions and continue to follow them through. They have to understand if you are hired as a cashier you might be standing by a register 4-8 hours in a day. If you are hired as a stocker you might be standing up front bagging and carrying out groceries. This includes in freezing temps and in scorching weather. As an employer Midtown Foods knows that a students life should not consist of work alone. We try to to keep hours between 6-12 hours a week so they don't struggle with school work and are still able to participate in after school activities. We try to make it a fun and social place to work as long as our customers are being taken care of."
Barry McRaith, Regional Operations Manager at Fastenal, emphasizes the idea that student workers learn the skill of prioritizing in the workplace, which is crucial for their future.
He sees the value of the student workers at Fastenal and that they fill a definite need for the company.
"
I feel like our high school kids are traditionally better workers, and more committed than some of our other workers. They work because they want to, rather than college kids who work because they need to"
— Barry McRaith
"We have had some issues in the past with students who have time commitment problems and struggle with prioritizing their schedules."McRaith said.
"I feel like our high school kids are traditionally better workers, and more committed than some of our other workers. They work because they want to, rather than college kids who work because they need to."
Fastenal promotes four core values:  teamwork, ambition, innovation, and integrity. Students that learn these qualities as they work will carry them throughout the rest of their careers.
When Fastenal is interviewing new applicants, they search for these values as well as other things.
"Obviously work ethic is important. I really look for initiative and innovation; kids looking for a better, more creative way to get a job done," McRaith said.
"I really like relationships with students and what they bring for us. I love when we have kids that come in early on and continue to work as they come home from college. There's so much opportunity in so many different areas, and it provides a foundation for what some kids who want to continue this area of work in the future. It's really neat to see that development."
The Cotter community promotes doing your best in all areas of students' lives. Whether it's  schoolwork, time at home, activities, or work in other areas, skills learned throughout high school years become the foundation for work potential in the future.
Most of us will spend the majority of our lives in the workplace, getting a start as a teenager may help you advance your future career, but also improve your general well-being.