Remembering 41
Hang on for a minute...we're trying to find some more stories you might like.
The country mourns the loss of the last President from the "Greatest Generation."
George Herbert Walker Bush (June 12, 1924 – November 30, 2018), was born in Milton, Mass., to a prominent New England family. One could describe the Bush family as being almost aristocratic. Prescott Bush, father to George H.W. Bush was a Senator from Connecticut (R). The Bush family can trace their lineage back to the colonies and founding days of America. Despite Bush's upbringing, he remained humble and down-to-earth which was a quality that was instilled in him by his mother, Dorothy.
Bush was heavily influenced by the women in his life most notably his mother, but even more so than her was his wife, Barbara Pierce Bush.
Bush and Barbara met in  high school and got engaged before he entered the war.  After he returned from serving in the Pacific Theater in the Second World War as a bomber pilot they married.
The couple would go onto have six children, two of whom would become governors and one The United States President (43). Bush moved his growing family to Texas where he got his start in American politics.
Bush had an impeccable resume and perhaps was the most qualified candidate in US history to become President. Prior to becoming President, Bush served as a Congressman, liason to China, Chairman of The Republican National Committee, and Vice-President of The United States under Ronald Reagan.
Bush and his running mate Dan Quayle were successful in clinching the Republican nomination for the Presidential Election of 1988. Bush then went on to beat the Democratic ticket, Michael Dukakis and Lloyd Benson, for the President of the United States. Even though Bush was only a one term President, he can be credited for sweeping environmental reform and protection the likes of which the White House has never seen, and the successful Desert Storm Operation in the 1990s. Bush lost re-election to Democratic Arkansas Governor Bill Clinton and his running mate Al Gore in 1992.
Bush will be remembered for his class and his refined character that was befit of the office of the President of the United States. In the words of the late great President. "I want a gentler and kinder nation,"- President George H.W. Bush
The Bush Family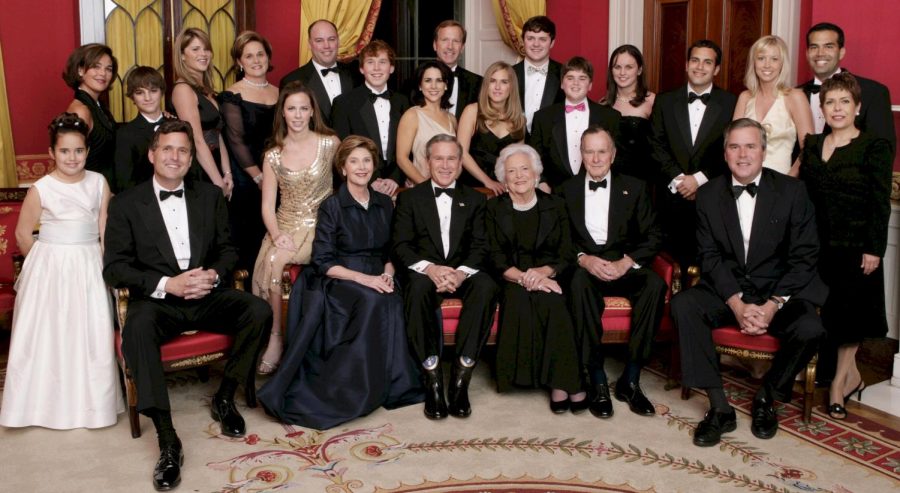 Two summers ago I traveled to Kennebunkport, Maine and got a glimpse of the President's New England Compound.