Will they replace Us? Horror film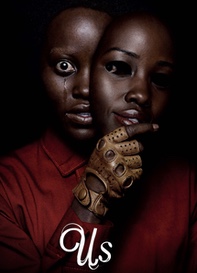 Looking for a horrifyingly twisted movie? "Us"  directed by Jordan Peele will have you checking behind your back every 5 seconds.
"Us" was recently released to theaters on March 22, 2019.
Throughout the movie, Peele has the audience biting their nails and jumping out of their seats, the sound effects and music had perfect timing to ensure that.
The actors do an outstanding job on captivating and compelling the audience and making them believe their emotions and story. You can genuinely see the fear in their eyes.
Some parts of the movie were a little bit cliche and predictable, but all horror/thriller movies can have those moments.
Jordan Peele has directed several other movies as well, the most well known one is "Get Out" another horror/thriller  that  had the audience on the edge of their seats.
"Us" starts out in the past with the main character Adelaide Wilson as a child wandering off at a carnival, finding herself in a fun house mirror room. She entered that house one person and left another. Adelaide claims she saw another girl in there, insisting it was not her reflection.
Years pass by, Adelaide now has a family of her own and she finally feels safe again.. for now. Adelaide and her family take a trip to their summer home, which also happens to be the place where the carnival was when she was younger. While there, Adelaide feels very skittish, unsafe, and watched.
The family one night is startled and awaken by another family standing in their driveway. The Wilson's find themselves in a fight with themselves.
Throughout the rest of  the movie they learn that their family is not the only one being attacked. They learn that everyone has a clone,  and it they claim it is "their turn up there now."
The end will leave you twisted and thinking.
Some of the main characters in the movie include Lupita Nyong'o, Winston Duke, Evan Alex, Shahadi Wright Joseph, and Madison Curry.
Lupita Nyong'o played the primary character in the movie, Adelaide Wilson. She is a at Kenyan-Mexican actress who has also had roles in Black Panther, 12 Years a Slave, Star Wars, Queen of Katwe, The Jungle Book, Little Monsters, and Non-Stop.
Winston Duke, a Tobagonian actor played Adelaide's husband. He has been a part of Black Panther, Avengers, The Messengers, and Wonderland. He will also be appearing in the upcoming movie Avengers: Endgame.
I would give this movie a 4.5/5 Rams.
"Us" has been filling theater seats and getting a lot of media buzz, go get your tickets today.