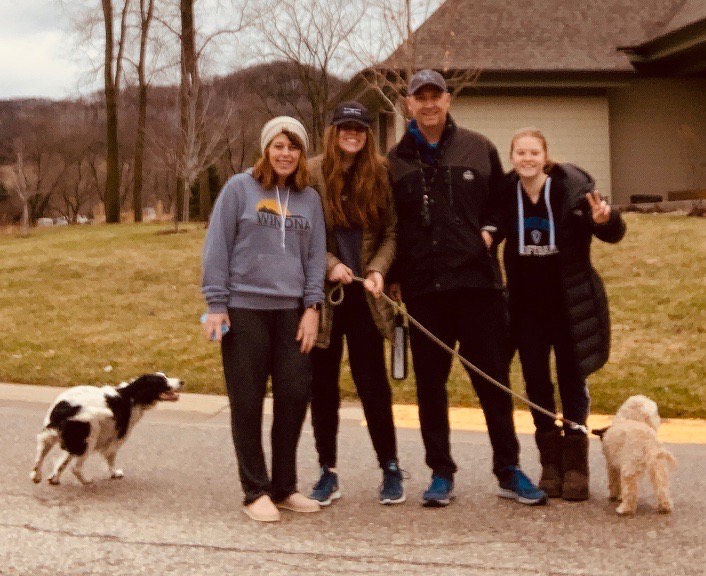 Grace Milkler
In the state of Minnesota, a stay at home order has been put into effect from March 27 to May 4th, leaving many Minnesotans wondering how to handle and utilize this time at home.
For Cotter students, a significant portion of our quarantine time is spent continuing our education through online learning. Online learning is a great resource and our only real option due to the virus. However, 8\10  Cotter students responded "yes" to an Instagram poll asking if online learning had caused some difficult adjustments for them. There are many ways to improve your online learning experience.
Tips and Tricks for Online:
1. Organize your books, journals and folders.
Many of us are missing our lockers right now but the remedy is not shoving all of our books in our backpacks! Try putting your books on a shelf or in bins. I, personally, made a make-shift bookshelf on my dresser.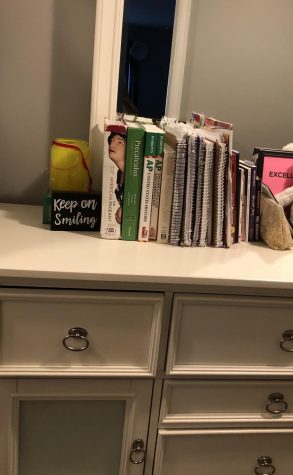 2. Write down all of your assignments in a planner, journal, or notebook
One of the main complaints buzzing around Cotter is that all of the Google Classroom announcements that come with online learning can be overwhelming."Other than trying to find the link to the right zoom class, classroom has also been stressful lately with all the notifications popping up," Cotter junior, Maddie Kohner said.Taking the time to sort through all of the emails and write down your assignments helps you realize exactly what you need to do and when, relieving some of the overwhelm.
3. Try out a new space
If it seems like you just can not get motivated to do online learning, try moving your work space to a different part of the house. Find what works for you!
Taking the time to sort through all of the emails and write down your assignments helps you realize exactly what you need to do and when, relieving some of the overwhelm.
4. Establish a morning routine
Realistically, not all of us are going to wake up and get dressed up for online learning. Your routine might be waking up at 8:45, throwing a sweatshirt on, and grabbing a cereal bowl. If that works for you that is totally okay! But, if you are having trouble getting into a learning mindset, try getting up like a regular school morning. Getting dressed up can do a lot to boost productivity.
With online learning finishing at 1:30 and with all after-school activities on halt, Cotter students have more free time than ever. This extra time can cause boredom but there are many ways to make it fun and to use it to better yourself!
Tips and tricks for making the most of your new-found free time
1.Exercise!
Staying in shape might seem difficult without sports and our weight room facility, but there are many ways to do this at home. There are countless fitness apps you can download for free, you-tube videos, and other workouts posted on various social media platforms. Mr. Haun also sent out a workout created by Ben Charles. These can all be done using body weight, no equipment necessary!
Doing exercise can also improve your mood due to endorphins! "When you exercise, your body releases chemicals called endorphins. These endorphins interact with the receptors in your brain that reduce your perception of pain. Endorphins also trigger a positive feeling in the body, similar to that of morphine," states the New York Times. Therefore, exercise is good for you both physically and mentally.
Cotter Home Workouts
2. Organize something…anything….everything!
Our lives are so chaotic! Now that everything has drastically slowed down, use the time to get your life in order! Clean out your car, tackle that junk drawer you haven't opened in three years, color coordinate your closet, just do something that will make a small improvement in your life.
3. Pick up a new skill
Have you always wished you knew how to knit a scarf? Did you get a ukulele for Christmas one year but never learned how to play it? Now is your chance!
4. Call a relative
Your grandma would love to hear from you, and you have no excuse now.
5. Bake a treat…or a healthy snack
6. Read a book or start a new TV show
7. Get outside!
Another issue with quarantine is the feeling of isolation. Although we are physically isolated from each other, technology makes it possible for us to continue to connect.
Tips and Tricks for staying connected
1. Facetime a friend
There is something special about seeing the person you are speaking to. Try this instead of texting.
2. Join Alpha (for women) or one of the other Cotter groups meeting through zoom
3. Invite all of your friends to a zoom party!
4. Keep up with happy news
The corona virus has resulted in lots of terrifying news stories and an overwhelm of information.  It is good to stay informed but often we are bombarded with more than what is necessary. Luckily, there is still lots of good in the world. Take a look at this site…https://www.goodnewsnetwork.org/
There are elements to the covid-19 quarantine that, frankly, suck. But if we view this time as an opportunity, we can survive and THRIVE!