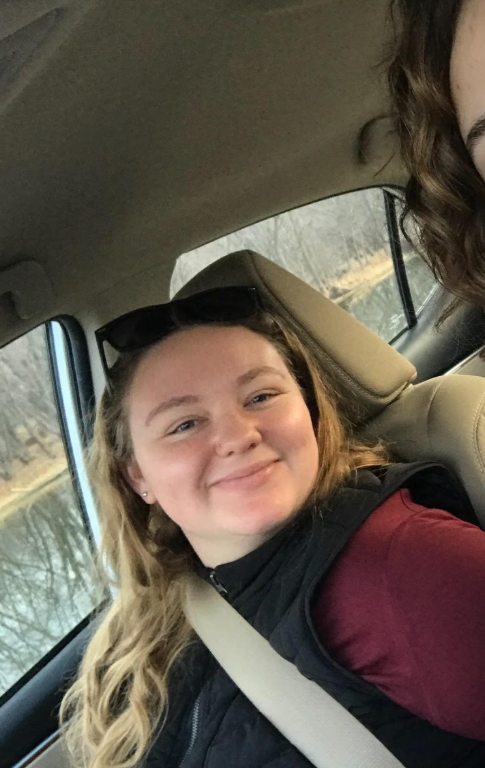 Suzanne Duellman
"They're not as annoying as adults," Abby casually mentions, "Kids really are the main part of the experience; they usually go with the flow and are just fun to be around- they're adorable."
Abigail (Abby) Allred is a 16-year-old Winona girl who has attended Winona Area Catholic Schools since she was three and is currently a junior at Cotter.
During her free time, Allred enjoys babysitting for eight different Winona area families- sitting for roughly thirteen children total, both boys and girls. Having babysat since she was 11, Allred has learned the tricks of the trade,.
"One trick is to put a child in a box and give them markers- they'll be busy for hours and there's no mess on the walls."
When asked how she found herself looking into babysitting, Allred readily responds, "I've always loved kids; and as the fire guys started having children, I was becoming more trustworthy. I started with Hudson when he was a little baby- Natalie asked me to watch him for two hours, and from then on, they were all fighting over me."
Natalie Connell, the mother of two children Allred cares for, says that she has always had a positive attitude toward babysitting. As a teenager herself, she babysat for several local families.
"I really bonded with one family I babysat for many years; I was very close with them. I love that we have that same kind of connection with Abby and my kids as I was with babysitting," Connell said.
"I guess [I was deciding] even before the fire department, when my husband and I played softball together with her family. It was building up our trust during that one hour of Abby watching kids during softball games; she always took it as a job even though it was something very casual. It just kind of evolved into where I could trust her to watch them overnight. We interviewed other people- no one even came close."
In the early stages of parenthood, Connell had reservations about having a babysitter, much less hiring a teenager. She says that it took a while, partially due to the anxiety that comes along with being a parent.
"It almost took Abby's family to say that they could watch my kids. [There were reservations] early on, but nothing anymore."
Abby'smother, Jessica Allred, admits that she was nervous about the possibility of her daughter becoming overwhelmed. "…but at the same time she was very excited. Now before she leaves the house it's just a simple 'Drive safe!'"
A chuckle escapes her smiling mouth, "That's my constant. I used to ask a lot more questions. Little things, like, 'be aware of this', 'be sure of that.' I used to tell her if she wasn't comfortable, to call me to give her a ride home. And I'd remind her to clean up the house and toys before she left," Jessica said.
As any good parent would be before sending their child to watch other children alone, there were slight concerns Jessica had, but they quickly passed.
"Abby's very good with children, responsible, organized. And she had been around cousins and small children in my presence before so I knew she would be good at it. She also took the American Red Cross babysitting class."
Courses are available through certain schools and organizations, they provide the student with the knowledge and skills they need to successfully watch children. During this training, teenagers are expected to study and participate in mock-experiences with dummies provided by an instructor. Certain emergency based techniques are learned as well, such as the Heimlich maneuver used when someone is choking.
Thankfully, Allred has never experienced any major mishaps during her time as a babysitter, though she always makes sure to have her phone before leaving her house, "because I can communicate with my parents, the kid's parents, 911, the parents can reach you, and so on."
However, Covid-19 created a dip in Allred's booked schedule.
"I was told a few times that 'everything is canceled and we can't go out anymore- so we don't need you as much.' It put a dent in my planner for sure."
Allred suddenly had several weekends in a row free for doing normal teenage activities. "Toward the end of all this, I was needed more. Parents became busy again."
Allred's basic "Dos and Don'ts of Babysitting" are as follows, be encouraging, act appropriately, be respectful and kind, do not leave the parents on read, always be thankful for whatever sum you earn, don't invite other people over, pay attention to the kids- it's why you're there.
Teenage babysitters are not uncommon; in fact, they are a frequent American staple in young adult and child media. This casual business is one that many teenagers partake in to save up for college or earn extra personal spending money.
Allred's average rate runs at about $10 per hour- which may seem low for the amount of time she is typically working. According to kidsit.com, the average hourly rate for a babysitter in 2020 was $17.73. This rate can depend on the time spent watching the kids, age and amount of children, tasks asked of the babysitter, the distance away they have to travel, the income of the parents, and location.
Before a babysitting gig, Allred prepares herself in a specific mindset, "You have to get out of the normal teenage mind; thinking more clearly about all of your actions and speaking with purpose, because they copy literally everything you do."
Connell's four-year-old son, Hudson, agrees that Allred has been a good influence on him. His mother says, "He talks about her constantly; sometimes I think he likes her more than me." 
While there aren't any particular changes in the boy's behavior Connell credits to Allred, she believes that consistency is more important in that aspect, rather than improvement.
"Abby does a good job at being consistent with her behavior and influences, his behavior stays the same after she watches him."
Parents teach the basic and important things, babysitters are a fun constant thrown in the equation. A good babysitter, in Connell's opinion, "shows the responsibility and effort into caring for my kids and doing fun things. I think it's a good life skill to have for the rest of life, important for life's challenges and future jobs."
Babysitting, much like every job, contains skills that correlate to real life.
"I have learned a lot about responsibility, for sure, but also how parents feel and how they are, especially in public. You feel for them more and you understand; you have more respect for them on a personal level, " Allred said.
Allred hopes to teach the children she cares for to be decent human beings, "being respectful and kind. Don't grow up a jerk, ya know? Just be compassionate toward others and yourself."
In general, Connell views babysitting as an amazing resource available to her. "…it's important to find a very trusted person," she starts, "somebody you know who will take just as good care of them as you would as parents. Someone who feels very comfortable with emergency situations. Being able to have somebody who, if I wanted to go out for dinner with friends, would be available. I encourage everyone to find their trusted babysitter and have them part of the family, I guess… like Abby is."
To parents new to the concept of having a stranger care for their children, Allred says to "be aware of who you're choosing and trust them, because it will go better than you expect. When I was younger, they were skeptical at first, but when they returned home, they were excited to hire me again for next week. I think I was a nice surprise. Tell your sitter when and what to eat, if there are any allergies, bedtimes, naptimes, when you'll return, and anything else specific you as a parent require someone caring for your child to be aware of." 
Allred has some advice for new babysitters:  "You have to love what you're doing and be mature. Watch your actions and words because they absorb everything you do. Treat them like normal people, don't baby them constantly. Have fun and be conscious. It's almost like a maternal instinct, but not."
Allred says she's stuck with it this long because they became her "other best friends. It doesn't feel like a job, it's playing with them… I'm still as excited to see the kids as when I first started."