Capharnaüm — a thrilling story of family and poverty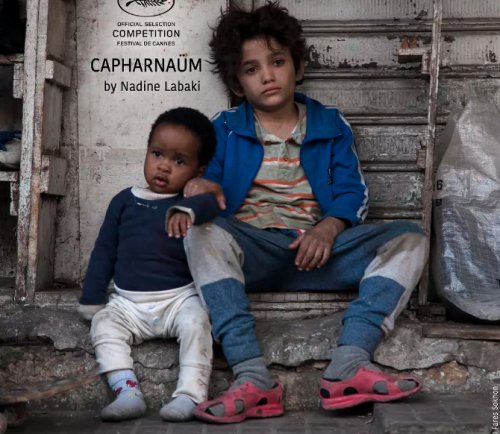 "I want to sue my parents… for bring me into the world."
This line really goes to the heart, at the same time said this 2018 Lebanese movie story of helplessness.  The American name for this film is Capernaum, and it ended up on many lists of the best movies of 2018.  The main actor was 12 when the movie was shot and he was a Syrian refugee living in Beirut.
The story is set in the slums of Beirut. The protagonist of this movie, Zain, is a 12 year old boy who is the eldest son of the family with 7 children. He wanted to go to school, but he had to earn money to make a living in different ways including using forged prescriptions to purchase tramadol pills crushed into powder and sold to the addicts in prison.
He takes good care of his brothers and sisters, especially his younger sister Sahar. Sahar is sold by parents to Assad after the onset of her menstruation which causes Zain run away from home in a rage and sadness because he can not do anything to help her. After that, Zain meets Rahil, who is a illegal migrant worker with a baby Yonus.
Zain helps her take care of Yonus when Rahil work as a cleaner at a park. Before long, Rahil is arrested because she has no money for a new forged document. Zain has to get money for himself and Yonus. In a piazza, he meets a girl Maysoun and gets the message that the forger Aspro can get them to Sweden.
With the pressure of taking care of a baby and a series of rough deal, Zain agrees Aspro to make them to go Sweden, however, Zain needs his ID. After being home, he is told by his parents that he has no ID from when he is born. After revealing Sahar had recently died due to difficulties with her pregnancy, he stabs Assad and arrested into a prison. In the prison, he sues his parents with the help of an attorney for they bring him into the world.
The plot is actually very moving. The acting is impressive depicting despair and helpless interpretations of the heart. The sights in the protagonist's eyes really touched me, delivering the message of "I am not going to give up" at anytime he faces difficulties. Through all his difficulties he always chooses to fight back.  That is why he has the courage to stand in court to charge his parents for his predicament.
There is no doubt that the theme is about families and children. Every sections in this film is about families. Zain does not feel the sense of a family. His parents can not give his children love because they are extremely poor.
In such a family, parents children are continuously be harmed. That is why Zain says "I want to sue my parents… for bringing me into the world." in the court to speak out for all children who have similar experiences. He wants children can come to the world with better lives instead of born to suffer. Zain also grows during the movie, he is always hard-working, sensible and with a strong mind. But he is not clear with a feel of family initially. In Rhail's home, he starts to understand that with the scene of Rhail's love to Yonus which is what he never got in his own family.
The love in a family is also what the movie tries to convey that should be protected.  It is a movie well worth your time to watch.