Local Viet Nam veteran addresses seniors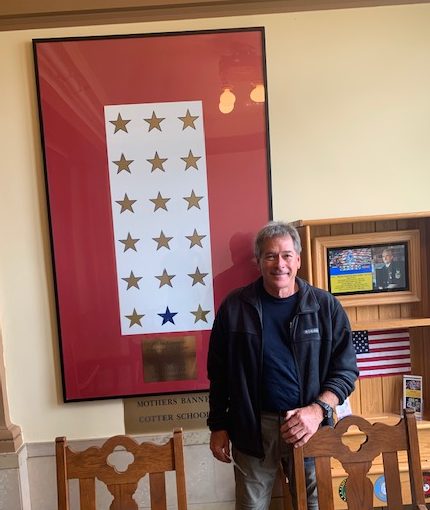 From rescuing soldiers and dropping supplies as the pilot of a Huey helicopter in the thick of battle during the Viet Nam war to paddling the entire length of the Mississippi on his own, Jim Crigler has been on many missions of honor.
Crigler, a retired local businessman and Viet Nam war veteran, spoke to the senior class at Cotter on Tuesday, October 12, in a special flex assembly in the former chapel in the the St. Teresa building.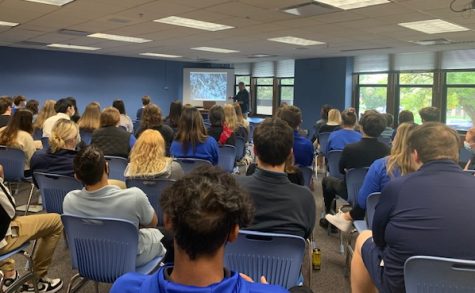 Crigler spoke about his childhood, his training for the military, his experience in Viet Nam, his solo canoe trip down the Mississippi to raise awareness for Gold Star families, and some of the people he's met along his journey and the philosophy he has developed.
The seniors were impressed with his story.
"What stood out for me was how strong of a passion he has for Gold Star families and how he followed through on his pact with his roommate," Ashur Rouleau said.
"My favorite part of the talk was the video of Jim reuniting with his roommate's brother.  He has showed bravery in the military and on his canoe trip," Megan Morgan said.
"It stood out for me how Viet Nam vets were not honored, but often shamed.  It hid me hard when Jim Crigler said that behind each fallen soldier is a whole bunch of other people who are impacted by their loss"
"I was really impressed with the gold coins he had made to hand out to gold star families and the message he delivers when he gives them out,"Abby Allred said.
Crigler also talked about having a "moral compass for a moral dilemma" and how his friend and roommate in Viet Nam, Thomas Shaw, had a strong moral compass that was based on these principles: doing the right thing, knowing that sometimes the right thing is the hard thing, have courage to follow your beliefs, and having faith in God.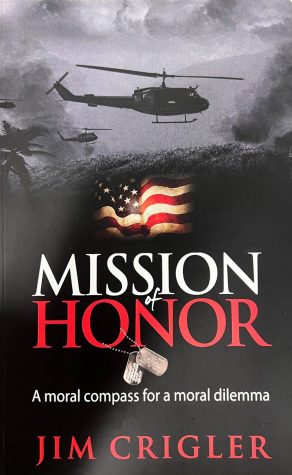 Crigler has published a book about his experiences in the 1960s and 70s called "Mission of Honor", which details his pursuit of a "moral compass for a moral dilemma'.  Crigler donated two signed copies of the book to Cotter.
One message Crigler had for the seniors was that they can, and should strive to, make a difference in the world.
Leave a Comment