ACT and SAT testing: explanations and tips
Our high schools are flooded with tests: daily quizzes, weekly tests, large exams.
When students become juniors and seniors, two more tests become relevant: the ACT and SAT.  Most, but not all, American colleges and universities use these exams to determine admissions status and financial awards. Therefore, these exams are very important to high school students, but many are not sure how to navigate the path to choosing which test to take, when to take them, and how to prepare for the exams.
What are the differences between the ACT and SAT?
In general, the ACT requires more language skills, while the SAT requires more math skills. However, each test is different in terms of exactly what skills it tests, how many questions it asks, and how much time you have to complete each section.  Below are tables that sum up these differences:
| | | | | | |
| --- | --- | --- | --- | --- | --- |
| | |      ACT: | | | |
|     Sections |         Math |     Writing |     Reading |     Science    Reasoning |         Total |
|      Time |     60 min. |      45 min. |      35 min. |       35 min. | 2 hrs. 55 min. |
|    Questions |  60 questions |  75 questions |         40      questions,  based on 4    reading  passages |  45 questions |        220    questions |
| | | | | |
| --- | --- | --- | --- | --- |
| | |            SAT: | | |
|       Sections |         Math |    Writing and    Language |        Reading |            Total |
|           Time |       80 min. |        35 min. |         65 min. |            3 hrs. |
|       Questions |    58 questions |     44 questions |    52 questions,  based on 5      reading  passages |    154 questions |
Furthermore, the ACT has an optional essay portion, which takes 40 minutes. Some colleges require or prefer the ACT essay, though many do not. If you are a strong writer, you may want to take the ACT essay, even if the college you are applying for doesn't require it, to showcase your writing skills. The SAT also used to have an optional essay portion, but stopped offering it after June 2021. 
Both the SAT and ACT can be taken multiple times, and points are not taken off for wrong answers. However, some colleges require all your testing scores-  if you take the test multiple times, they want all your testing scores for all the tests. 
Another difference is the price: ACT is $60 with no essay, and $85 dollars with the essay. The SAT, however, is slightly cheaper at $55. However, fee waivers are available if you meet the requirements outlined on their websites, linked below:
Information on ACT Fee Waivers
Information on SAT Fee Waivers
Which do students prefer, the ACT or SAT? Which one should you take?
The graph below shows what percentage of students took the ACT or SAT or both in 2019- this was the most  recent data from the National Center for Education Statistics.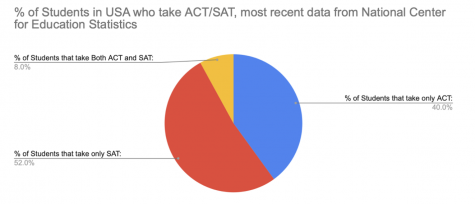 As you can see, 12% more students take the SAT than the ACT, but that doesn't necessarily mean that you should take the SAT. Most colleges accept both the SAT and ACT, but you should check the college's website to make sure. If you do not know which college you want to apply to, you could take both the ACT, SAT, and ACT writing portion to be safe. But most colleges will only require the ACT or SAT. So most of the decision of which test to take relies on your particular strengths as a test-taker. Perhaps you would do better on the SAT because it allows you more time for each question- or maybe you would do better on the ACT because it requires more writing skills. Just choose the one you think will best match your skills.
What are some tips for studying for the ACT and SAT? 
There is a plethora of online resources for studying for the ACT and SAT. Practice tests, flashcards, private lessons, etc.- and prices range from free to hundreds of dollars. It can be very difficult to sift through all your choices and decide how to study. Most high school students have taken tests before, and know what study techniques work for them- but they may want to start studying a month or more ahead of time, because there are a lot topics to review. However, most counselors recommend finding/paying for an online ACT/SAT practice exam. It can help you realize which topics you need the most review on. There are a few free online practice exams linked below for the ACT and SAT:
Official ACT Website Free ACT Practice Tests
College Board Free SAT Practice Test
What are some test-taking tips for the ACT and SAT?
Common Test-Taking Tips: Make sure to eat a good breakfast, get enough sleep, and spread out your studying beforehand so you don't cram for the test.
Specific ACT and SAT Test-Taking Tips: Firstly, make sure you look on the ACT and SAT websites to make sure you bring everything you need to take your test, and understand the testing rules. Also, make sure you plan to be at the testing center longer than the test takes, as you need to write a lot of personal information on the testing form, like name, address, school, etc.
While you are taking the test, do the easy questions first, then go back and try to solve the hard ones. If a question is taking too long (it is a timed test, after all) or you can't figure out how to do it, guess. There are no points taken off for wrong answers. Though common advice is to "guess C" in multiple choice questions you don't know the answer too, I did not find any evidence that the ACT or SAT is biased towards C multiple-choice answers. As with most skills, if you put in the prep work, it will be reflected in your score on test day.
Leave a Comment