French and Hesch named AAA winners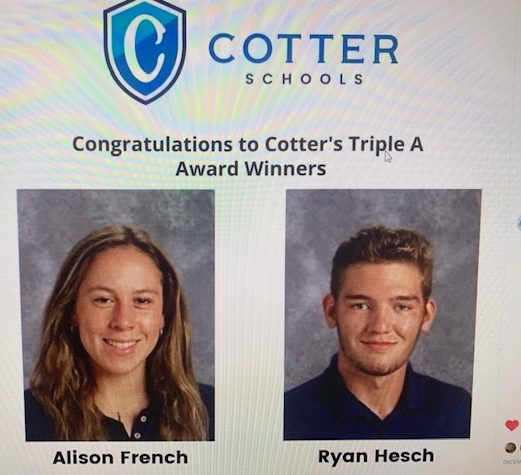 The three a's for the Triple 'A' Award stands for Academics, Arts, and Athletics.
This award goes to a high school senior who has a 3.0 GPA or higher ,who is involved in at least one league sponsored athletic program, along with an art program.
Schools  choose a boy and a girl to be invited to move on to the section level competition and, in March, the MSHSL will announce four Statewide winners. All of the 32 finalists will participate in an on-court ceremony, during the Class AA champion boys basketball game for the state tournament. The winners, a girl and a boy from both the Class A and AA school get a four year, $1,000 scholarship.
The three girls nominated for for this award at Cotter were Alison French, Ellie Glodowski, and Megan Morgan, with French receiving the girl nomination for Cotter's class of 2022. The three boys that were nominated for this award at Cotter was James Greshik, Ashur Rouleau, and Ryan Hesch, with  Hesch being chosen to represent the boys class of 22.
Both Ali and Ryan said that they didn't necessarily prepare for this award in any way.
"I just did the things I enjoyed and pushed myself to take the opportunities," HEsch said. While this senior year has been smoother than last year for the class of 2022, Covid 19 affected us all in our own ways, Ryan with his lacrosse and marching band to name some, and Ali with volleyball and speech for example.
"What prompted me to go for this award was the fact that some of my friends from previous years had won and two of my four brothers also applied for this award," French said. French focused on being involved in everything that she could, and sophomore year saw that she could win this award and kept pushing herself in everything.
Megan Morgan had her sights on this award for a long time. "It has been a goal of mine since I was a student at St. Stan's. Two of my biggest role models from my youth, Michaela Trainer and Paige Gernes, received this prestigious award, and I became determined to follow in their footsteps during my senior year," Morgan said. Megan also said that she dedicated her time to academic success as well as in athletics and the arts.
Rouleau mentioned that he did not have this award at his previous school so when Mr. Forney talked to him saying it would be a good idea to apply, once looking into it, he felt it he should apply.
Hesch is excited to go to the banquet in March, he did say that he was surprised a bit to get this award, because he did not want to get his hopes up. Ryan plans on trying to start his own business after high school in landscaping or construction.
The candidates also had advice for younger students.
"If you are going to do something, find a topic or subject that you enjoy and give it your best effort. Academics, Athletics and Arts are a lot more than just credit requirements, they give you great qualities and prepare you for life," Rouleau said.
"Athletics and arts, but keep academics as their highest priority. Take advantage of the opportunity to become extremely involved in Cotter's student life, because the busy schedule will prepare you for life after high school," Morgan said.
Leave a Comment