Boys basketball improves offense to earn wins
To simply put it, the Ramblers offense struggled to start the year.
The season did not start out as planned, as the Ramblers dropped their first 11 games of the season, but have started to hit their stride as they have won 3 of their last 6 games.
The main reason the Ramblers have been playing better as of late, has to do with them scoring a lot more than they were at the beginning of the year. In their first 11 games the Ramblers were scoring an average of 37 points a game, but in their last 6 games they are averaging 54 points a game. The reason the offense has been clicking has been simple.
There have been two victories over Kingsland and a win over Mabel-Canton.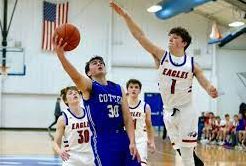 " I just think that we all are getting a lot more comfortable playing with each other on offense.," senior guard Tate Gilbertson said.  "We knew coming into the year that our defense was gonna be our strength, but we didn't think our offense would struggle as much as it had. We are moving the ball a lot better now the we did to start the year, and that is leading to a lot more open looks."
The Ramblers next game is Thursday, February 10, at home against La Crescent.
Leave a Comment