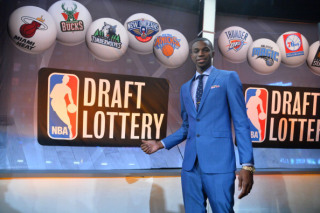 NBAE/Getty Images
It is time to abandon the NBA draft lottery.
In the past few years the NBA has experienced a"tanking" epidemic, when teams intentionally lose games in order to receive a higher chance on landing the first overall selection in the draft at the end of the year. Not only is this method of intentionally losing bad for business, it is unfair to fans and the game of basketball in general.
For the past few seasons, the Philadelphia 76ers have tried to execute this strategy to obtain the highest draft pick possible. The strategy hasn't worked out for the 76ers, as they have only had one top five pick in the last four seasons.
This strategy would be more beneficial to the teams if you actually received your draft position based on your record at the end of the season, like in the NFL. The team with the worst record should receive the top pick in the draft. This draft layout would speed up the tanking process, leading to the possibility that the 76ers will be relevant within the next 50 to 75 years.
Our own Minnesota Timberwolves had the worst record in the NBA this past season, and on May 19th they find out what spot they will be picking in the draft. Based on the NFL's draft process they would receive the first pick, but unfortunately we will have to wait and see where the ping pong balls land.
The NBA needs to switch back to a more traditional style of drafting so teams that cannot seem to win games constantly improve. Not only is it good for business, if all 30 teams are competitive, but it will help the NBA maintain a consistent fan base in all markets.