Urban Plunge goes to Milwaukee
Hang on for a minute...we're trying to find some more stories you might like.
Cotter's CCMP recently embarked on a weekend mission trip to Milwaukee to perform acts of service for the community. Ann Renk and Walt and Heather Carpenter chaperoned this trip.
"Some of the urban plunges we have done in the past are really focused on service, whereas this one is more focused on education and awareness," Mrs. Corcoran, who organized the trip, said.
Students ate at a soup kitchen, as opposed to working at one. The trip was meant to serve as an educational eye-opener.
"They [did] more learning about the city of Milwaukee and the issues there, not working to solve them, but just doing the education piece," said Corcoran.
"Students learned why [some people] live in poverty or what's going on in the city. [Milwaukee] is one of the most segregated cities in the United States. We went to find out why that is happening and how is it happening," said Corcoran.
To make this trip possible, former Cotter teacher Bill Crozier reached out to Marisa Corcoran and suggested to go to Milwaukee because it was a great experience. Mrs. Corcoran had been looking to do something different for an urban plunge experience.
Urban Plunge usually takes place on a Friday to Sunday, Minneapolis has been the most common destination for previous plunges.
Before the students left for their adventure, they met as a group for a quick prayer on the first floor at Cotter and then they were on their way.
"Prior to the trip I thought it was mostly going to be hands-on work, and visiting lots of homeless shelters," said sophomore Julia Greshik.
Other students thought the trip was going to consist of mostly service work.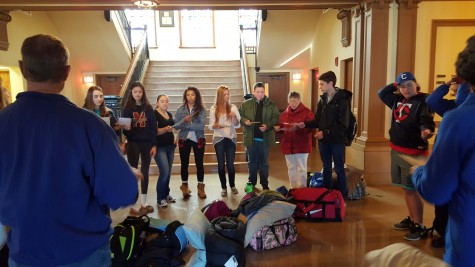 While in Milwaukee, they were led by Brother David and stayed at St. Ben's Church. On the first night, the students ate at a soup kitchen, and met many different people there. On Saturday, the group toured homeless shelters and learned about how they work.
"Brother David took us on a tour of the city, it was cool to see the different architecture, but it was cold and hailing so that wasn't too much fun," Greshik said.
After that the students sorted hygiene products and that was their only form of hands on work. Later that day they watched "The Pursuit of Happiness" and ate a five dollar meal.
On the last night, they did a simulation of what it is like living 30 days with a job, family and car problems. They learned how sometimes making decisions is very hard because of people's financial state.
"Through everything we did, there was a lesson to learn about the homeless, and it changed my view on the issue," Greshik said.
"The trip was really fun," David French said.