Winona Sandwich Company: A Solid Option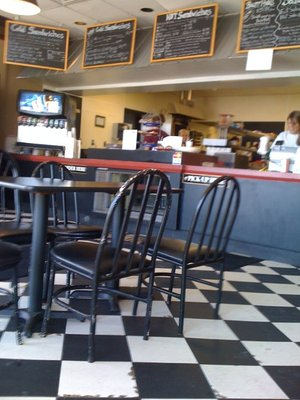 When many Winonans have that urge for a simple sandwich, they either go downtown to Erberts & Gerberts or Subway, home of the five dollar foot long. These folks should consider  the Winona Sandwich Company.
     Located on Huff Street, just three blocks from the edge of the WSU campus, the Sandwich Company offers a quiet, collegiate environment with delicious sandwiches. The inside is decorated with jerseys of Winona athletics, including a jersey from the 20006 Cotter Softball state champion team.
     The checkered tiles, small tables, and chalkboard menus give the restaurant a collegiate flare. It offers a wide variety of sandwiches at a reasonable price. They also have soups and cookies to top off your meal. The club sandwich my personal choice. The BLT is also a simple, great tasting sandwich. The menu is extensive with gyros, reubens, lots of chicken choices and several vegetarian and vegan options.
     The service is quick and the employees are extremely friendly. People may write off the sandwich company because it doesn't have the brand name of a chain, but this hometown restaurant is worth the trip down and its sandwiches do all the talking. Overall, I would recommend the Winona Sandwich company for anyone looking for an excellent sandwich at a reasonable price.