Jamal Ali of "Iraqi Voices" on the immigrant experience
Hang on for a minute...we're trying to find some more stories you might like.
Memories of home are powerful, just ask Jamal Ali.
Mr. Ali, an Iraqi immigrant to the U.S. who now lives in suburban Minneapolis, is interviewed at Frozen River Film Festival on February 18, 2017, by Cotter Teen Press.
Mr. Ali is a director and participant in the Iraqi Voices project, which is a series of short films documenting the stories of Iraqis who have relocated in Minnesota.
According to the group's website, "Iraqi Voices is an ongoing collaborative mentorship program that gives Iraqis in Minnesota support and training to produce high-quality documentary video shorts. The films are written and directed by Iraqi-American participants and are photographed and edited by Nathan Fisher. Operated by the Iraqi and American Reconciliation Project, this activity is made possible by the voters of Minnesota through a grant from the Minnesota State Arts Board."
Mr. Ali was an aerospace engineer and his wife as a medical doctor before they left Iraq for Minneapolis in 2009 after being displaced by the war there. They are now working as interpreters.
Members of the Chronicle saw Mr. Ali speak at a question and answer session at last year's Frozen River Film Festival.   In that talk Mr. Ali emphasized his love for the America and the people of Minnesota, but his great regret at the destruction of his home country that resulted from America's invasion of Iraq.  He also commented on the image of Iraqis that is presented in the media and that one of the goals of the series is to show that Iraqis in Minnesota and Iraq, are looking for the same things as most people here: family, work, freedom and peace.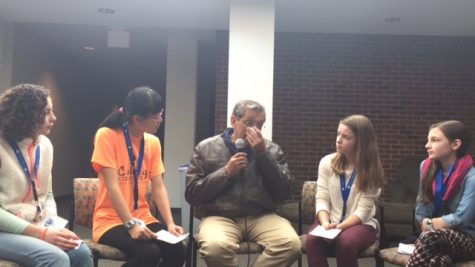 The interviewers for this story are Alisia Hull, Alessia Velasquez-Nitti, Kathleen Bowey, and Maddie Kohner, filming was done by Joseph Costello.
Last year, Cotter Teen Press/Chronicle members interviewed Nate Fisher, director and editor of Iraqi Voices,  at Frozen River Film Festival, that interview may be seen here:
www.cotternews.org/6034/news/iraqi-voices-nate-fisher-interview
Here's the link to the Iraqi Voices project:
www.iraqiartproject.org/iraqivoices