1977 State champs: a look back at 40
Hang on for a minute...we're trying to find some more stories you might like.
40 years: a lifetime, a  blink of the eye, or both?
In 1977, the Cotter Ramblers boys basketball team, led by legendary coach John Nett, won the Minnesota class A State championship.
The team had many strengths, some of which were a balanced line-up, defense, team play, and coaching.  The distinctive t-shirt jerseys that look like Penn State football uniforms and canvas high-tops were indicative of their no-nonsense style of play.
"We fit together as a group.  My job was to control the inside, get boards and do some scoring.  We had Steve Nett and Doug Luebbe, two 6'3 or 6'4 guys who could do everything, handle it, drive, shoot, true package players.  John Davis was our shooting guard and Tom Van Deinse was a pass first point guard and good defender. So we had really nice mix," Bambenek said.
"Our team worked well together.  Each of us contributed different skills and strengths.  Those could be applied depending on the strengths and philosophy of the opposing team.  Our set plays were predictable, but they were complex, and we executed them so well that opponents had difficulty stopping what we were trying to do.  We were also taught to play excellent team defense," Davis said.
Doug Luebbe noted another strength: good fortune.
"Any time you win a state tournament in any sport, I think you have to have a bit of luck.  First, you have to be healthy as a team. Then you're going probably have some close games where a free throw here or there, a steal, or shot that misses or goes in could have changed the outcome.  We won some very close games against Lake City and Dodge Center that year – games that could have gone either way," Luebbe said.
"We had several strengths in our teams at Cotter: First we had one of the best high school coaches in the state, who instilled in his teams pride in defense, rebounding and working for a good shot on every possession," Steve Nett added.
There were certain games that still stand out out for the players. Cotter had some close games on their road to state. They beat Lake City 40-39 in the District 3 championship game and topped Dodge Center 43-40 in the Region 1A championship.
"The game against Pacelli in the region tournament was memorable.  We had played Pacelli twice during the season, each winning a home game," Davis noted.
The game that stands out most strongly might be the one point victory over Lake City in the district championship game.
"Lake City featured probably the best athlete we faced that year.  Lake City they also featured Randy Breuer," Davis said.

Randy Breuer, the Tigers' 7'3″ center, would later play for the University of Minnesota before being selected by the Milwaukee Bucks with the 18th pick in the 1983 NBA Draft and play for the Timberwolves as well. That game launched a rivalry between Cotter and Lake City, who played each other in the district championship each of the next two year.. Lake City would win the next two playoff  games as well as winning State each of the next two years.
"I think three years in a row, the Lake City vs Cotter, District 3 championship game (now called sub-sections) were all very close games and eventually determined the eventual State tournament winner, though each team had to play five more games after that game," Luebbe said.
The Ramblers were led by hall of fame coach John Nett. He was the first Minnesota coach to reach 500 wins.  A dominant trait of his coaching was  his consistency
"Things never changed. He was the same way every day in practice as he was in a game and we did the same things the same way all the time. So there were not a lot of surprises or ups and downs You knew what you were getting with Mr. Nett," Mark Bambenek said.
"Coach Nett was a legend even then.  We knew he was special and trusted him completely.  He emphasized team play over individual play, and discipline both on offense and defense.  He was a great mentor and teacher.  I appreciate him more with each passing year," Davis said.
"The thing I'll always remember is that I thought he made practices much harder than the games.  He was critical of all of us -starters or subs,  on the mistakes we made, and what we needed to do better .  One day, we weren't practicing very well at all and he just ended practice after only 45 minutes. That sent a pretty direct and lasting message to me, and probably others, of his expectations of our team and how good he thought we could or should be. When games came around, he was always calm and generally positive; I thought they were a piece of cake compared to practice," Luebbe said.
"Playing for my dad was a great experience. I'd be lying if I said playing for him was no different than playing for anyone else. At first it seemed a little different, but I soon found out that I was treated just like anyone else on the team. He would get on me for not blocking out, missing an open cutter or not setting a good pick,just like he would do for anyone," Nett said.
Nett also recalled at that his father knew how to break character when he thought the situation called for a little levity.
"During my sophomore season, we had just won the regional to qualify for the State tournament and were practicing the day before we were to leave for the Twin Cities. We were doing a layup drill, two lines at half court , one person at the free throw line. Throw the ball to the man at the line and  do an X cut for a layup. We started the drill and Coach Nett could tell we were all a little nervous and uptight about the upcoming tournament, so he stopped the drill and took over the spot at the free throw line. First person throws the ball to him, does and X cut with the player on the other side and Coach Nett makes a behind the back pass to the cutter for a layup. Next player throws a pass to him and cuts, this time Coach makes a perfect bounce pass between his legs to the cutter for a layup. We were shocked! Keep in mind that at this time you did not even dribble the ball between your legs for fear of getting yanked out of the game for a seat next to "Big John" on the bench. This continued on, between the legs, over the head, no look passes, wrap around passes, you name it, and the team was just cracking up. This is just what we needed to help up us loosen up a little and get prepared for the tourney."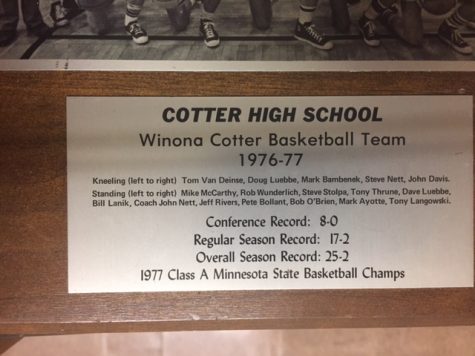 Davis also noted the tradition that growing at Cotter and how the teams that preceded the '77 team had a role in their success.
"We owed a great deal to the 1975 Cotter team that included Bobby Smith, Bob Browne, Terry Fleming, and others, and to the 1976 team that included Joe Nett, Jeff Kramer, Dave Wiltgen and others.  I think the 1975 team was the best Cotter team of our era.  The 1976 team qualified for and played in the state tournament.  Both set a high bar for the 1977 team and showed us what was possible," Davis said.

The game has changed in 40 years, but most people who have watched a lot of basketball know this 1977 team would have been successful in any era.
"The three point line has changed the game a lot.  Nine point leads with three minutes left were generally safe when I played; that's not the case any more. It's also helped shorter or less athletic kids, but ones that can simply shoot well, enjoy a great game.  Some of today's current athletes possess tremendous individual ball and shootings skills.  I would say though, in my opinion, I think some of the basic fundamentals are suffering," Luebbe said.
"I'm been reffing high school games for the last few years trying to 'give back' some for all the games others did for me while I played. I really enjoy it,  helps keep me involved with the game,  and provides a  different perspective of the game I hadn't experienced as a player or a coach," Luebbe added.
"Playing basketball at Cotter was such a great experience. Coach Nett taught us not only basketball but also life skills that would benefit us throughout our lives. He taught us how to win and be humble and how to be gracious after a loss. He taught us how teamwork, dedication and hard work would pay off in the long run. And he taught us how to "box out"! I remember coming back to Winona to play pick up games for many years after I graduated and there would always be a handful of former Cotter players on the court. Usually at some point during the game there would be a missed shot and three or four former Cotter players would all "box out" their man and the ball would harmlessly fall to the floor. We'd all look up at each other and say "Big John" would be proud.," Nett said.
"High school ball was everything then.  There really was no basketball on TV then, maybe one or two college games a week and occasionally an NBA game so if you wanted to see a game. you had to go to watch it. and so everyone went to the games, and I think that's how it was in every town.  So the games were a lot bigger deal in the town, and going to the State tournament was a big deal for the whole town because they all had been following the team the  season.  TV has hurt high school attendance and there's a lot more stuff going on so fewer people are at the games unless a team is having an amazing season," Bambenek said.
"High School players now are generally taller, faster, stronger, more athletic, and more experienced, especially in class 4A.  I had never even seen a person 7 feet tall much less played against one, until we played Lake City, " Davis said.

Davis also sees how lessons from high school have crossed over to other areas in life.
"Creating a winning team requires an over-arching goal, a system that participants understand and believe in, and strong trusting relationships between participants.  It's best to have had pioneers who have gone before and can show you what's possible.  Those lessons served me well in my career," Davis said.
All the players noted that there was a definite joy in playing the game at that time in their life.
"I remember an outpouring of community pride in our championship.  For example, upon our return following the state tournament, Winona fire Dept fire engines met our team on the outskirts of town.  All team members rode through the streets of Winona on a fire engine," Davis said.
"High school basketball was some of the most fun times of our lives.  Whether it was practice, games, state tournament, or playing Y ball or at a park or getting a key to go play at St. Mary's, just hanging out and playing ball with your friends was doing something you loved," Bambenek said.
This group also passed that love of sports on to their children.  Mark Bambenek has worked and coached at Winona State and both his boys played basketball, his son Riley just completed his career at WSU where he scored well over 1,000 points.  Steve Nett is recently retired after a long career teaching microbiology at a college in Spring Valley, Illinois.  Steve's three children all also played college athletics, his daughters both played college volleyball and one played basketball as did his son. John Davis is retired in northern Minnesota from a career in healthcare finance, his two sons ran college cross country and his daughter is a college pole vaulter.  Doug Luebbe lives in Rochester where he has worked for IBM for 36 years and all three of his children were active in sports. His daughters were key players on a string of Lourdes state championship basketball teams.  Tom Van Deinse, the '77 class valedictorian, has been, among other things, a teaching tennis professional in Michigan and Florida where he has operated tennis clubs with the help of his two sons, who are also tennis pros. Luebbe and Van Deinse were also State doubles champions for Cotter in '77.
Another similarity is they all have trouble believing that 40 years have passed since they brought home the title.
"In one way it seems like another lifetime ago," Bambenek said, reflecting the other team members' thoughts.  "On the other hand it seems like yesterday we were stepping on the bus to head to the Cities for the tournament."