MWMF Review: 5 proves to be a magic number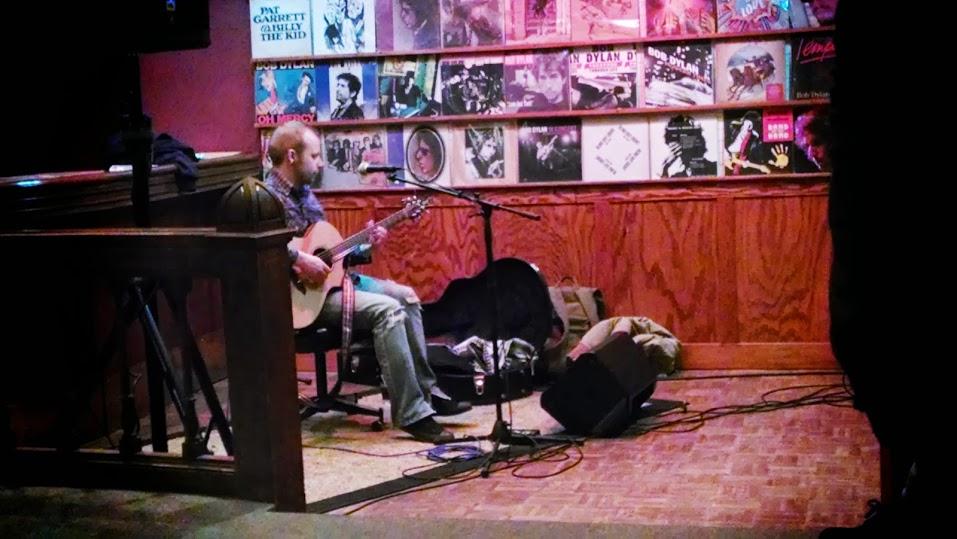 The organizers of MidWest Music Fest (MWMF) provided some Cotter students with press passes to the fifth annual three day festival in downtown Winona.
Sarah Conley and Erin Derks teamed up to cover the festival and here's their report:
Thursday:
    Koo Koo Kanga Roo is a Minneapolis based duo who are also Saint Mary's graduates. Bryan and Neil succeeded in getting children and adults alike to dance in the tent down on the levee on Thursday at 7:15.
Bryan and Neil dance around on the tent with indescribable energy, leaving sweat on the floor. Songs about sandwiches, unicorns, minivans and cat parties will be stuck in your head for days.
    Carroll is an electric alternative band whose music has been described  as "razor tight psychedelic pop music". Carroll performed at the levee park stage at 8:30. The band brought in an audience of foot tapping hipsters. This band of four was the opening act  for hip hop dynamo Lizzo and certainly left a positive impression. If you are interested in their music they released an E.P. on itunes last February that features 5 of their songs.
Friday:
    Bomba de Luz, a charismatic St. Paul based quintet, performed at the Historic Masonic Temple at 6:30-7:30 on Friday. Inspired by muses from indie- and folk-rock genres, Bomba de Luz employed a range of terrific solos and mesmerizing instrumental and vocal features. Lead singer Lydia Liza announced the upcoming release of their next album, sometime this summer, and a music video sometime this month.
    Minneapolis native Caroline Smith captivated audience members with original and cover songs. A packed house at the Masonic left the audience close and personal as Caroline and the Good Night Sleeps  sang about women's rights, exhorting the audience "it's all about you tonight." The stage housed a guest appearance from Lizzo, jumping in from the audience. The audience demanded an encore, which was filled by a Mariah Care
y cover.
Good Luck and Godspeed   Levee- 6:00-6:45, Filled the levee with rock influenced songs, the MWMF program describes their style as "sometimes heavy, sometimes melodic, always captivating and energetic performances" and this was true for the Winona residents and festival fans  in attendance.
    The 4onthefloor performed at the levee tent from 10:00-11:00, and drew an "older" audience, with a rock  sound, and slightly psychedelic light show above the heads of dancing audience members. Blues rock, and strong vocals left nothing out for audience members, the bass  and kick drum for each band member moved the pavement and rocked downtown Winona.
    the 757s-  Cloud 9 Union theater, 10:15-11:15 – this  garage punk crfew attracted a unique audience that danced about the floor, the "veteran quartet" from Minneapolis still attracts members of a younger audience and proved the punk ethos is very much alive and kicking.
    Porcupine  followed the 757s, in the 11:45 slot, both rocked the stage and audience members with their alt/indie rock punk chords and vocals. This trio tis inspired by classic rock and psychedelic influences and hails from La Crosse.
Saturday:
     The People Brothers Band, including Cotter graduate and bass player Scott Lochner, are an R&B soul and jam rock act that got their substantial crown dancing under the levee tent.  Mixing classic R&B, Grateful Dead influence and originals, the PBB have developed a strong local following. This Madison, Wisconsin based band welcomed Whysowhite up on stage for a segment. They announced launch of Peoplefest in Hillsboro, Wisconsin starting this year- which will feature multiple acts that are no stranger to Mid West Music Fest stages.
    "We don't lean towards a specific genre, we'll know it when it comes to us. At this time we're pretty funk," Whysowhite says. They played at 5:30 Saturday on the Levee and had audience members jumping on their feet, while encouraged audience members to step out of their comfort zone and into the unknown.
    An acapella group,  Vocal Point,  from G.E.T. High School, performed at Acoustic Cafe. Be sure to check out their website, which was recently launched, to see the group's upcoming schedule.
    Driftwood Bones filled the Winona Arts Center at 7:30-8:30 on Saturday- instruments including ukulele, harmonica, and keyboard, the five musicians. The Winona based alt-rock, folk-rock musicians had the audience begging for an encore.
      Didn't catch an act you really wanted to see? Chances are you were able see the same musicians walking around Winona checking out other bands' sets, enjoying the music alongside you. All genres are covered, so don't worry about not finding something you like.
          There's no other way to put it- Mid West Music Fest's fifth year was amazing. Venue management and sound quality were spot on, acts were talented and enthusiastic, an audiences were on point. If you've never gone, you are missing out on a great opportunity of music and community building right here in river city.
Chronicle editor Jack Petry was on a solo mission, here are the acts he reviewed:
 Mike Munson, Masonic Temple, 6:30-7:30
 Adam Wiltgen (Marv Wilt), Broken World Records, 7:15-8:00 (7:15-7:45)
  The Ultrasounds, Ed's No Name, 7:45-8:30 (7:45-8:15)
   Dead Horses, Masonic Temple, 8:00-9:00 (8:17-8:21)
   Steve, the Brodom, Cloud 9 Theatre, 7:45-8:30 (sadly, only one song 24-8:30)
   Breakaway, Broken World Records, 8:00-9:00 (8:33-8:55)
    Andy Neilson, Broken World Records, 9:00-9:45 (9:00-9:30)
    The Belle Jar, The Acoustic Cafe, 9:00-10:00 (9:35-9:45)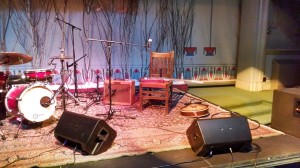 Mike Munson– As his fingers picked the strings of his electric guitar, with lip-stick pickups that glistened like  a rainbow as the light hit them, Mike Munson opened the Midwest Music Fest with a full house show at the Masonic Temple.
    This MWMF and Winona veteran is use to the smaller stage at Ed's (no name) Bar, but he had no problem adjusting to the larger venue of the Masonic Temple theatre, and after he played the Acoustic Cafe to a standing room only crowd  last year, he had no problem filling the larger venue.
    Munson appeared with his usual setup of his Gibson hollow-body, custom electric guitar with lip-stick pickups, both with high action, and tweed Victoria amp. But this show was different; usually the tapping of Munson's feet of the stage fills the spot for percussion, but in light of the special show, Ed Barbira was featured on drums.
    Munson played both covers and original pieces. His original piece seemed to have more complex stories in the lyrics and more complex picking patterns.
    The venue was decorated in such a way that fit very well to his style of folk. There were branches on the large drop and projected plants for decor. This theme was reminiscent to watching a band play in a well lit bog and helped put a visual to  the  scenes Munson painted in his lyrics.
    He also implements the classic bluegrass use of a glass slide and metal finger-picks in his act.
    The audio work for Munson's show was some of the best in the festival; no single element was too overpowering of any other element.
    Once again, Munson delivered a great show to the MWMF crowd.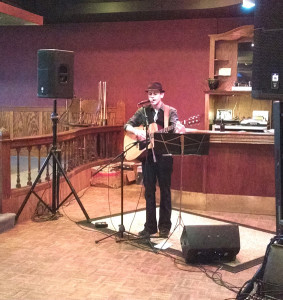 Marv Wilt-
    Adam Wiltgen opened the Broken World Records venue with an eclectic show from his alter ego "Marv Wilt, from deep in the Amish country."
    Wiltgen, originally from Harmony, Minn., has been a  large figure in the Winona arts community. A graduate of St. Mary's University of Minn., Wiltgen is the box office manager for the St. Mary's University Performance Centre, as well as working on the Midwest Music Fest team, helping with the Listeners Guide and the online schedule.
    Marv Wilt was a solo, acoustic act whose lyrics were artfully delivered with humorous facial expressions and voice inflections. The songs sang were both covers and originals pieces.
    Marv Wilt is not an all ages act; appropriately, he performed in a +21 venue. The lyrics of the songs Marv Wilt covered were about rape, suicide, drug abuse, and broken families, where his original songs were not so explicit.
    Wiltgen gave a brilliant performance and, if you look past the suggestive lyrics, is a good way to experience the Midwest Music Fest's more artsy side.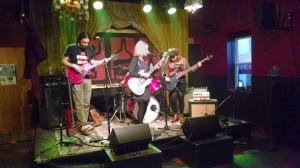 The Ultrasounds– With power chords straight out of the Stone Temple Pilots playbook, All American Reject reminiscent drum beats, and hypnotic vocals that put you in a trance just like The Hot Toddies, The Ultrasounds made their one show feel like three concerts.
 Megan Hansen, Amber Fletcher, Courtney Guenveur, and Todd Hanson are a foursome that was a must to see at the 2014 MWMF.
    They describe their music as "sludgy garage pop," but that hardly began to prepare you for their live show.
    Ed's (no name) Bar is a small venue that usually hosts rock bands in the evening. The Ultrasounds' music fit the bill for hard rock and pleased a large crowd of head-bangers.
The two guitars complemented each other by one playing power chords while the other played a riff, or one guitar an octave higher than the other to give a chorus effect.
With influences like Hole and Nirvana, their songs were very reminescent of the two great grunge bands. The second song they played, "S.S.," was very much like "Aneurysm" by Nirvana.
This young band, formed in 2011, only has one E.P. of five songs out; naturally, all of them were played at the show.
The mood was very relaxed with all of the members making jokes and just having fun. An offer to stimulate CD sales was presented at the show as well; the first five CD's sold would include a free Steel Reserve beer.
Dead Horses–   Following Mike Munson in the Masonic Temple was five-piece, lively folk group Dead Horses.
    The sit down venue of the Masonic Temple may not have done Dead Horses' music justice. Where the scenery was set up in a good theme for the group, the upbeat folk music was not the type to sit and listen to, it was dancing folk music. Not even the five on stage could just stand still and play, they were moving around and getting down.
    The northeast Wisc. group has put out one album, "Back to Life," in 2012. Most of the songs from the album were recorded in not as lively as they were performed at the MWMF show.
    The classic folk instruments of mandolin and fiddle were featured with two guitars and an upright bass.   At the end of the night they jammed for a bit in the parking lot before loading their old conversion van and heading back to Wisconsin.
Steve, the Brodom–  Psychedelic rock is  organized  and skillfully executed when Steve, the Brodom mixes jazz with rock.
 There were no vocals in the trio, just guitar, drums, and bass. But the lack of vocals only added focus to the impressively complex riffs from the guitar and bass.
 The bass playing was actually some of the best of the festival, which was a shock because of the young age of the performers. Some of these acts have been playing longer than these musicians have been alive.
    Steve, the Brodom is Winona band made up of boys from the Winona Senior High School, Jack Bryant, Ben Leonhardi, and Sam Schild.
    The Cloud 9 Union Theater was a perfect venue for these rocker; it has a large raised stage and a lot of standing room for people to head bang. Steve, the Brodom drew a large crowd and could be heard nearly a block away.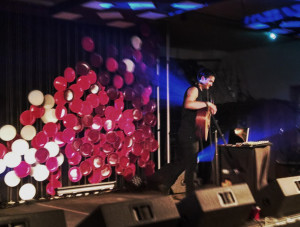 Breakaway–  Solo electronic project that blends dark wave and synthpop pared with the amazing notes that Winona native Joe Kujawa can hit, and Breakaway is what you get.
    Breakaway hasn't always been solely electronic music, he used to be up on stage with just a guitar singing. But he was introduced to electronic music and now primarily makes electronic music.
    The audio setup for Breakaway was catered well to his style of music. With the high pitched notes he was hitting, if the treble had been as high as many of the rock bands have been, the noise would have been unbearably. However his lyrics were not audible until his last song, which was done acoustically.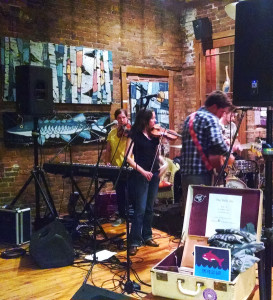 The Belle Jar –    The MWMF is primarily composed of acts from Minnesota and Wisconsin, however this year, some acts came from much farther to play the festival.
 A folk-rock band,The Belle Jar, was a Colorado band featured at the 2014 Midwest Music Fest. This two violin, two guitar, drum, and bass group played in the Acoustic Cafe.  They met up with some of their friends in another act before moving on to play shows in Chicago and Minneapolis.
The toughest part of the festival was deciding which shows to attend, even the venues were staged close enough to walk from show to show.  One of the best sights of the weekend was seeing all the people hoofing it from show to show with the levee tent as homebase, especially on Earth Day.  It will be hard for next year's fest to top this one.