Fr. Jim Berning: a true Rambler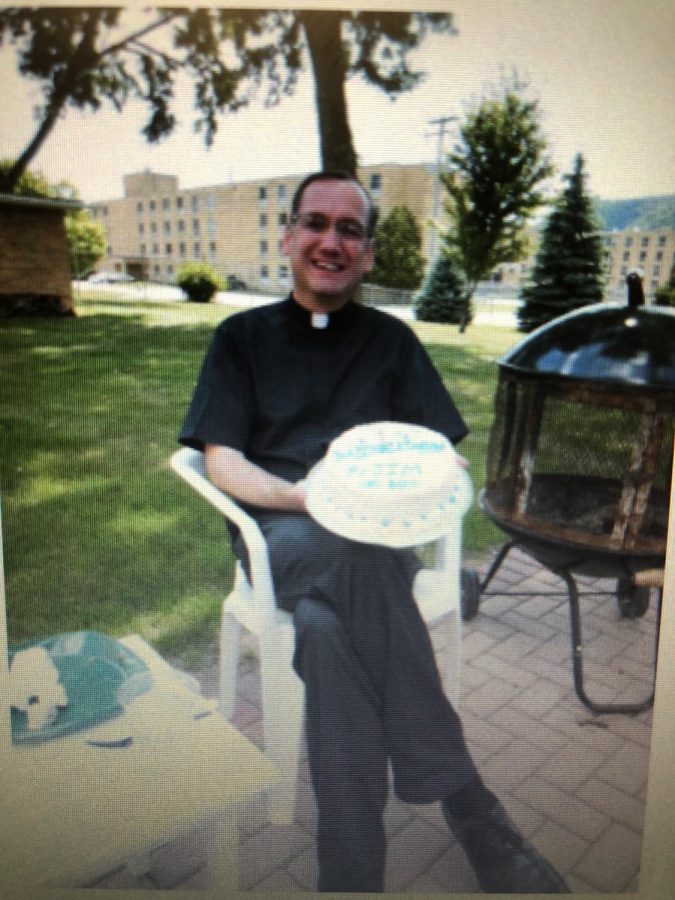 St. Mary's churchgoers didn't need a cup of coffee on Sunday morning to keep them awake during mass. Stepping foot inside St. Mary's parish, parishioners have been immediately and habitually greeted by a bright smile and enthusiastic welcome.
For the past eight years, Fr. Jim Berning has been the pastor of St. Mary's parish in Winona. Fr. Berning's  pure energy and kindess have radiated through the parish and the city of Winona.
However,  Fr. Jim has been recently relocated to St. Francis parish in Rochester, Minnesota. This unexpected information has been difficult for the parish and Fr. Jim alike. For such a strong fixture in Winona's Catholic community, saying goodbye was difficult. but in a ceremony after mass on Saturday, February 2, that is what took place. After 4;30 mass people gathered in the church basement to celebrate their time with Fr. Jim.
Fr. Jim's outreach extended throughout the community, especially within WACS schools, where he was often on hand to greet students entering St. Stan's with Mr. Bowlin and to lead Friday masses.
With every journey comes some difficulties. Fr. Jim endured challenges during his time here, including losing his mother, Rita, in 2018. This impacted him greatly, but also inspired him to work to be a better person. He was always driving for unity and accepting diversity in the small scale of Winona.
As for the future, Fr. Jim Berning will preach at St. Francis Parish, which is located on the East side of Rochester. St. Francis has over 1,000 families, is rich in diversity, and is the largest school in the diocese.  Though it is a tough move,Fr. Jim sees the move as a chance to have an impact in people's lives on a larger scale.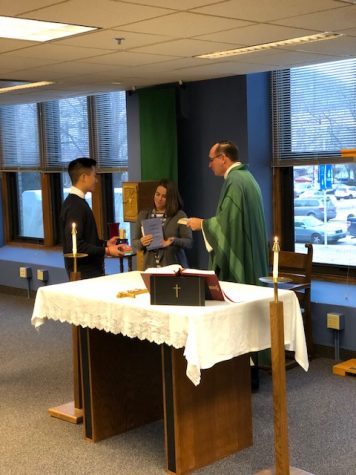 "I will miss the people here, the community, the relationships I've made,  the River valley, the bluffs, and the beauty of Winona the most," Fr. Jim said.
Winona was a special place for Fr. Jim. He applauds Cotter for keeping everybody involved in learning about God.
"The livelihood of the parish, the amazing atmosphere, and participation from everyone in the community made Winona the special place it is for me."
Throughout his journey, Fr. Jim's favorite memory of St. Mary's parish were the masses he preside over, most notably the 100th anniversary of the church and the 100th anniversary of Cotter.
Fr. Jim's energy touched all those he came in contact with each week.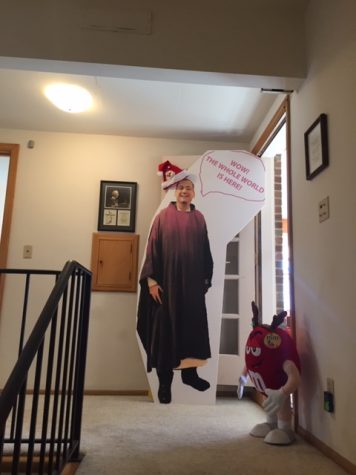 "Father Jim cared for everyone. He supported the schools in every possible way and always did everything with a smile on his face. His energy was contagious and he truly brought both the Catholic school system and St. Mary's together. He also played a large role in getting many new students and parishioners in the system," Cotter junior and parish member Mary Morgan said.
"He made an impact on numerous amounts of people and will be greatly missed. Hopefully someday he will return back to St. Mary's" Morgan added.
"Fr. Jim has a thing for names and he likes to call everyone by their first name, and that effort and attention went a long way with a lot of people," Mike Costello, Cotter teacher and St. Mary's parishioner, said.
"His energy was obvious but that extended outside of his sermons.  He attended lots of sporting events, he visited the sick, he presided over baptisms, weddings, and funerals.  If you were on a committee at the parish he would be at the meetings.  He took kids to volunteer at Pine Ridge reservation in South Dakota, and he has a soft spot for the poor and immigrants.  He always tried to bring the Pope's teachings down to a local level, and, besides all that, at festivals and dinners he liked to have fun.  I think he is a very genuine person who shows his feelings and passions and people have responded to that honesty," Costello said.
Mr. Bowlin started as WACS principal around the same time Fr. Jim began at St. Mary's. The two have worked side by side to better WACS and formed a bond that will last forever. In his remarks at the Catholic School's Week mass at St. Stan's on February 1, Fr. Jim's last for the school, Mr. Bowlin made an emotional speech to thank Father Jim for his work on behalf of the school. He had three words to describe Fr. Jim's service, "joy, hospitality, and love."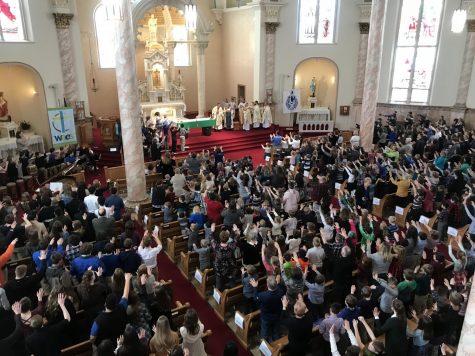 Fr. Jim will be missed. Not only did he improve the St. Mary's community, but the entire Winona community as well.
Cotter's mascot is the rambler, and the name stems from the role of the itinerant priests who were assigned to different parishes, often traveling from town to town in an earlier era to fulfill their duties.  These priests were called ramblers.
As he his called to his next post, Fr. Jim Berning has proven that he is a true Rambler, and, as he is fond of repeating, "once a Rambler, always a Rambler."