Get into the grind at Winona's coffeeshops
Winona is known for many things; colorful leaves in the fall, the Mississippi and the lake, the iconic tourist attraction, Sugar Loaf, but to locals Winona is also defined by loyalty to a particular coffee shop.

Of course, a town that is home to three universities would be unable to run without a wide variety of coffee shops. The decision of which coffee shop to visit can be a tricky one so I decided to go on a quest to answer the time old question: what is the best coffee shop in Winona, Minnesota?
The best coffee shop winner will be broken down by a series of criteria: study-ability, comfort, price, and it's Winona heritage. 
I visited 4 Winona coffee shops; Mugby Junction, Blooming Grounds, Caribou Coffee and Blue Heron.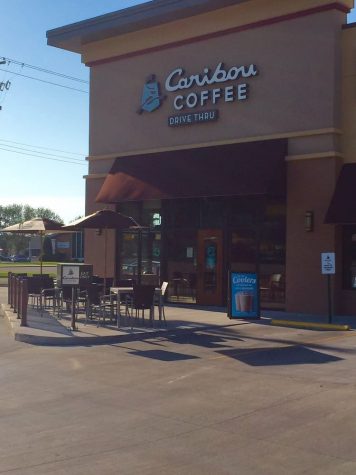 The first coffee shop in our quest is Caribou Coffee, the newest of the Winona coffee shops, only being built in 2016. Caribou coffee is a large Midwestern coffee franchise serving both coffee and breakfast options like sandwiches and bagels. This coffee stop is at a convenient location to stop at before school or work, it's a popular morning stop for Cotter student coffee runs given its proximity to the school.. In terms of study-ability, this location has many tables and comfy chairs for the convenience of those working and studying. There are usually a few college students or adults working on projects there. However, Caribou is often quite busy, which may distract some from being able to completely focus on their tasks at hand. When looking at the coffee menu, it's easy to see that caribou has an extremely large variety of coffee drinks available, anything from Coffee Coolers, iced teas, lattes and my personal favorite, an iced vanilla latte. A medium iced vanilla latte costs $3.59, which is a average an fair price. The one thing caribou does lack is it's Winona heritage, as Caribou Coffee is the second largest company-operated premium coffeehouse in the United States. There are more than 273 company-owned stores and 127 domestic license locations in 18 states and 203 international franchise stores in 10 countries. If you are in the area, give Caribou Coffee a try, you might just find something you like.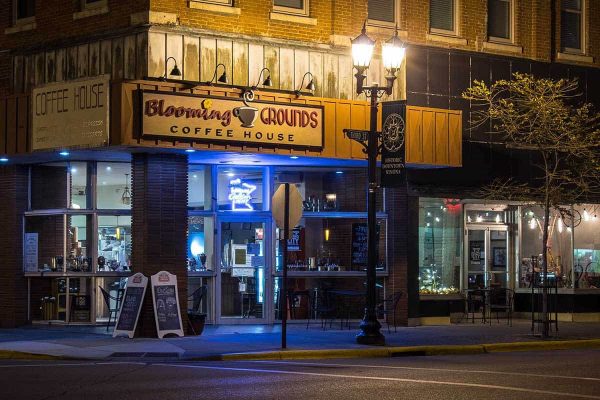 Next Stop, Blooming Grounds Coffeehouse. Blooming Grounds is a coffee shop that not only offers beverages but wraps, pastries and salads. A medium iced vanilla latte costs around $4.30, which is slightly above average for a Winona coffeeshop. During evening hours Blooming Grounds opens an extended menu of handcrafted pizzas and alcoholic beverages. Every Wednesday and Friday there are musical performances, along with other craft making classes held like "Wine and Canvas". This location also offers a cozy and comfortable library. Blooming Grounds recently opened a second location named "Blooming Grounds Express" which offers a convenient drive-thru along with counter spaces for study sessions and meetings located on Huff St. The downtown location gets a lot of traffic from business people and groups meeting for lunch.  The shop also offers beer and wine in the evening. Whenever you're craving a nice cozy experience at a coffee shop, give Blooming Grounds a try. And if you're in a rush, you can stop by Blooming Grounds Express instead.
The third shop is Mugby Junction. Mugby Junction is a college student favorite, being a convenient location across the street from Winona State University. Mugby Junction offers coffee beverages, salads, wraps, and pastries. The price of a medium iced vanilla latte is around $4.50 at Mugby Junction. Mugby is is a family owned business which began in 2003 in Winona, MN. Mugby currently has two locations, one,  a cozy cafe near WSU and the other being a drive through only. They also work in partnership with other local university and business to provide coffee. Mugby's code they live by is "Drink to the lees," which is a literary allusion with both a literal and figurative meaning. Literally, it means to drink to the bottom of the cup. This is important at Mugby Junction because they want you to enjoy your coffee, from the first sip to last. Figuratively, it means taking time to appreciate the finer things in life, like a great cup of coffee. Mugby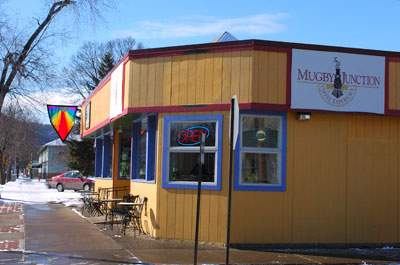 emphasizes the use of sustainable and responsible practices, using and selling 100% organic and fair trade coffee.  The Huff St. location is always busy when WSU is in session and many group projects are worked in the larger room.  There are a few outdoor tables when the weather is nice.
Another Winona favorite coffee shop and restaurant are Blue Heron. Blue Heron is self-described as a "chill coffee shop serving lunch & breakfast items made from organic & locally-sourced ingredients. At the Blue Heron, an iced vanilla latte will cost around $4.30 as well.  The driving force behind the Blue Heron Coffeehouse their passion for food that is local, seasonal and organically grown. They also advocate for sustainability and try to cultivate a sense of community and a gathering space to support local growers, artists, and musicians. The Blue Heron offers both coffee beverages and lunch and breakfast options including delicious house-made pastries and once a week on a Thursday they extend their hours to host a dinner with inventive and in season food.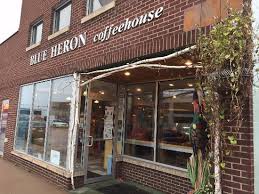 So when you're enjoying Winona's natural beauty, be sure to hit one of these coffeeshops. Which one is best?  I'll leave that up to you.