Ramsden finishes 5th at State
Hunter Ramsden, junior, earned a 5th place finish at the MHSHL State speech tournament, held at Wayzata H.S. on Friday, April 12.
The  Cotter speech team took home the Runner-Up trophy at the Section 1A meets on April 6th.
Speaker must finish 3rd place or higher at sections in order to qualify for State.  Cotter speech team sent nine of their members who qualified to compete in the Minnesota State High School League speech tournament
The team sent 9 speakers in 8 categories who advanced. Hailey Biesanz, Nadia Hocum, Grace Miller, Hunter Ramsden, Emily Tullis, Jack Walters, Sam Wantock, Vivienne Warner, and Aubrey Williams were those in attendance.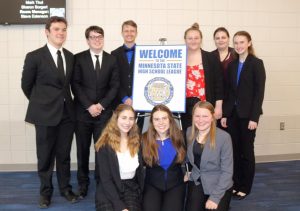 It was an achievement in itself to qualify, but Ramsden proceeded to the final at the  tournament and earned a 5th place finish in Dramatic Interpretation of Prose.
"The speech team members this year worked hard, grew as individual speakers, and continued it's an improvement as a team," said the team coach Amy French.