Storming the Desert
Ping sisters' success continues in AZ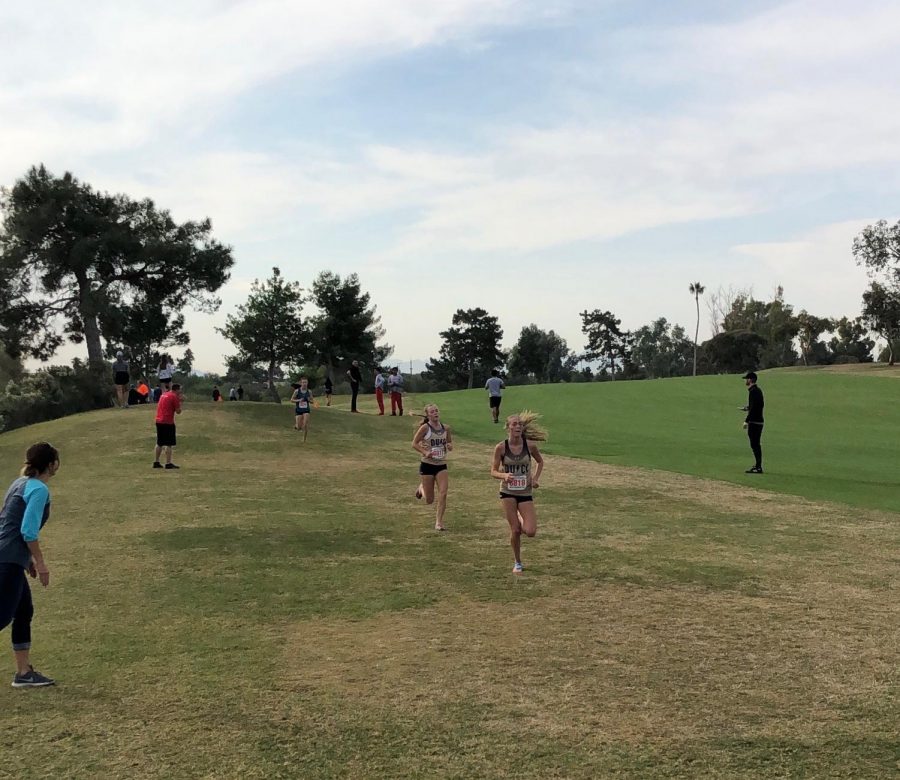 New place, same results.
A few months ago, running superstars Grace and Lauren Ping moved from Winona to Phoenix, Arizona, with the rest of their family. The sisters continued their dominant running performances throughout the 2019 cross country season, though the drastic changes didn't make it any easier to perform at the highest level. 
Not only was the school environment a change (Desert Vista High School is over eight times the size of Cotter), but the weather and new training programs presented difficult obstacles to overcome. 
"Obviously, Arizona is really hot, which makes it difficult to run in the summer and early fall," Grace said. "Our cross country practices were at 5:00 a.m. at the beginning of the season, and [Lauren and I] would wake up at 4:00 to get to practice on time." 
The early start time of practice, combined with extremely intense training, resulted in an injury for Grace that kept her from running and competing for about 6 weeks.
 "It was a slow progression," Grace said, adding that cross training (especially swimming, biking, and using the elliptical machine) was key to getting back to health. 
As Grace focused on her recovery for the majority of her season, Lauren continued her streak of stellar cross country performances. Receiving the opportunity to race against some of the best individuals in the country at highly prestigious meets, such as the Woodbridge Cross Country Classic (Woodbridge, CA), the Desert Twilight Cross Country Festival (Casa Grande, AZ), and the Mt. SAC Cross Country Invitational (Walnut, CA), Lauren did not disappoint, placing second, second, and first in each respective meet. 
Lauren said the Desert Twilight race was one of her favorite moments of the season. Her performance at the meet was spectacular, as she set a blisteringly fast new 5K personal best of 16:49. Her race was also the fourth-fastest performance all-time at the event, according to MileSplit. 
"
Going 1-2 at state with Lauren definitely made the race a highlight of my season"
— Grace Ping
Lauren's success continued at Mt. SAC, where she broke the Arizona girls all-time record, running the 3-mile course in 16:47. Lauren also led her team to a 6th place finish at Woodbridge, a 4th place finish at Desert Twilight, and an 8th place finish at Mt. SAC.
Though the courses she ran on and the competition she ran against this year were new, Lauren maintained the same mindset entering her races. "I knew that I had already put in all the work, and I just wanted to do my best," she said.  "Plus, It was really fun getting to compete with super good runners."
With the regular season coming to a close, Grace was able to make a full recovery from her injury, winning the Tempe City Meet and coming in second in Desert Vista's Regional Meet.
Both Lauren and Grace had outstanding races at the Arizona AIA State Cross Country Championships, with Lauren running 17:36 for a first place finish, and Grace running 17:57 for second; their races led the Desert Vista girls to their first state cross country title since 2016. 
Grace credited the race as a summit of her season, due to the team win and the opportunity to compete and be successful with her sister. "Going 1-2 at state with Lauren definitely made the race a highlight of my season," said Grace.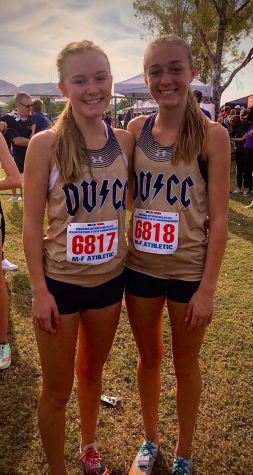 The sisters continued running after the State meet, with both Grace and Lauren running in the Nike Cross Regionals Southwest Championship race, where Lauren placed 6th and Grace 12th. Lauren's race earned her a 3rd consecutive trip to Nike Cross Nationals in Portland, Oregon, which took place on December 7th. In rainy, muddy, and mid-40 degree weather conditions, Lauren finished 27th out of more than 200 individuals.
"NXN was super fun, but it was different not knowing anyone in my region, because the last two years, I have known almost everyone in my region before I went. This year was also super muddy, rainy, and cold," Lauren said about the race.
Meanwhile, Grace competed in the Footlocker West regionals on December 7th, where she finished 4th, earning a trip to Foot Locker Nationals in San Diego on December 14th. Grace credited the regional race as "the fastest [she's] run in a while" and proceeded to place 30th at the national-level meet with a time of 18:30.3. 
In typical Ping fashion, both girls have high hopes for the future, with Grace aiming for an injury-free track season to round out her junior year, and then hoping for the chance to compete at NXN and the Cross Country World Championships in Australia during her senior season.
The opportunity to "do some big things" in college and progress her running through a pro career is the pinnacle of Grace's running dreams. 
Similarly, Lauren's current goals focus on her track high school season, as she is aiming to qualify for and compete in the Brooks PR or the Adidas Dream Mile. 
Whether it's Minnesota or Arizona, one thing is for sure – the sky is the limit for this pair of superstar sisters.