The 6th Man Megacorps: the legacy continues
Hang on for a minute...we're trying to find some more stories you might like.
"Even though we're not on the field with them we can we can still support them, because that's what teammates do. The ultimate goal is to cheer our team on and help them win," Charlie Reilly said.
Reilly is one of the leaders of the 6th man Megacorps, the vociferous student section.

"We want to have an impact on the game and remind the players to keep playing hard and pushing themselves. It is so easy to give up when it's just one person, but a lot harder when you have a whole family behind you cheering you on."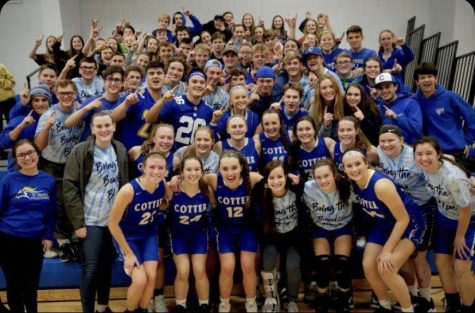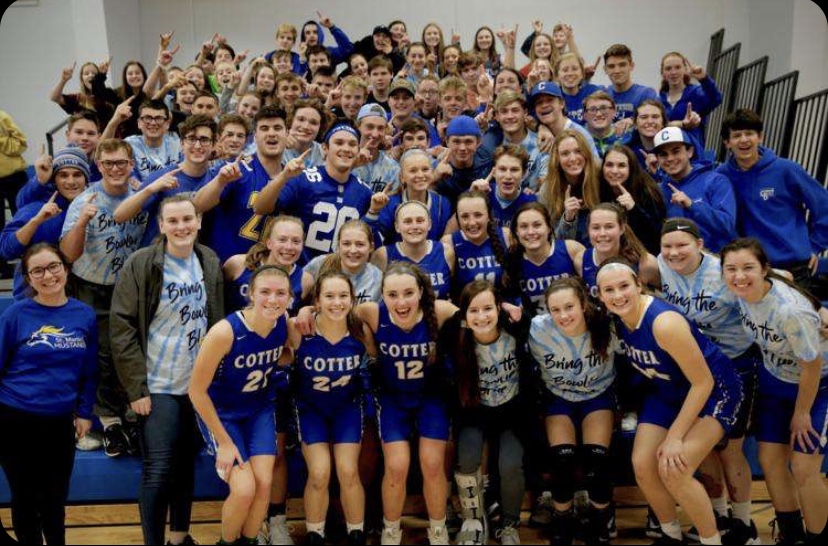 In its sixth year, the 6th man has been in full force at almost all of the sporting events not only at home, but on the road too. They made it their priority to make it to every single home and away volleyball game the past two seasons. Girls soccer was also cheered on at games as far away as Kasson-Mantorville, even on  busy days like Homecoming. They didn't let the location, weather, or the amount of homework they got that night stop them from supporting each other.
"I feel like I play my best when the Cotter student section is at the games, especially when they are away. I can see a difference in the rest of the team too. The fan section can really change the dynamic of the game. Instead of messing up and feeling down about yourself or your teammates, the fan section lifts you up and gives the whole team the mindset of "we're gonna get it next time"." said Ellie Macal, a three year varsity player for both volleyball, basketball, and softball.
This shows that a little support from each other can go along way. 
The Cotter Student Section does many themes for home games, such as Hawaiian, USA, Betty Crocker, and Pajama. The themes are taken very seriously by many of leading members, who often make pre-game runs to Goodwill to pick up last minute theme items. They are often very weird and silly but, "That's what makes it fun," Reilly said. "Dressing up in a weird costume that will make people turn their heads is what makes the whole thing so fun. I get discouraged when people do not follow the theme, but I appreciate that they are there."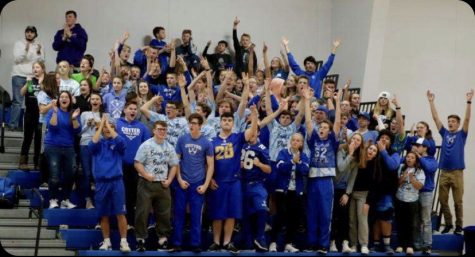 At a girls basketball, volleyball, or soccer game when the boys do not have an away game, the 6th man is heard loud and clear. The same goes for boys basketball games when the girls do not have a game The average attendance for these games fills up the entire section of bleachers and the chants of "Let's Go Ramblers" and "Here We Go Cotter, Here We Go" are very loud.
"It's a big momentum boost," says senior Jordan Rubie, a starter for the girls basketball team. "When we are in a tough battle against top teams like Stewartville or Lake City it makes us more confident and energized when we are tired and helps us push through to win the game."
The girls edged out the opponent in those games and, according to Reilly, "It was because of us. Obviously the girls played hard and deserved the win, but without us they might not have won the game. That is why we come out to support our team, we take pride in our sports here and want to take advantage of the good athletes and teams we have and push them to the highest level."
Leaders of the student section welcome anybody willing to stand and cheer for their school even if they can not fit the theme. Signs about the theme and game time are posted around the school on game day and on Instagram @6thmanmegecorps.
"I encourage everyone to come to a game and participate fully. It is very fun to dress up, be with your friends, scream at the top of your lungs, and not have to worry about homework or school for an hour or two." says Reilly. "I look forward to every game because of how fun it is, and hope the future classes can do the same as well."
A previous story about the 6th Man Megacorps called, "6th Man Megacorps: Believe the Hype" tells about the formation of the student section seven years ago.