Girls Soccer perseveres to win first section championship
The year of 2020 was a disaster for sports worldwide, whether that be professional, collegiate, or high school. But a look at the 2020 girls soccer season for the Cotter Ramblers, shows a completely different story. And a closer look reveals how the team overcame challenge after challenge to win their first ever MSHSL Section 1A championship.
It had never been done before, not once in the long coaching career of Marie Barrientos or even in program history. Not once had the Cotter girl's soccer team won a section championship and punched their ticket to state.
To say they have come close the last few years would be an understatement. 2017 resulted in a tough loss deep in the playoffs and 2018 resulted in semi final heartbreaking lose. 2019 was even more gut wrenching when they lost to section rivals Lourdes in the section final 1-0 in a home game held at Paul Giel Field.
They have been so close so many times. The issue hasn't been talent, they have boatloads of great athletes graduate recently. Previous all conference players like Mary Morgan, Jordan Rubie, Abby Allen, and Josie Huelskamp have built this program into one of the most respected in southern Minnesota for the last several years. But one thing that no other Cotter team ever has had, is this much returning experience.
The Ramblers returned nine starters from last year, including all-state striker Olivia Gardner, and one of the state's best scorers and passers in Sera Speltz. Not only did they have two all state level players on offense, but they also had undoubtedly one of the best defenses as well. Senior captain and all conference defender Maren Stewart was the catalyst for the Ramblers rock solid defense that allowed less than 10 goals all year. Along with that, junior goalie Sofia Sandcork proved vital to the teams success as it was her first year on varsity. Along with these standouts, the ramblers also returned players like captain Megan Morgan and other important role players like Amaiya Kauphusman, Ava Killian, Megan Costello, and Freya Brandvik. This experience proved vital as the Ramblers had plenty of veteran leadership to go around as they secured the section title.
Not only did the Ramblers have returning experience with these players, they had chemistry that stems back almost ten years. Yes, you read that correctly, 10 years.
Players like Amaiya Kauphusman, Tess Mullen, Megan, Morgan, Megan Costello, Sera Speltz, and Olivia Gardner have played together since they came up through WYSA and EURO youth programs, this was not their first rodeo.
In the last few years the team has built tremendous chemistry that flowed smoothly into this year as they all knew each other's strengths and weaknesses.
"Chemistry definitely had a big role in our success this year, being able to play with my teammates for years before the season really set us up for a promising year," Maren Stewart said.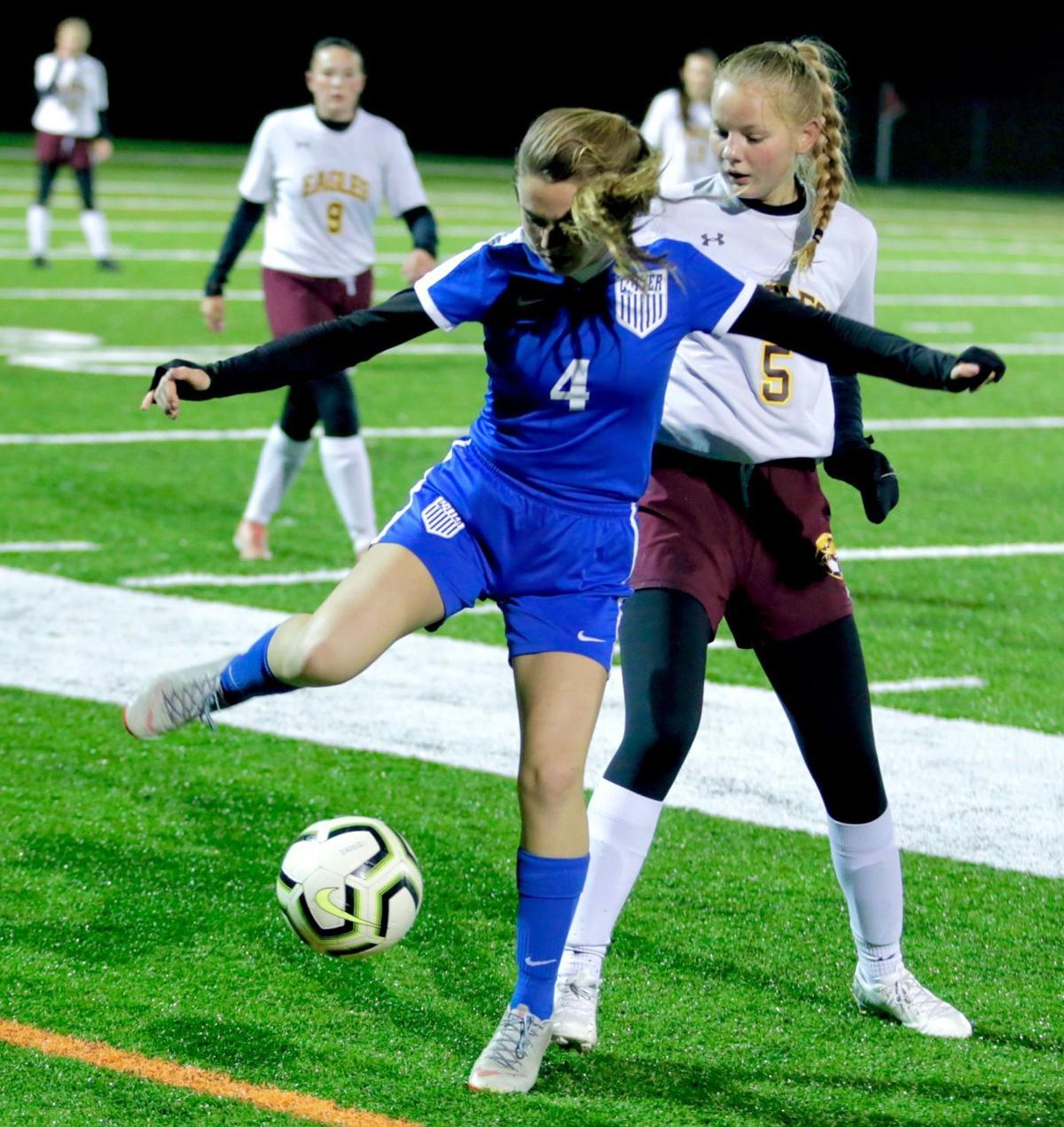 The title was anything but easy for the girls. They had to fend off some tough teams, and play rival Dover-Eyota three  times throughout the season.
They took care of the games they had to and never once came onto the field not ready to play. Even in games where they might have been heavily favored, they always were ready for whatever competition was thrown at them.
The semi-final was another tough game as they had to face the Byron bears once again in a highly anticipated playoff matchup, but yet again the Ramblers prevailed as they won in dominant fashion.
Then there was the biggest game of the season, and for some of the girls, their lives. It was a cold rainy day in St.Charles,  as Cotter took on Dover-Eyota, and the Ramblers came out ready to play.
They dominated the game in every aspect and struck early with a Sera Speltz boot from the 25 yard line. They never looked back as they took home their first ever section championship that night.
"It truly was a dream come true, this something that we have all dreamed of for so long now!," Megan Morgan said.
Injuries. Every team has them, some more than others. But quite possibly the most amazing thing about the 2020 girls soccer season was how they overcame player after player going down. These injuries weren't just sprained ankles and jammed fingers. They were season devastating injuries to vital players. Before the season even started, starting all conference goalkeeper Tess Mullen tore her ACL, and up and coming role player Esme Brandvik suffered a season ending knee injury as well. Starting defender Megan Costello also tore her ACL about halfway through the season. Junior standout and post bulletin player of the year Sera Speltz went down early in the section championship as well, can you take a guess what the injury was?  You guessed it, ACL.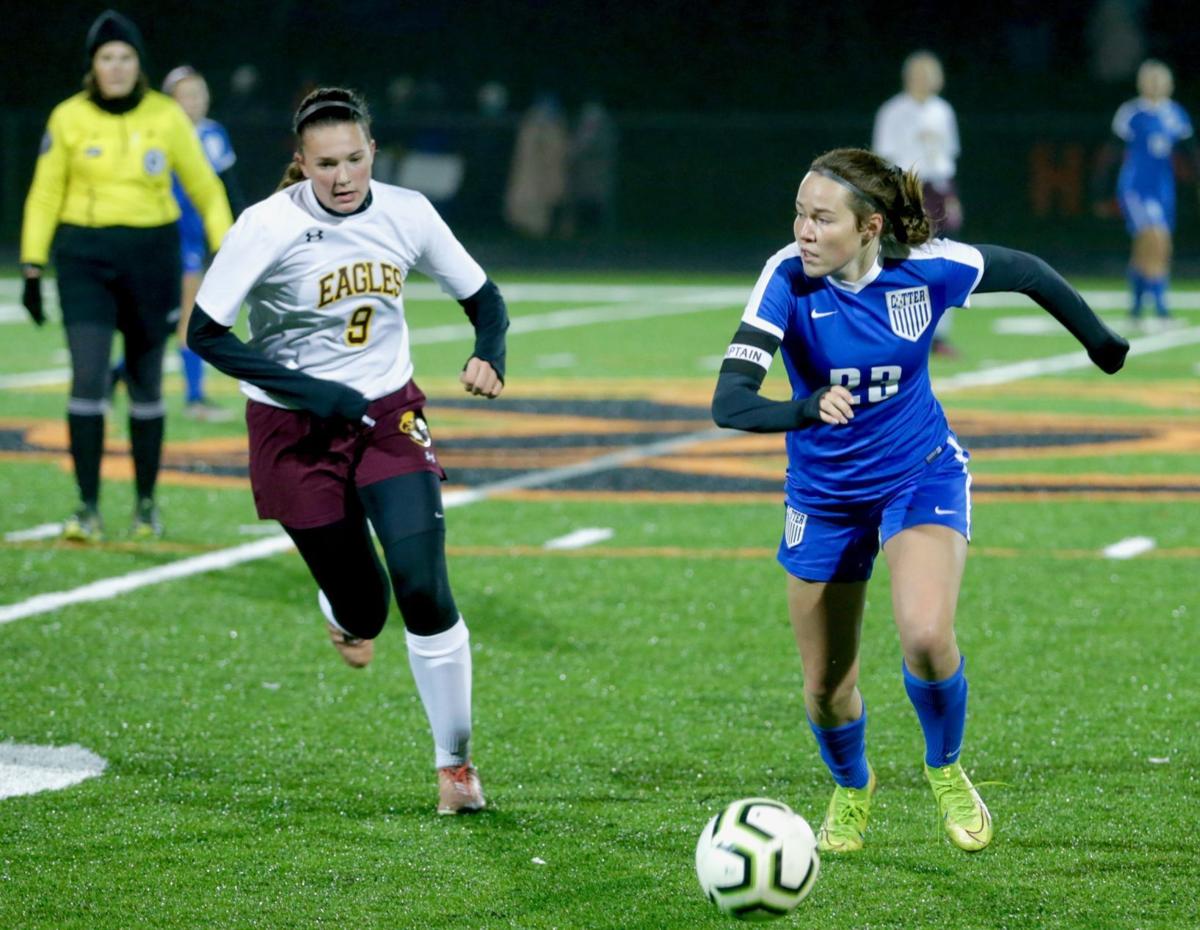 That's 3 season ending injuries for 3 starters on the team.
"Injuries were huge this year, they really took a lot out of us when we had to see not only our teammates but friends go down. But we didn't give up, these injuries fueled us as we wanted to play for our injured teammates and bring home the title for them," Maren Stewart said.
This is a team that will go down in Cotter history as possibly one of the most dominant teams to ever come across the sports program as a whole. Not only the fact that they didn't have a game end within a score, or the fact that they had a perfect record. Or the fact that they had the state's top assist leader in Sera Speltz, or one of the state's top scorers in Olivia Gardner, who scored her 100th career goal at the end of the season.
This team will go down in Cotter history because they persevered. They followed all the protocols given by the MSHSL.  No team member tested positive for COVID during the season. They fought through injury after injury and never gave up. They played in rain, fog, sleet, and even a little snow. They came into the season amidst a worldwide pandemic that has terrorized the nation. Even through all this chaos that is 2020, they persevered. They kept their head held high and never ceased to focus on the moment. As Queen repeated over and over again in 1977, the Cotter girls soccer team can gladly now boast, "We are the Champions."