Cotter girl's basketball: a tenacious team
The Cotter girl's basketball team is proving its tenacity by rebuilding in the middle of a pandemic.
The team, coached by Pat Bowlin, has a record of 10 wins and 2 losses as it approaches the end of its regular season. This record is quite impressive for a team that lost six varsity players–two to graduation and four to injuries–between this year and last. In addition to the rebuilding process, the team is navigating a pandemic. From mask wearing to a lack of in-person student fans, there have been many adjustments.
The losses of would-be returners Sera Speltz, Tess Mullen, Megan Costello, and Kelli Hadaway due to injuries was shocking for the Ramblers. As were the losses of former JV starters, Dez Dotterwick and Betsy Nagel, who no longer attend Cotter.
"We went from having what I thought could have been our deepest team to a lot of question marks as to who would come off the bench," said Coach Bowlin.
To fill the gaps left by these players and class of '20 grads (Mary Morgan and Jordan Rubie), many players have had to step up. Freshman, Ava Killian, went from playing on the 8th grade team last year to playing on the varsity team this year.
"It definitely is a quicker pace and is more physical than what I have played with before, but I like the competition and the challenge that comes with it," Killian said.
Along with Killian, sophomore Grace Renk went from splitting time between the freshman and JV team to playing full time varsity. In fact, every varsity player is playing full time varsity, due to COVID guidelines by the state. Other players who have transitioned to playing varsity full time are juniors Hailey Biesanz and Ellie Glodowski.
Aubrey Williams is another player that has emerged for the Ramblers. Last year, Aubrey chose to participate in Nordic ski but at the request of Coach Bowlin and Coach McRaith, she returned for this season. She cites the team's bond as her main draw to come back.
"I chose to come back to basketball because of the community.  Not only did I have the opportunity to play a sport I really enjoyed with my sister for my senior year, but I could be a part of a team that functioned like a family," Williams said.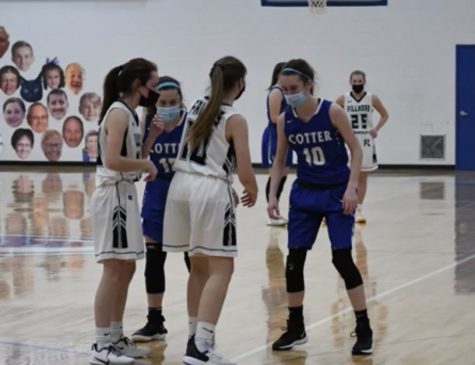 With all of these players stepping into new roles, there was tremendous work to be done. Senior and captain Ellie Macal has realized patience is key when you are a leader on a team being rebuilt.
"[The new players] are getting a lot of plays and different defenses thrown at them and it's not easy to remember," said Macal.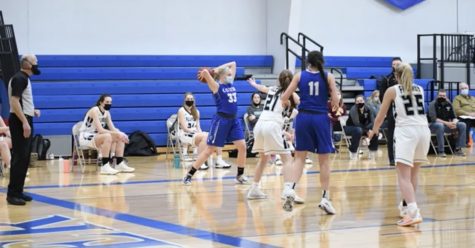 The only way for this rebuilt team to succeed was through hard work. Injured player Sera Speltz attends games and practices this season. Although she is disappointed to not be playing, she has been impressed by the work her teammates have done.
"Every day I watch at practice, it is clear that everyone is committed and wants to get better. I think our younger players have done an amazing job of stepping up adjusting to the higher level. They put in 100% effort to improve, and I think that our older and more experienced players have really helped them with that too. They push everyone in practice and are always communicating and helping each other," said Speltz, who hopes to return to sports next fall for soccer.
The second significant challenge for the Ramblers has been the pandemic. Due to COVID rules, the basketball team is only allowed two fans per player and they must be family members. This has greatly decreased the volume in the gym.
"Every game, no matter the sport, has exciting (hype) moments. Moments that we will remember for the rest of our lives. I think that's the hardest part of not having fans to celebrate these big plays," said Macal.
Covid guidelines also require players to wear masks at all times. This can make catching your breath during play very difficult. Cotter girls have handled this obstacle with grace.
"Our team has kept a positive attitude about the difficulty of wearing masks during practices and games. It is definitely a big challenge, one that took a lot of getting used to during the first 2 weeks of practice. Our team prides ourselves in actually wearing our masks properly throughout the whole game, which sets us apart from every single team we have played thus far. Masks have made conditioning difficult, but I have seen improvement in our stamina throughout the season. We can only hope that this will be the only season that requires wearing masks during games!" Megan Morgan said.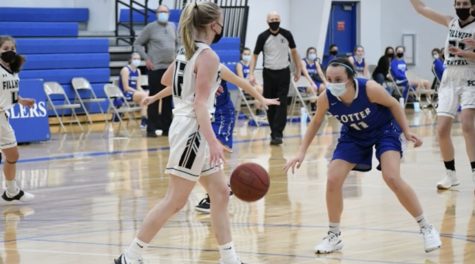 Persevering through these challenges, the team has had great improvement throughout this season.
"This team has experienced incredible growth. I think our early season close losses to Lourdes and Plainview toughed us up and helped us realize that there is a very fine line between winning and losing. The team has begun to trust each other more and has been incredibly unselfish. Our team knows their strengths and weaknesses and plays a very intelligent game." said Coach Bowlin.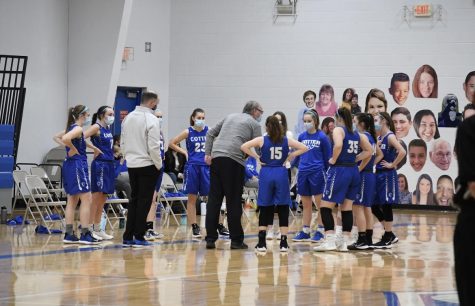 The team has had great success, winning every game after those two early losses, including an upset against Goodhue that came down to the last seconds. Coach Bowlin credits much of this success to balance.
"We are a very balanced team in that we play solid defense and offense," said Bowlin.
The team is also balanced in scoring, with the points spread out rather than coming from one player. There are four players who average in double digits: Megan Morgan, Ellie Macal, Sophia Sandcork, and Olivia Gardner. All ten players can score, as proven in Monday's game against Rushford-Peterson.
"We have consistent scorers in all 5 positions on the court which has helped to fill the shoes of Jordan Rubie who was a big scorer for us last year," said Megan Morgan.
Seeing this tenacious team in action is an opportunity you do not want to miss! The Ramblers have five remaining post season games. Home games can be viewed on the Cotter Schools Youtube channel and links to away games will always be posted on the Cotter Facebook and Instagram.
Cotter Girl's Basketball Schedule