Cotter girls drop section semifinal to close successful season
Cotter basketball ends successful season in loss to Lake City.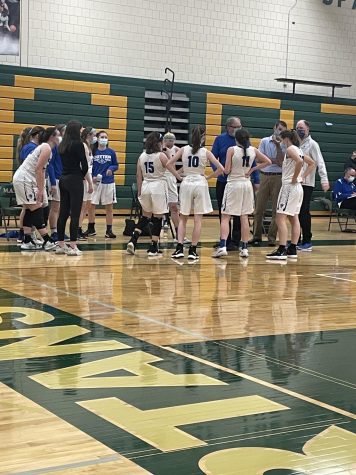 The game, taking place on Tuesday, March 23, at Mayo H.S. in Rochester had a final score of 67-46. The top scorer for Cotter was Megan Morgan, with 19 points, while the top scorer for Lake City was Bremer, with 25. Due to the large size of the Mayo  gym, there were over 100 tickets offered to Cotter fans. This resulted in the biggest crowd of the year and the first true student section of the year. 
Earlier in the season, Cotter had upset Lake City, winning by a margin of 8 points. In round two the results were a bit different. For Lake City, Meincke and Bremer combined for 46 points. Lake City came out with an aggressive zone that put a lot of pressure on the ball, fitting perfectly into their size advantage over Cotter. Cotter head coach Pat Bowlin spoke to the Post Bulletin saying " They played a great game, the most aggressive I'd seen them on defense. They definitely extended their zone and they really pressured. They are a heck of a team." For the Ramblers they finished the season 15-5. 
"
This team came as close to reaching their potential as any team I have coached. They really played well together and supported each other on and off the court."
— Coach Pat Bowlin
The game on Tuesday was the first game of the season that had enough tickets offered for there to be a student section. Cotter students were ready and eager to pack the stands—while remaining safe by wearing their masks. 
"It was nice to get back in the stands and support our fellow classmates, one more step closer to normalcy. I wish we could've made it to more events throughout the year but with covid restrictions our chances to cheer loud and proud were limited." said Cotter student and 6th man megacore member Charlie Reilly. 
While the game was not the perfect ending to the season, Cotter is incredibly proud of what was accomplished this year.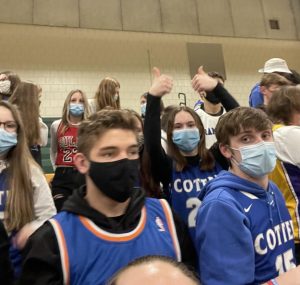 "I feel great about what we accomplished this year. This team came as close to reaching their potential as any team I have coached. They really played well together and supported each other on and off the court. We won a conference championship and had some huge road wins over excellent teams in Goodhue, Dover-Eyota and Lake City. I enjoyed every minute I had the chance to coach these girls, a very special team," said Coach Bowlin. 
"I'm proud of all the work the girls did each and every practice. Looking back to January 4th to today, everyone is stronger and wiser," said senior, Ellie Macal. 
The seniors, Ellie Macal and Aubrey Williams, are capping off their careers with a great season.
"Because of all the uncertainty this season with COVID, the opportunity to have a season was special. This season provided some really memorable moments with big wins over Lake City, Dover-Eyota, Goodhue, and Caledonia (for the Conference title), and it also taught me valuable life lessons about versatility and adaptability. Overall, my basketball career has taught me so much about the value of teamwork and responsibility, and it has illustrated that there is value in both winning and losing.I am proudest of how our team overcame adversity and found success this season. We might not have been the biggest or strongest team on the court, but we always played with the most heart, and that shined through in a lot of the big wins we had (Goodhue, Lake City, etc.). Having the opportunity to represent Cotter and bring the community together in that way was really special."  said Aubrey Williams
"Having Aubrey return this year was a highlight for our program. She has always been one of our hardest working players and she made us better every day at practice. I'll never forget the game winner she hit against Goodhue. Ellie Macal is one of the finest young ladies I have ever coached. She was outsized but never outworked in her position as our team's center.  Ellie epitomizes everything that's good about high school athletics. They both will be greatly missed," said Coach Bowlin.
Ellie Macal is thankful for the opportunity to play in these unprecedented times.
"I got a good season but it's so much more than that. I got a chance at normalcy, and a family to turn to," said Macal.