Seven together: dorm residents bond during unusual year
What will dorm life be like?
This question was on the minds of the students who were able to stay at the Cotter Residence hall this past year.
COVID-19 pandemic smacked schools all over the world and Cotter was no exception.
Due to travel restrictions, VISA issues, and safety reasons, a lot of international students at Cotter were not able to return to school for the 2020-2021 year, which affected the dorm in various ways.
There are only 7 students in the dorm this year. Ema from the Czech Republic, Ilya from Belarus, Milla from Mexico, Tomas from Colombia, Edward from South Korea, Sajida from Afghanistan, and Mary from Iowa. This is minuscule compared to the number of students past years, where there have been as many as 85 students in the dorm.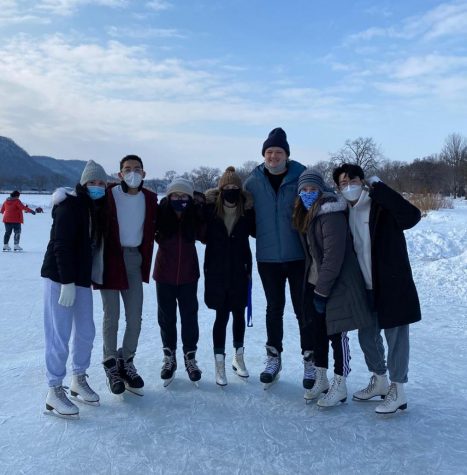 The lives of international students have been changed in a lot of fields.
Regarding COVID, dorm rules changed. There used to be room checks after 11 pm curfew, where RMs check if any kids went out after curfew. However, there are no room checks this year because there are only 7 students in the dorm, and RMs trust all of them. The curfew was also changed. Before COVID, the curfew for the dorm was 10 pm in the building and 11 pm on the floor. But during pandemics, students need to be in the building by 8 pm and their floor by 10 pm.
Among all of the changes, the most significant happened in rooms. This year, although the first floor had belonged to girls for more than 10 years, boys are living on the first floor while girls are living in RM's apartment on the 3rd floor.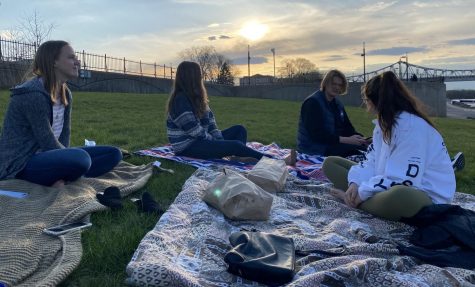 This significant decrease in the number of students changed the meal plan as well. Instead of having a cook who cooks for only 10 people, the dorm decided to send students grocery shopping weekly with a budget under $30 for breakfast and lunch. Then dinner is provided by an external company.
Followed by the change in the number of students, RMs were changed a lot as well. Most of RMs from last year left Cotter. However, there still is one RM who decided to stay.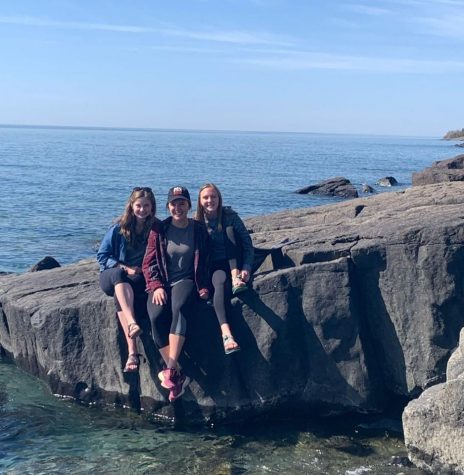 The familiar RM from last year is Erin Misar. She is currently teaching Spanish at Arcadia and planning to move to New Orleans.
She shared her story about how she became an RM at Cotter.
"To be honest, I first began investigating the possibility of being an RM because I needed a place to live when my parents were moving out of town. A Cotter parent mentioned the dorm, and I was immediately drawn to the idea. I was also studying teaching ESL, so working with international students was right up my alley. When I learned more about what being an RM entailed, it seemed to be the perfect fit for me," she said.
She also said that she enjoys seeing how people from so many different backgrounds come together and form a really meaningful community.
"
We become family for each other."
— Erin Misar
She likes eating meals together, hearing about everyone's days, and laughing together as well.
"Not to mention, living with so many people means that someone is always up for an adventure-dairy queen run, hike, talk, etc. There is no shortage of friends."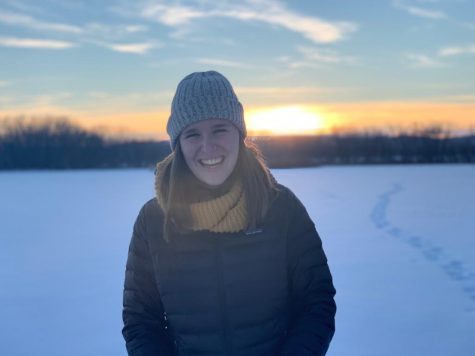 In addition, she mentioned changes in the dorm due to COVID-19 by comparing the two years she has been at the Cotter dorm. She said the 2 years she has been an RM at Cotter have been dramatically different because of Covid.
"Last Spring was very difficult- a lot of students left to go back home, and those of us at the dorm had to relearn how to live in the dorms covid-style," she said. Furthermore, because of the lockdown and online school, a lot of students and Erin felt very socially isolated, lonely, and anxious. Erin said it was difficult even though they did what they could do to keep spirits high.
According to her, this year with only seven students is so different.
"At first, I was not sure how it would feel to have so many fewer students in such a large building, but it has been so wonderful. I have had the chance to really get to know everyone in the dorms so much more than last year." And even though they have been able to do fewer outings because of the pandemic, they were able to take a trip to Duluth because they had such a small group. There are pros and cons to having smaller and larger groups, but it has been so special to get to know the students and RMs so well."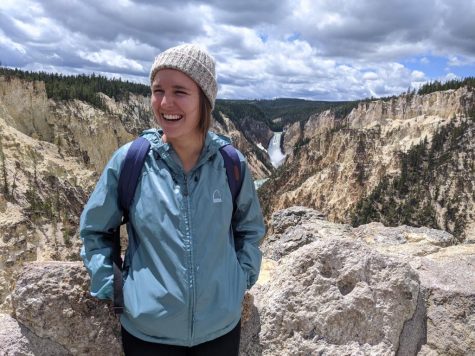 She also shared some challenges she went through.
"It was hard for me to think of a challenge, but I'd say that sometimes it is hard to balance dorm life with everything else in my life. When I get very busy, it can be hard to make as much time as I'd want to be there for the students. I realize that the students go through so much at school, with friends, sports, etc, and I always want to be there for them more."
Her typical day routine consists of working at Arcadia as a Spanish teacher from 7:30 am to 4 pm.
"I usually go for a run or workout after work, then eat dinner with everyone in the lounge at 6:00 and hang out for a few hours," she said. When it is her weekend to be on duty, she plans meals, takes students grocery shopping, and enjoys hanging out with everyone.
"Two ways that the Cotter Dorms are different from college dorms are the students are high schoolers and international. It is so important for high schoolers to have a support system, and the students at Cotter find connectedness and meaningful relationships," Erin said. She also mentioned that she appreciates the perspectives that each one brings because the students come from so many different cultures.
Her advice for those who will live in the dorm is "Try to be involved and present for whoever and whatever is in front of you." She said that there are so many amazing people that will change your life if you will take time to get to know them and listen to them. "Life is full of amazing experiences if you are willing to be present for it."
Two new friendly RMs in the dorm: Julia Massmann and Jenny Neu.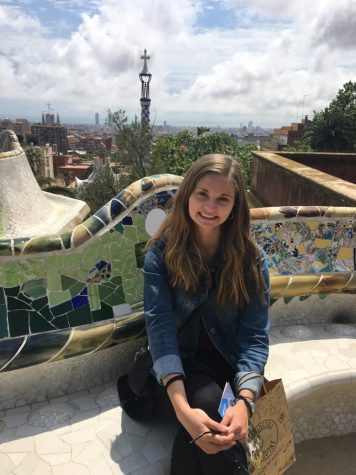 Julia is planning to be a Spanish teacher after graduating from Saint Mary's graduate school.
She described that living here is pretty great. "I enjoyed getting to know all different students and their life stories," she said. Just like Erin, she said this small group in the dorm is a family.
Julia actually found this job out from Erin. Erin mentioned the job last year, and Julia wasn't sure if she was going to be in Winona. "When I found out I was going to Saint Mary's graduate school, living in the Cotter dorm came to me as a great deal. I have been always interested in meeting people from different countries and languages," she said.
In the dorm, she usually spends time with students. She has been having lots of conversations with them. She often goes on day trips with the students from the dorm. She cooks for them and plays games with them.
"
I don't really have difficulties. I have no problems living here!"
— Julia Massmann
Compare to her college dorm, Cotter's dorm is a little bit different. First, because she uses RM's apartment, she doesn't share room with others. She said that she becomes more responsible for everything.
"My advice is to get to know each other. Everyone has a cool story and life to share. Go out and do something."
Jenny is planning to be a nurse after graduating her college.
She likes living in the dorm. "It's good to be here," she said. She said that she got to know this job right before it closed. "It's kind of a random position. I got to know the job right before it closed and just jumped in."
Her favorite part of living in the dorm is meeting and sharing the story with people in the dorm.
"
I love red pasta."
— Jennifer Neu
As well as Julia, she said there were no difficulties living in the dorm. Compared to her college dorm, living here gives the opportunity to spend more time with people. "Eating dinner every night together is unique," she said. Also, her advice is to get to know people more.
Even though there were a lot of changes in negative ways and there will be a lot of changes, the dorm life in Cotter will never be like this again.
Leave a Comment