Mac Whaley pursues his passions
Cotter study hall monitor Mac Whaley wears many hats.
Mac, a Cotter grad turned Cotter employee, is passionate about everything he is involved in from music, to coaching, to teaching, to PA announcing, to his family.
Whaley graduated from Cotter in 2016. At Cotter Mac was involved in football, basketball, baseball, show choir, musicals, journalism, 6th-man Megacorps, and NHS. Additionally he was known for starting the "Bloedows Bracket Challenge" for March Madness and dressing as Freddie Mercury for Halloween.
Post-Cotter, Mac attended the University of Missouri, with plans to become a journalist. Soon into college however, Whaley began to question this choice.
"A lot of people at journalism school were trying to kiss up and network. There are plenty of people doing journalism for the right reasons: giving people a voice, helping people, and telling stories. I just felt like a lot of people weren't doing that. I was getting stuff done for the sake of getting it done and I knew I was going to be miserable,"  Mac said.
With journalism program not living up to his hopes, Mac found that his true passion was teaching.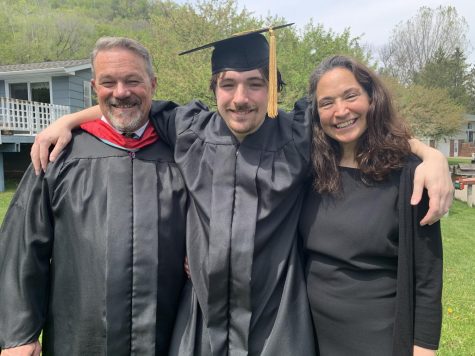 "I was working at a Skyzone–working around a lot of high school kids–and I thought maybe I'll try coaching. I got a coaching job at a place called Rockbridge High School coaching freshmen football and it was really great. Everyday I looked forward to coaching. Coaching is the whole reason I wanted to get into teaching."
After graduating from Mizzou in 2020, Mac decided to attend grad school at St. Mary's University in Winona.
Upon moving to Winona, Whaley needed to find new jobs and new outlets for his passions. First, he got a job coaching the Cotter JV boys' basketball team. Although the team did not have the most successful season, Mac took pride in his job.
"What I found out is that even though we didn't win a single game it didn't matter what the score was, the guys wanted to get better and I wanted to get better. So I came back everyday to push the guys to be the very best they can be."
It was clear to the players that Mac was trying to make them better.
"On the basketball team he gave us an inspirational thought of the day," said sophomore Tristyn Christopherson.
Mac is most known for his second job at Cotter, running study hall on Thursdays and Fridays.
Whaley found out about the job opening when his dad, the Cotter P.E. teacher Nick Whaley, told him about it. He then reached out to Mrs. Fitch and got the job.
Mac's young age of 23 creates some unique challenges as a study hall observer. Current Cotter seniors were 7th graders when Mac graduated, so many students know him from junior high or through their siblings. Study hall students have had fun with Mac, seeking out his social medias and asking him about his love life. Although Mac does not mind this, he thinks it is important to keep the students focused.
"Kids might treat me differently, but my job is to help kids get where they need to be and any way I can do that is what I set out to do. I have to create a safe environment for kids to learn and get their assignments."
As study hall observer, Mac Whaley has earned a reputation for taking phones. Many students do not understand why Whaley does this, but he has an explanation.
"I do not want to take kids phones. I don't get a kick out of it. I know how I personally acted in high school and college–not putting academics first. That is partly because I wasn't disciplined and I didn't use my technology to advance my learning. We need to find ways to make technology less distracting and more useful. If I could trust everyone to use their technology appropriately, I wouldn't have to take phones."
Despite his phone taking, Mac gets overwhelmingly positive reviews from students.
"He's so funny in study hall…he even rapped for us!" junior Olivia Blumers said.
"His playlist has gotten better throughout the year and his TikTok is iconic,"  junior Andie Teske said.
Also thankful to have Mac at Cotter is his dad, the original Mr. Whaley.
"I look forward to seeing his smile and interacting with him on Thursdays and Fridays. Having him back in Winona, watching him pursue an education degree from Saint Mary's University and working with him at Cotter is a gift. The Lasallian motto of, 'teaching minds and touching hearts' rings true for Mac. I know that he believes he can make a difference in the lives of the young people entrusted to his care," Mr. Whaley said.
Another job Mac is doing in Winona is PA  announcing. The history of Mac and PA announcing dates back to when he announced for Cotter baseball when he was 11 years old. As a junior and senior, he worked at the radio station and occasionally announced for Winona State events, including the Warrior Club holiday basketball tournament. In college, he announced for Rockbridge. Now, he frequently announces for St. Mary's. Announcing for everything from hockey to volleyball, he is loving every minute of it.
"My favorite thing about it is to play a role where I add to the experience in a way that makes people feel welcome and happy. It's rewarding and I feel lucky."
Another thing Mac is well known for is his musical pursuits. The genesis of Mac's music making occurred when he was 14 years old.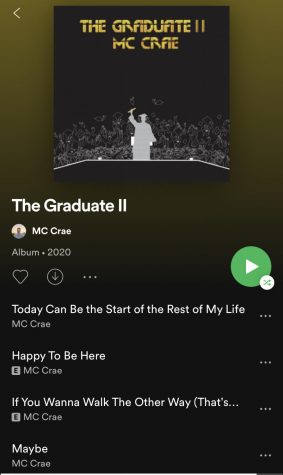 "In eighth grade, I met a guy named Drake Clifton who was two years older than me and lived in the dorms. He made music, and when I hung out with him he showed me some of his unreleased music. I thought it was super cool so then I started making my own music on Garage Band."
When he first started making music, Mac used his computer microphone and MP3 files. Today, he has a higher quality microphone and makes his own beats. Mac's rap/hip hop music consists of 6 projects, the most recent of which can be found on Spotify and Apple Music. The rest can be found on his YouTube and SoundCloud. One can hear Mac step up his game while listening through his discography.
"My first album is really bad but I leave it up because I like people being able to see my growth."
After working hard to make these improvements, Mac has two simple hopes for the future of his music career.
"I hope to collaborate more with my friends, that's one of my big hopes. Music is more fulfilling if it's made with other people, and I want to give people the opportunity to present their story. I also hope to make a concept album, which is in early development. It is called A King of Scarlet, and I want to make it about my brother."
Mac's relationship with his brother has been very important to his life. Shane Whaley, who has autism, graduated the same year as Mac.
"I love him. He is someone who is always always there for me, even though I probably bug the crap out of him. I really look forward to whenever I get to pick him up or drop him off at work–just for a 10-15 minute conversation. If I didn't have my brother I would probably have much more anxiety and stress because he's so chill and relaxed."
Mac and Shane's parents have observed just how special the brothers' relationship is.
"The only person more excited about Mac moving back home after graduating from the University of Missouri than his parents was his brother Shane. It is difficult to put into words the impact Mac has had on Shane and Shane on Mac. Their relationship is truly one where they both bring out the best version of the other when they are together. I believe that Mac understands Shane in ways that no one else does or can. In a sense, they are two peas in a pod. They are mischievous, happy and full of love and laughter. They both would also eat like unsupervised 5th graders if given the opportunity. There is just so much joy when the two of them are together!"  Mr. Whaley said.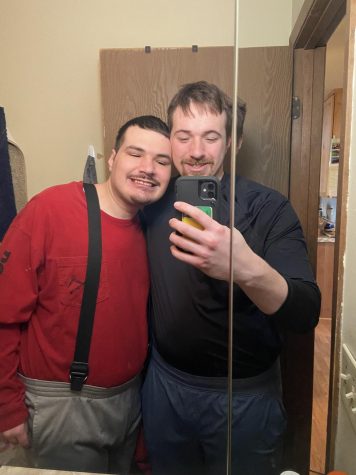 Also in his beloved family is Mac's sister, Kelsey, and his mom, Nancy. Kelsey is currently working as the Sports Information Director at Saint Cloud State while Nancy is a chemist at Element Testing in Minneapolis.
Next year, Mac will doing his student teaching at Rochester Mayo and finishing his grad school in December. He hopes to still coach basketball at Cotter, but if he has to take a year off, he will definitely be back the next year.
With so many passions and talents, the path of Mac's life is unclear but incredibly bright.
"Wherever I end up, I'll make the most out of it."
Leave a Comment