Ramblers rock homecoming game
A huge crowd and a great performance made the Cotter Homecoming football game one to remember.
Cotter's football team took on Wabasha Kellogg, Friday, September 17, at Winona State's football field. Entering the game Wabasha Kellogg's record was 0 – 2, where Cotter had 1 – 1.
"It's gonna be great to put on a good game in front of the biggest crowd we have had all year, " Cotter senior Ryan Hesch said the day of the game.
And he was right.
A large Cotter crowd was added to by a huge group of  Winona High students, including many football players, who were there to help support Cotter. With chants like "Sleepy Tate", "D – Fence", and "Let's go Cotter". It was the biggest student section for any homecoming game in recent memory.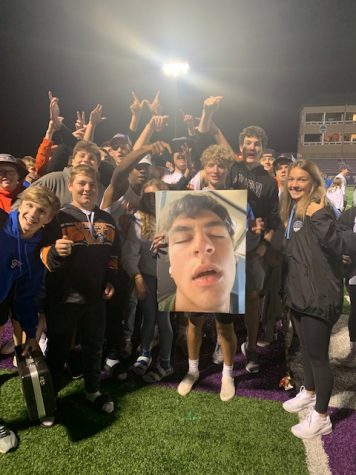 In the end Cotter scored a total of 33  points. Cotter scored 20 points in the first quarter. Both teams were scoreless in the second quarter . The third quarter Cotter was able to push through another twelve points, while W-K added 12 points in the final period, leaving Cotter the win with final score of 33 – 12.
Tate Gilbertson had an excellent night at quarterback, throwing 4 touchdowns, 3 to sophomore receiver Luke Gardner and 1 to Ryan Hesch.  Gardner added a punt return for a touchdown and filled in to kick an extra point, to score 25 points.  Senior defensive back Abraham Kamara had a long interception return to highlight solid defensive play.
Half time consisted of Cotter's pep band for the first time. Instead of the marching band performing this year for the halftime show, the pep band took over the show this year with Cotter Albums mixed in. The pep band was able to reform standing in rows out on the field.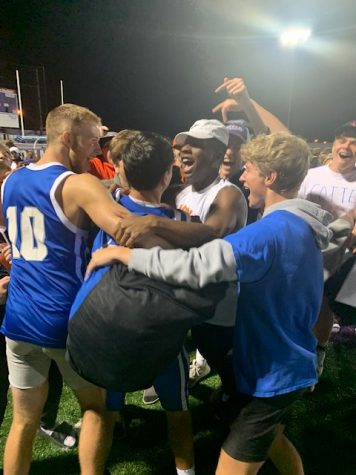 This game leaves Tate Gilbertson, Cotter's senior quarterback with 741 passing yards for the season.
Cotter moved to 2-1 and Wabasha t0 0-3 on the season.
Leave a Comment