Cotter Cares: Volleyball team raises money for local family
Can you dig it? Pink,that is.
On Monday, October 4, the girls hosted Lewiston-Altura and held  a Cotter Cares night, where money is raised to help a local family in need. Fans were encouraged to wear pink in support for cancer funding. A bake sale was held and put on by the parents. Everything was sold for $1 and all the money went to a family in need.
¨The night was a success, we raised over $900 dollars and got to watch some good volleyball.¨Cotter mom Heidi Peterson said.
Peterson is the parent-student coordinator for the team, she was busy all week sending out emails, getting volunteers to work the bake sale table, and having players and family bring baked goods.
¨It was stressful but worth it,¨she said.. Heidi and other parents and volleyball players put on a very successful bake sale and night. selling t-shirts and encouraging people to buy the treats.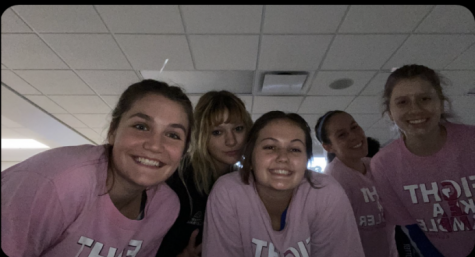 At 7:15 the girls run out in their, ¨Fight like a Rambler¨ shirts. After warm,-ups the game was on.. In a see-saw battle in the first game, Lewiston took the lead with 24-23, followed by Cotter tying up the score. Again Lewiston takes the lead only for the girls to fight back and tie it up again. this back and forth happened 3 more times until Lewiston finally took the game 4, 30-28.
¨I just told them to keep having fun, ¨Cotter coach Laurie Broghammer told the Winona Daily News.
That is what the girls did. Never letting up on the Cardinals and never failing to keep smiling.