State soccer notebook
It was quite and end to quite a year.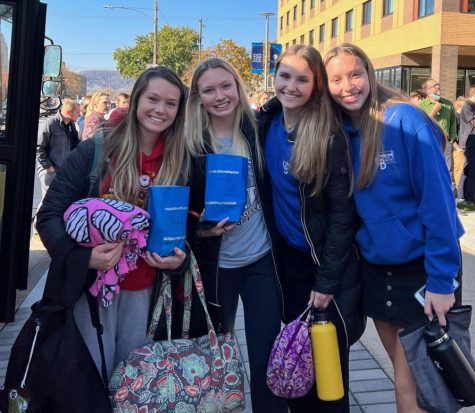 The Girls Soccer team headed to the U.S Bank Stadium on Thursday, November 4, around 12:00pm. Cotter held a little state send off for parents and students outside the St. Joseph building. The girls got bags of goodies and took lots of pictures outside of the school. The teachers, parents, and a few students waved as the girls left for Minneapolis on the bus.
The team played against Minnehaha Academy at the U.S. Bank that night at 7:00pm. The girls had a heartbreaking loss, 4-0. Minnehaha Academy ended up winning the championship by defeating Breck 4-2 in the finals.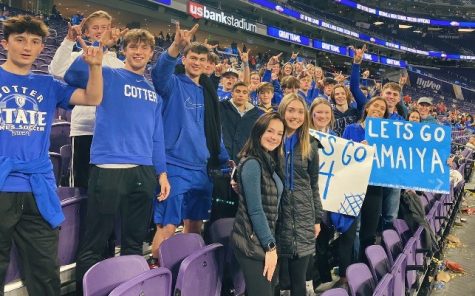 At the U.S. Bank, the student section came to cheer on the girls. They all wore blue, brought signs, and cheered loud. The soccer team was very thankful all season that the student section came to support, regardless of the results.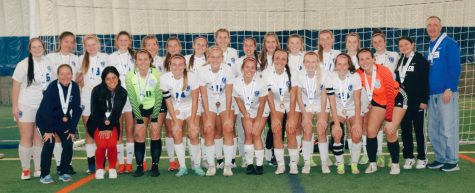 After the girls took a tough loss against Minnehaha Academy, they turned around and played against Holy Family Catholic. The girls played this game at West St. Paul Regional Athletics Center at 1:00pm. This game was played for the third place. Holy Family Catholic was up 2-0 in the first half of the game. Towards the end of the second half, Cotter made a comeback and ended in a tie, 2-2. They did not do overtime or a shoot out, both teams got medals and a plaque for the third place.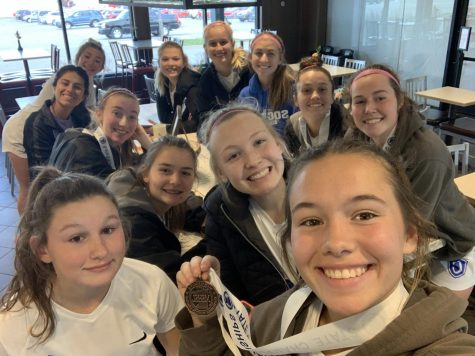 Alyssa Williams and Sera Speltz were named to the all tournament team and Olivia Gardner was named to play in the State all-star game.  Despite not reaching our ultimate goal this season marked the most successful run in the history of Cotter soccer and I was glad to be a part of it.
Leave a Comment