Cotter cheer squad makes its debut
"Give me a C!", for cheerleading , that is.
The Cotter cheerleading team had their first appearance at the boys basketball game on Saturday, January 22, at the halftime of a game vs. Kingsland.
Lea Hyzova, a Cotter senior from Slovakia, is the coach and captain of the team. "The first performance was really great, we've been practicing for over a month."
She noticed that there were no cheerleaders in the fall at the football games, so she talked to Mr. Forney and Mr. Whaley to try and get a team going. Lea has been working on getting a team since September.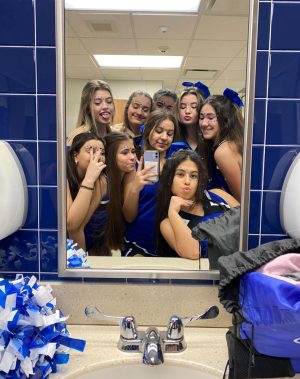 Tryouts were announced and the team assembled.  The squad practices on Thursdays from 7:00-8:15 am and Sundays from 1:00-3:00 pm.
There was a short turnaround between the group's first two performances.  "On Saturday I was told that we need a new performance for Monday, so we practiced for five hours and learned a completely new routine. I had to do another mix of the songs too. But we did really well on Monday, I even think that it was better than the performance of before," Hyzova said.
One hurdle for the group was inexperience, no one had cheer experience on the team, neither did Lea. "I have never done cheerleading, it was challenging, and I had no idea about the jumps or pyramids. But my dance and gymnastics background definitely helped," she said.
The most difficult thing to teach for Lea is tumbling, this is because it can be dangerous and she cannot always spot each person. Everyone clicks to the dance moves and routines fast, which is great. Pyramids require practice, although not many girls were brave enough to fall back from the pyramid and let others catch them. The girls will perform at every home basketball game, which is until mid February.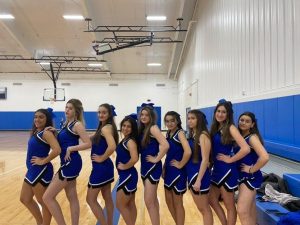 Several other members of the team are also international students.  "It's like a dream or something I've seen in movies, we don't have groups like this at home," said Camilla Puente, a sophomore from Mexico.  "We were really nervous before the first night, but I think it went really well," Marta Hernandez-Lopez, a sophomore from Madrid, Spain, said.

"

"

I think it's really nice to see people cheering for the players, the school spirit is viewed from a different perspective"

— Lea Hyzova

." Lea stated.

The girls will perform again at the next home game, on Thursday, January 27, during halftime of the boys varsity game vs Fillmore Central. 
Leave a Comment