Seniors attend Baccalaureate Mass in Austin
The Cotter Senior Class of 2022 gathered in Austin at St. Augustine's  on Wednesday, April 27, for the annual Diocese of Winona-Rochester  Baccalaureate Mass.
The Cotter students were joined by students from Rochester Lourdes, Austin Pacelli, and Mankato Loyola.  They celebrated  a beautiful mass with Bishop John Quinn, Fr. McNea was co-celebrant. Bishop Quinn, who is in the process of retirement, has held the Diocese wide mass annually during his tenure as bishop.
Parents were invited to attend and all were invited for lunch in the Pacelli gym following the mass.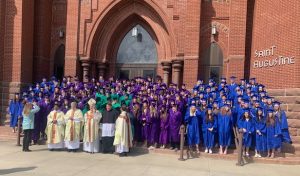 Leave a Comment