Littrell receives Civil Air Patrol award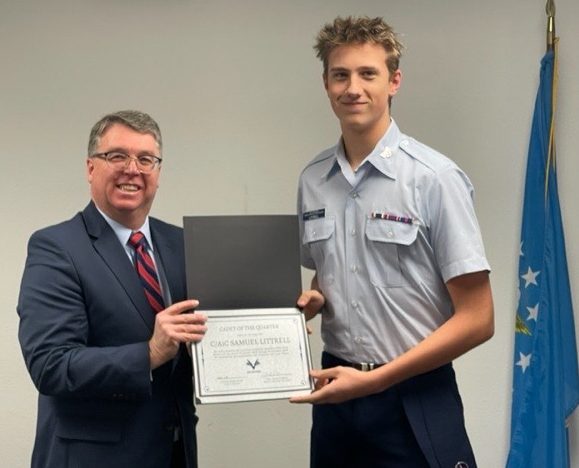 Cotter sophomore Sam Littrell is flying high.
For his work in the cadet corps of the Civil Air Patrol, Sam was recently presented the Cadet of the Quarter award from Wisconsin State Senator Brad Pfaff.
"I have been interested in planes and piloting ever since I was a little kid, and being a part of the Civil Air Patrol has given me the chance to act on that interest," Sam said.
"At my brother John's graduation party last year, I was talking to one of my dad's friends who is a Lieutenant Colonel in the Air Force and he told be about the CAP and that there is a branch in La Crosse, so I applied and started training."
"There are about 100 cadets in our group and we train every Monday at the La Crosse Regional Airport fields.  We get flight instruction from a cadet commander and do training exercises for search and rescue operations and stuff like that," Sam added.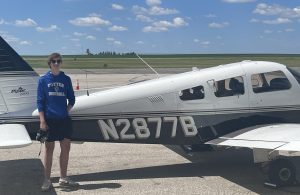 What is the Civil Air Patrol?  The Organization's official website gives this history:
"Since Civil Air Patrol's formation during the earliest days of World War II, this vigilant organization of citizen Airmen has been committed to service to America. Founded on Dec. 1, 1941, to mobilize the nation's civilian aviation resources for national defense service, CAP has evolved into a premier public service organization that still carries out emergency service missions when needed — in the air and on the ground.
As a Total Force partner and auxiliary of the U.S. Air Force, Civil Air Patrol is there to search for and find the lost, provide comfort in times of disaster and work to keep the homeland safe. Its 56,000 members selflessly devote their time, energy, and expertise toward the well-being of their communities, while also promoting aviation and related fields through aerospace/STEM education and helping shape future leaders through CAP's cadet program.
Civil Air Patrol's missions for America are many, and today's adults and cadets perform their duties with the same vigilance as its founding members — preserving CAP's 80-year legacy of service while maintaining its commitment to nearly 1,500 communities nationwide."
The site also claims that the CAP has been responsible for saving 23 lives thus far in 2023.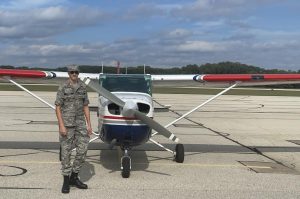 In addition to Sam's success in is work with the CAP,  his academic work is also taking off. "I had some mental struggles coming out the pandemic lockdown and wasn't doing my best in school, but this year I am getting straight A's and have a lot better focus."
Sam hopes to use his experience and success with the CAP to apply for flight school scholarships at a university when he graduates from high school.
"I would like to be a pilot of some kind, whether that is military or civilian, I'm not sure yet, but I definitely want to keep flying."
Leave a Comment