Ricky Rubio le dio una asistencia a Pablo
One Spanish point guard drops a dime on another.
The Cotter Residence Center took of  a group of about 25 Ramblers to a Timberwolves game on Saturday, January 14, versus the Cleveland Cavaliers at the Target Center.
As part of the group ticket package, the Cotter contingent received a  ground level tour of the Target Center and were allowed in the visiting players tunnel at halftime as the Cavaliers returned to the court from the locker room.
Cotter senior, Pablo Crespo, who is an excellent point guard, but unfortunately ineligible for varsity competition due to MSHSL transfer rules, brought his Spanish flag and hailed former Timberwolf, current Cavalier, and fellow Spaniard Ricky Rubio, as he headed into the players' tunnel at halftime.
"I spoke to him in Spanish and he looked up and I had the flag, and I asked him if we could take a photo and he said "sure"," Pablo said.
"It was my first NBA game, I wasn't expecting to be able to get a picture with Ricky, but I brought the flag just in case.  With our group ticket we got to go down by the players entrance so it worked out perfectly. I  was pretty nervous when I was talking to him, but he was cool."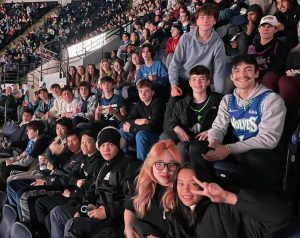 "The trip was a blast.  Our seats were pretty high, but I could see the game fine. We got to go  by the visitor's locker room and stuff at halftime, which was awesome, the whole Cavaliers team went right past us, with Donovan Mitchell, Evan Mobley, Kevin Love, and the rest of their team. It was cool that Pablo got to take a photo with Rubio," said Cotter junior Roberto Perez.
Mikael Sloane, who is an RM (residence mentor) in the dorm, and is a 9th and JV assistant basketball coach, and was a chaperone for the trip was also impressed.  "The kids had a lot of fun and it was really cool to get that close to the players, I have been to a lot of Timberwolves game, but never had that kind of access, it was a treat for the kids."
Grace Moline, another staffer and chaperone on the trip, agreed. "We had a full bus of local and dorm students, and they had a lot of fun on the trip.  It was also fun to see them trying to catch shirts from the T-shirt cannon and attempting to get on the jumbotron."
"I think Diego (Residence staffer and Cotter coach Diego dos Santos) helped set up the ticket package and saw that the tunnel experience is something the Wolves offer for some student groups," Sloane added.
With the return of students to campus following the lockdown, the residence hall staff has been working to provide some trips that bring residence and local students together.
"We have had two great trips to bigger sports venues so far this year. Prior to the Timberwolves game  this winter we went to a University of Minnesota hockey game. The kids always look forward to sports games and it is a great opportunity to invite our day students to join us in a very relaxed and fun atmosphere," Cotter Residence director Marie Barrientos said.
The Wolves won the game 110-102 behind 26 from Anthony "Ant Man" Edwards.
Leave a Comment