Econonmics Challenge team participates in State competition
Seven seniors represented Cotter at the Minnesota Economics Challenge in St. Paul on Wednesday, April 19.
The students qualified by scoring top of their region in a knowledge-based competition on understanding of economics concepts, and they competed against regional winners from across the state.
Pablo Crespo, Adam Dilks, Garrett Nelson, Mary Moore, Olivia Moore, Solangel Suarez,  and Elise Modjeski were Cotter's participants.  Modjeski earned the top score in her division at the State meet.
According to the organizations website, "in the Minnesota Economics Challenge, teams of students representing high schools across the state compete in a series of challenging tests of their economic understanding and reasoning abilities. The Economics Challenge is a capstone experience for students in grades 9-12 to apply classroom learning on economic topics through a series of challenging tests in macroeconomics, microeconomics, and international economics/current events. Participants compete in both team and individual exercises."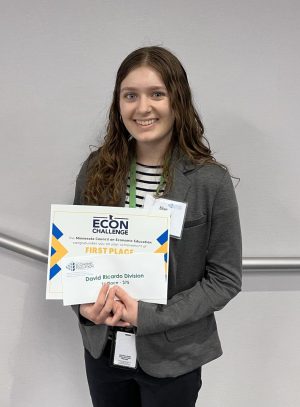 Social Studies and Economics teachers Evan Howard and Sydney Bockelman were the group's advisers.
"This is the second year Cotter has competed in the Economics Challenge.  We have participated in a number of other MCEE (Minnesota Council on Economics Education) events, like the  Global Food Challenge and Personal Finance Decathalon for a number of years. MCEE is affiliated with the University of Minnesota and the competition was held on the U. of M's St. Paul campus," Howard said.
"The event is totally based on the student's knowledge, as many of the topic are things that are not covered in class. So it tests what they have retained from Economics class, but also their critical thinking  skills and general awareness of the world," Howard added.
"It was interesting experience, some of the kids from the other schools were pretty amazing," Pablo said.
"It was really an interesting and challenging experience," Elise said. "I was happy to do so well in the individual competition, but the team competition was fun too. I think Cotter did really well for our first year entering this event."
Cotter students earned $450 in scholarships at the event.
Leave a Comment