PSEO option attractive to some students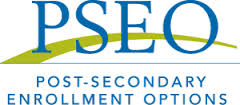 Students exceeding high school standards have the opportunity to enroll in the State of Minnesota's PSEO program to gain college credits while still attending high school.
PSEO stands for Post Secondary Enrollment Options, a program in which students can gain college credits while still being enrolled in their high school courses. Some students enroll full time, earning up to 18 credit hours per semester.
Founded in 1985, the goal of PSEO is to challenge high school students. If an individual feels their high school experience is lacking excitement or a challenging curriculum they can enroll during the program's admission period.
Students can be enrolled in Saint Mary's University for courses. No online courses or summer courses are offered as part of this program- only academic Fall and Spring semesters are available for enrollment. The PSEO program covers the cost of tuition, fees, and necessary books.
However, if a student decides to attend full time, they must be enrolled in a Minnesota public school. Cotter students are not eligible to be enrolled full time, since Cotter is a private high school.
Only juniors and seniors are traditionally allowed to enroll in PSEO. Full Time students who start PSEO in their junior year of high school can possibly accumulate enough credits to receive their associates degree on their graduation date.
However, high school sophomores are allowed to enroll in one CTE (Career and Technical Education) course. If they receive a passing grade in the course, they are allowed to continue taking courses while in 10th-grade.
To qualify for the program, students must meet certain requirement standards according to their high school's ranking data. They must be part of the top 50% of their class in rank, or have a composite ACT score right on or above the 50th percentile- score of 21 or above- nationally, while being part of the top 75% of their class for seniors. Juniors need to be in the top 33% of their class rank or have above the 70% percentile nationally- a composite score of 24- with a top 75% class rank.
If the school in which the student attends doesn't measure class rank, GPA is taken into consideration. Seniors require a cumulative 3.0 or better GPA, and juniors must have a cumulative 3.5 or better GPA.
Courses that are taken by PSEO students are required to be taken at the 100-200 levels, and be approved for program participants. Courses that require additional costs are not available under this program. Students can not pay additional, special fees, out of pocket.
To continue in the PSEO program, students are required to maintain a minimum standard. A cumulative GPA of 2.0 (C Average) and a 67% completion rate is required of all students, they must pass the course they are taking. Some courses offered are pass/fail, but all others must be taken for a letter grade.
Credits can later be transferred to the student's college of choice, or stay in the college they're taking PSEO credits with. Most colleges and universities will accept the credits earned in the program.
For parents the obvious benefit is saving money through earning credits towards graduation and reducing the overall cost of college.
This year a number of Cotter students are adjusting to college life, including seniors Julia Charron and Maura Michener.
"I like being able to get ahead and see what college feels like. It's nice to expand your horizons and meet new people in your classes" Julia Charron says, "but it is stressful."
Charron is expected to do all Cotter coursework on top of her two college classes coursework. "It's stressful to transition from Cotter to college, and the workload is difficult," she states "I think students should enroll in PSEO if you need an extra challenge, but it's very stressful and you need to be prepared for the experience. It's hard to get everything done."
As with most options available, PSEO has a specific set of downsides for some individual students.
Students will miss out on their high school years and experiences that follow it. Friendships may crumble when the student spends all their time taking college courses. Also, the credits don't always transfer to every single school throughout the nation, Ivy League schools, for example, will except no transfer credits for incoming students.
PSEO is a valid option for high school students that feel the need to excel academically while multitasking two stages in their lives. More information about the application process can be gathered through local university websites.