Working with kids comes first for Mr. McGlaun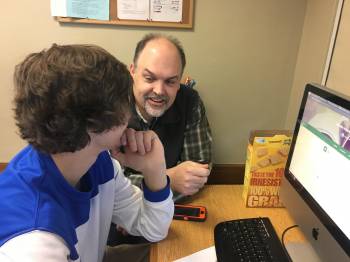 Hang on for a minute...we're trying to find some more stories you might like.
Mr. McGlaun listens to the call from God and that call has brought him to Cotter.
Mr. McGlaun is originally from Katy, a small town outside of Houston, Texas.  At the age of 15, he started his journey by working part time jobs.
Throughout his college school years, he worked many jobs. In his senior year, he held an internship with the attorney general of Texas in the intergovernmental affairs division. He went to legislative hearings and wrote reports for a piece of legislation. While there he once wrote a paragraph of a speech for the Texas attorney general.
He then took a job as a youth minister at a church for two years, working with junior high and high school kids that went to the church. He planned activities, worked religious education and planned retreats, summer trips, and weekly gathering things for them.
Then he worked at another church for four years, and did youth ministry and director of religious education. He planned all of the school stuff for the youth about learning about the church. He found volunteers to teach the kids, trained the teachers and picked curriculum for them. The kids would come once a week to classes.
Later on, Mr. McGlaun worked at a Catholic high school where he was a campus minister and taught a religion class.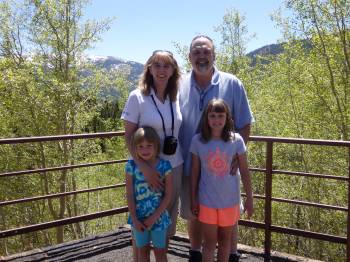 About fifteen years ago, he moved to Winona and worked for Saint Mary's Press, a publisher that produces religion textbooks and resources for churches and schools, for almost ten years as an editor and author. During this time, he met his wife. They now have two young daughters.
He then worked for  Saint Mary's University of Minnesota for four years as the Dean of Campus Ministry.  He coordinated all the service projects, retreats, and masses for the university.  His role as Dean of Campus Ministry was a good job for Mr. McGlaun, but it also required him to work over lots of weekends and travel.
He wanted a schedule that gave him more time with his family and wanted to go back to teaching high school.
"
It is not about what job that pays the most or prestige, but what is good for my family. What is best for my family is not a new car, but it is being present, having time with them and setting an example of what to put priorities on."
— Mr. McGlaun
He spoke to Sr. Judith Schaefer about joining Cotter.  Coincidently, there was an opening in the religion department, so he became a religion teacher again. He likes working with students by using the gifts that God has given him.
"
I really like what I do at Cotter.It's good for me being here, and I hope it's good for Cotter with me being here. I hope I'm a good fit for Cotter."
— Mr. McGlaun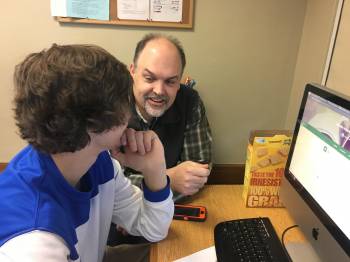 "Each school is unique. I think Cotter does a great job of helping students, and feel like there is a real commitment to make every effort we can to help  students succeed. I think there is also the opportunity to be able the students who need more challenge and we give them more challenge. So I think academically Cotter does really good things. There are always ways to grow and change."
"
Mr. McGlaun is a great addition to our staff. He brings a lot of wonderful past experience to the table, and his leadership in the religion dept is so helpful. He was a great sense of humor as well, and his positive nature is a huge bonus!"
— Mrs. Fitch
However, having jobs related to religion wasn't the career path that he was thinking of when he was in college. He majored in political  science with a minor in economics. In college, his career path goal was to work in government.
He wanted to be a lobbyist or chief of staff for somebody. He enjoyed working to shape legislation, but it was not where he ended up feeling like he was called to be. When he did all the church work, he felt like that was what he was being called to work and where he was able to us his gifts. Every time he though about leaving and going to something completely different, he got a very tangible call to go do something else.
"A vocation is more than a job. What is your deeper purpose? What do you really being called to do in life?   These are questions I have asked myself,"  McGlaun said.
Mr. McGlaun's primary vocation, the most important vocation of life is as a husband and father. His secondary vocation is as a teacher, as a campus minister, in the different roles he has served. If the secondary vocation is not letting him to do what is my primary thing, to him there has got be a change.
"
Listening to the call of the God and going to these places had take me to directions that I had never thought I would go, but it is an amazing destination."
— Mr. McGlaun
Both of his parents are educators. He grew up seeing teaching is important. Teaching is also something he enjoys. In high school, being in a study group for an economics class, by the end of the study group, he was at the top front of the table and teaching the class. It made sense to him. Taking things, helping people to explain things and understand them.
Mr. McGlaun is developing a good reputation at Cotter.
"He is very helpful in that he will be sure that students all have their work done, and he helps us to think for ourselves," Emmalee Mohan said.
"Mr. McGlaun is one of those teachers who just 'gets it'. He challenges his students but understands that some days, a movie is just what everyone need to recover from a very stressful assignment," Sammy Knight said.
His job is not make everybody Catholic, but at least knowing about social justice and maybe doing something about it. Then he has done something incredibly important in his life. He might not be the one ends world hunger, but if in his class, he can inspire one of the students to go out and deal with that issue, he had played his part in working on hunger.