Start the Presses: John Seigel Boettner returns to Cotter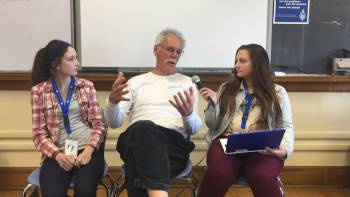 Hang on for a minute...we're trying to find some more stories you might like.
Are middle and high school students capable of conducting and producing serious interviews of high quality?  John Seigel Boettner sure thinks so.
Mr. Boettner recently spent a week on a return trip to Winona promoting his Teen Press concept at Cotter and other schools.
Boettner's was in Winona in 2016 when the film TEEN PRESS, a documentary about his project, was screened at the Frozen River Film Festival.   As a social studies teacher at Santa Barbara Middle School, Boettner started a program which had his students doing red carpet interviews at a prestigious local film festival and the Teen Press concept took off from there.  The program has now been a staple at SBMS for over ten years.
He is now bringing this concept to other schools and is hoping to build a network of teen presses around the country. He has led workshops in many places in addition to Winona, including Washington, D.C., California, Indiana and New York.
Last year Boettner and Cotter were connected by FRFF director Crystal Hegge. He introduced his concept at Cotter and students were able to interview several film directors who were in town for the festival.  Boettner's sons Jacob and Isaac, who are filmmakers, also happened to be in town to promote their film "I Am Able" about Frederick Ndabaramiye. Frederick, who runs a community center in Rwanda, was one of FRFF's featured speakers in 2016.
This year at Cotter, John worked with Alli Wagner's 8th grade English classes and  Kim Juncewski's 7th grade history students. He also worked with Mr. Costello's journalism and AP Lit. classes and led a faculty development workshop. He presented to 5th and 6th grade students at St. Stan's and to middle school students at Riverway.  He also made presentations at St. Mary's University to Dean Beckman's PR/Business club and to Anne Conway's First Generation Initiative students, some of whom were preparing to spend a week on the Mexican border interviewing immigrants, border patrol workers, and students.   He also was the featured speaker at  a workshop on the power of stories at FRFF and led a Q&A session after the screening of his sons' film "A Way Forward" which was shown at this year's Festival.
At Cotter both teachers and students embraced his message and delivery.
"John is an amazing person because he really knows how to use his words to bring you into the presentation. He has a way of making you get lost in the presentation, and that is something that few people can do," Annie Galke, who has participated both years in FRFF with Cotter, said.
"I  think that Teen Press at Cotter should be a regular thing that is as big of a deal as John's Teen Press back in California. This program is a great opportunity for students, and changes the lives of everyone involved. I see no reason why Teen Press shouldn't be constantly active at Cotter and in Winona," Galke added.
Ellena Girma met John last year and worked with him at both Cotter and St. Mary's this year.
"He tells his story in a way that allows the audience to engage in the presentation and to do some self reflection on their own stories.  The power of the Teen Press movie is that people who see it believe they also have a story to share.  I really enjoyed his talk on how to show respect while telling one's own story. It was cool," Girma said.
Teachers were equally impressed with Boettner's approach.
"The level of respect that John had for the students was particularly striking to me. When asking them questions, John genuinely displayed an interest in hearing their answers. Additionally, whenever speaking, all of his points came back to the fact that even as seventh graders they have the skills and unique opportunity to investigate the stories many are willing to share but are waiting to be asked about,"  Kim Juncewski said.
"John emphasized the fact that everyone has a story to share and they would love to share those stories with seventh graders, if seventh graders were willing to put in the time to create questions of depth. Also, John shared a number of stories with the students which illustrated the importance of researching an interviewee ahead of time and listening intentionally when another person is speaking."
"There are a number of skills that I would like to see cultivated in among our students and I think Teen Press is a great tool to help us (teachers) cultivate those skills. Research, developing in-depth questions, interacting with others, writing, but most importantly listening and putting others before one's self–I see all of these skills being put to the test through Teen Press," Juncewski added.
"John is always really great at communicating and getting kids interested. He tells a lot of stories and sort of relaxes with them. Then he gets them to interact with each other in a way they aren't used to. They have to look each other in the eyes and shake hands. For junior high students (and for anyone, really), this is a great thing to practice," Alli Wagner said.
"Listening is truly a skill and a great way to learn that skill is through interviews. You can't just ask someone questions and not actually have a conversation with them during an interview. Follow-up questions are important and emotions are important. Anyway, I think those are really valuable things that Teen Press brings to the table."
Mr. Costello thought that this year's workshop has helped give the program at Cotter focus and momentum.
"While last year  with John was a blast, this year had a clearer structure and I think we made some significant strides with the Teen Press  concept.  John is great in front of a classroom, but it also wonderful to see him working in a small group with a Teen Press group prepping for interviews.  There was focus, attention to detail, and a sense of fun and engagement.  Of course there was also the payoff in some really moving interviews.  I have great hope and confidence that we will keep building from this week," Costello said.
Boettner was also well received by the St. Mary's University students.
"John spoke to the Saint Mary's University Public Relations/Business Club on Wednesday, February 15. His message was one of the importance of interpersonal communication and relationships in living life to the fullest. He also told stories related to Teen Press and how taking chances is a great way to discover new things about yourself and others. I know the Saint Mary's students really appreciated John's message and authenticity," said the club's adviser and St. Mary's professor Dean Beckman.
Anne Conway's students were on their border trip as this story was being written.
At Cotter plans for Teen Press continue to move forward to make it a part of the curriculum offerings.  Check under the "video" section of the Chronicle to see more of interviews conducted by Cotter Teen Press members over the past two years.