World on a string: Coffin throws down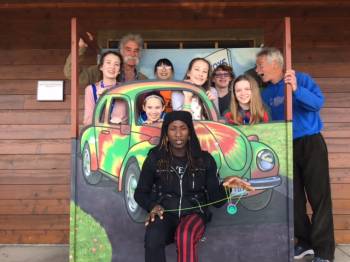 Hang on for a minute...we're trying to find some more stories you might like.
"I've got the world on a string
I'm sitting on a rainbow
Got that string around my finger
What a world, what a life; I'm in love" — World on a String
Songwriters Arlen & Koehler may not have had Coffin Nachtmar in mind when they wrote this famous song, but the lyrics sure fit him.
Coffin is  the subject of a documentary short entitled "Throw" that screened at this year's Frozen River Film Festival and he was in Winona to promote the film.
'Throw' is a term used by yo-yo players and he is a master of the craft.  The film's director spotted Coffin throwing in his hometown of Baltimore and, over time, shot the film in various sites around Coffin's home in the city.
Coffin explains how after being bullied for not fitting in as a child, discovering the yo-yo was a way to escape and start expressing his true identity.
Coffin also has a passion for skateboards, art and painting, reptiles and Transformer toys.   Coffin has a company which sells yo-yos and gear called OhYesYo!.
When doing research on Coffin, Annie Galke learned of his love of toys and suggested that the Cotter interview be conducted at Lark Toys in Kellogg, Minn.  Coffin was heading to the airport with Harold Mintz of "1-800-give-us-your-kidney" and John Seigel-Boettner of "TEEN PRESS" and the interview took place on February 19, 2017.
Interviewers for this story are  Joseph Costello, Annie Galke, Cecilia Galke, and Maddie Kohner.
https://vimeo.com/184702485   "Throw"  full movie