Softball team tries to overcome bad break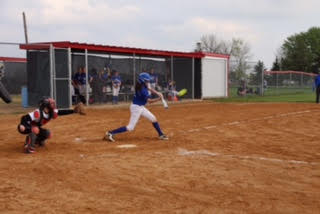 Hang on for a minute...we're trying to find some more stories you might like.
The Cotter softball team finished the regular season 16-4 overall and 14-2 in Three Rivers Conference play. They clinched their third straight Three Rivers East championship.
The Ramblers got off to a hot start winning their first eight games, shutting out opponents in six of them.
In the Mankato tournament, Cotter won their first game 2-1 against St. Peter,
At the Mankato tournament, the Ramblers lost a key part of their team. Sophomore pitcher Isabel Northrop broke her left hand when she was hit by a pitch while she was batting.
The Ramblers lost their other two games of the Mankato tournament to Mankato East 16-1 and Prior Lake 10-0.
Lexi Hadaway has been the Ramblers pitcher since Northrop's injury. The Ramblers defense has stepped up and has been playing very well this year. The Ramblers are also led by senior shortstop Gabby Bowlin. Bowlin is having a great season batting over .500 and she leads Southeastern Minnesota in hits and runs scored.
Sophomore pitcher Isabel Northrop is out for this season. She was initially hoping to be able to return for the playoffs but now will not be able to.
"Watching my teammates has definitely been tough, I really wish that I could be out there with them" Northrop said.
Coach Pat Bowlin has been very pleased with his team's season so far. He is confident that despite the setbacks the team has faced this year, his team can compete for a trip to state this year.
"Losing an all state pitcher is about as bad as it gets, but the team has rallied behind Alexis and done a great job of bringing home another conference championship. We fully intend on competing for a state berth in the upcoming weeks."
The Ramblers play this Friday in the section tournament at top seeded Chatfield at 2 pm. The Gophers beat the Ramblers 12-4 earlier this season. Cotter head coach Pat Bowlin has 699 career wins and will be coaching for win number 700 this Friday.