Active Minds working for inclusion
The  goal of the Active Minds group is to help everyone at Cotter feel included.
Active Minds is a club whose goal is to promote good mental health throughout the Cotter community and works on hosting fun activities for all Cotter students. The group re-started this year after two years of being sidelined by the pandemic.
Active Minds meets every Thursday during lunch, students can bring their own lunch, or simply get a tray in the cafeteria, and go to the meeting in Mrs. Stevenson's classroom.
Active Minds group members often go to Mrs. Stevenson's room to find a break from the stress at school. This year, some senior members are connected to the AASP (Alliance Abuse Substance Prevention). Both Grace Menke and Ellie Glodowski have an internship with AASP.
This group is also the behind lots of the posters around school as well, from the animal posters with the uplifting quotes, to the suicide hot line posters.
Yoga is one of the newer activities they have begun working on. The yoga sessions are held once a month, where fruit if offered in the gym or weight room at 7:45. They plan on having breathing exercises and calming music as well.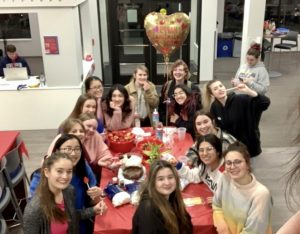 The group held a Valentine's day celebrations, starting with the "Crush for your crush" fundraiser that delivered Orange Crush to students on February 14. This  turned out to be a popular event, with the organizers having to make a last minute run for more soda to meet the demand.  They also had a dorm party on the 13th, where students created a make your own waffle bar, with chocolate covered strawberries. Everyone wore pink or red and had a chance to socialize with the dorm students, and watched some movies together.
Active Minds has also connected  with Jonah Heckman and John Littrell,  who have met with  a group of students who were concerned with LGBTQ+ issues and were looking for a venue to express their concerns. They wanted to ensure all voices are heard and everyone on campus gets shown love and respect in our Christian community at Cotter. This is a different club then Active minds, but they are connecting to both spread awareness and make sure everyone feels included here at Cotter.
Leave a Comment