Cotter sophomore Erica Beckman was chosen to participate in a year long civics fellowship with students from around the country that kicked with a four day trip to Washington, D.C,
Beckman was first introduced to the program by Cotter social studies teacher Sydney Bockelman.
"iCivics is an organization that was created by Sandra Day O'Connor to help with civic education & understanding government operations among students. I use a lot of resources from iCivics in my political science class. They provide teachers with lesson plans, primary source documents, and online simulations for government actions. I receive emails about other programs or classes they offer and last spring saw the email about the Youth Civic Education Fellowship, and after reading about the program wanted to offer it to some students," Ms. Bockelman said.
"I had Erica as a student last year, and saw how engaged she was with social studies – and specifically the role and operation of governments. After reading about the program, I thought she would be a perfect fit and be able to really connect with the other students in discussions about government. She is really mature and has a strong understanding of the world outside of Winona, so I really wanted her to gain more experience with that.  I'm really proud of her because there were around 350 applicants, and only 34 students selected for the program. The program itself includes monthly meetings with the other program participants and included her fully-paid-for trip to DC in late September."
"
She is really mature and has a strong understanding of the world outside of Winona, so I really wanted her to gain more experience with that
— Ms. Sydney Bockelman
The 2024 iCivics' Equity in Civics Youth Fellowship (ECYF)  fellowship got rolling in August and  then Beckman and the other fellows participated in a four-day, in-person symposium in Washington D.C. from September 28 – October 1, 2023, according to an article in the Winona Post.
"Ms. Bockelman first introduced me to the program and that's how I gained interest in applying, however I have always had a love for history and an interest in becoming more involved in the local community and government. It was free to apply so giving it a shot didn't hurt"
"It wasn't so much a symposium as it was a fun in person trip to interact with the country's government, history, and the other fellows. My favorite place to visit was the FDR memorial as it was very big and showed how the country overcame such a difficult time. I also really enjoyed going to the Smithsonian's National Museum of African American History and Culture, and, of course, meeting new friends from across the country."
After returning from their trip to Washington, D.C., the student fellows in the program continue to work in their home communities.
"Currently we are working on a new project to research and create an informational project to inform others of civic education in our community.  I am excited to collect data and do research for this project in interviews during lunch and researching laws created by Minnesota or Winona County, from the level of civic education in terms of what people know around our school to researching what laws our county and state has in terms of required education and classes."
" I have already seen the benefits of how I think differently. I think much more logically and in depth as well as finding that I enjoy hands-on activities for learning. I have been able to meet new people with different experiences and backgrounds as well as using the information I learn and sharing it with those around me," Beckman said.
"
I would love for people to know that giving things a shot even if you are a little unsure about them is a great way to gain new experiences and learn a little bit about yourself.
— Erica Beckman
"A part of the program includes monthly meetings with the other students (via Zoom) and I really hope that those meetings help Erica make lasting connections with other students who are as interested in government and progress as she is. Additionally, I hope that this gives her a really hands-on and inside view on how our government works – and honestly it seems like it already has because she told me about a lot of the meetings they had with Congress members and run-ins with other government officials during their trip to DC. Another part of the program is creating a civics related project that can be accomplished at the school of each participant," Ms. Bockelman said.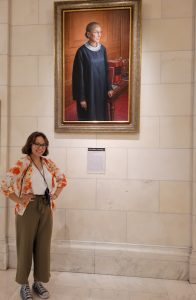 Erica hopes other Cotter students get involved in similar programs or get active in social and academic causes that interest them.
"I would love for people to know that giving things a shot even if you are a little unsure about them is a great way to gain new experiences and learn a little bit about yourself. Before I joined this program I didn't know I had an interest in the government. You don't need to be a part of a fancy program, fellowship, or class to learn and gain experiences from things you are interested in. There are plenty of ways to involve yourself in your own interests from your own couch and that meeting people is one of the best ways to learn and engage with the things you care about."