El Patron: Winona's most Mexican restaurant
Hang on for a minute...we're trying to find some more stories you might like.
El Patron is a Mexican restaurant that offers a variety of food as well as a variety of drinks found in restaurant bar.  It is located in 1415 W Service Dr, Winona, M.n.
El Patron is an excellent option for a going out for a good meal in Winona. The menu offers a variety of food for the adults and younger people as well. The menu includes appetizers,  dinner combos, salads, nachos, tacos, quesadillas, fajitas, lunch, sea food, deserts, and many other options.
The restaurant also offers vegetarian food and Grill food. People who do not enjoy Mexican food have the option of choosing a number of standard American meals.
The restaurant offers  free  chips and salsa before the meal arrives. While chips and salsa are easy to prepare, not everyone can make this quality. In particular, I enjoy the salsa, the combinain of spices and tomatoes were good, probably the best one I have tasted in the United Sates. The chips were also good,with firm texture and crisp flavor.
The night we were there the restaurant was very busy, so the meal took quite awhile to arrive. The waitress was also not too affable.  When I imagine a Mexican waitress I see a very cheerful and talkative person and our waitress did not add much to the dining experience.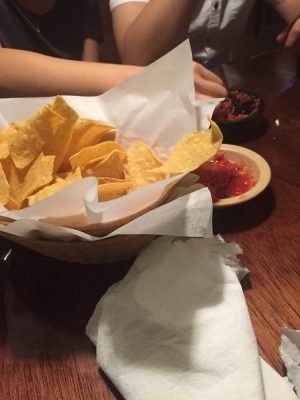 The food was really good.  I ordered enchiladas verdes, which are rolled tortillas with chicken inside, covered with a green spicy sauce. The dishes on the side were rices and beans. I liked all that was on my plate. The beans were cheesy, the rice taste just as good as if I was in Mexico. The enchiladas were simple  and delicious, the sauce on top of the enchiladas reflected the actual Mexican cuisine.
Although the dish was really good, the tortillas were not completely  authentic Mexican tortillas. Tortillas look simple and plain, but they are very hard to make properly. It takes dedication to prepare them, so it is not easy to duplicate them like actual Mexican tortillas.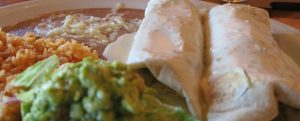 The price of the meals are reasonable, as well as generous portion size. I felt satisfied with the meal that I received.
The decoration of the restaurant tries to replicate a traditional Mexican restaurant, but could have a more authentic or festive atmosphere.  Overall,  El Patron is a good option for what might be the closest thing to true Mexican food in Winona.  Here is a link to their website.