The Ultrasounds- 3rd Year at MWMF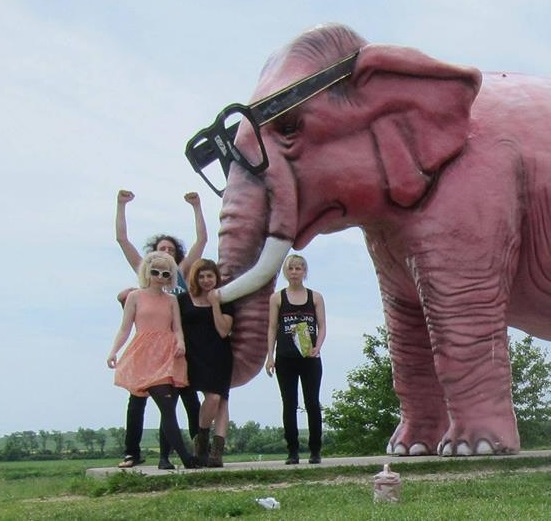 One of the main draws to the Midwest Music Fest in Winona is the large variety of music and musicians who gather in the small town. The genres range from hip-hop to dance, from metal to folk, and everything in between, including fringe styles like "sludgy garage pop."
The Ultrasounds is the band that fills the "sludgy garage pop" position at the festival. The Ultrasounds formed in 2011 and consists of Megan Hanson who was introduced to Amber Fletcher, a young brutal drummer from Winona State University, and Courtney Guenveur a "bass-slaying babette."  Todd Hanson joined the group to the replace the original guitarist after she moved away to pursue other dreams.
These "beach goths living on the Mississippi" have developed their own unique sound that they have brought to the Midwest Music Fest for three year, though Megan and Todd have been part of the festival from the beginning. Todd met Sam Brown at Holzinger lodge during the first year of the festival. After talk with Brown, Todd has been the web and graphic designer the each year of the festival to follow.
The Ultrasounds sight Nirvana, Hole, and the Smashing Pumpkins as their influences, and their influence can be heard in the music.
Sticking to the style of The Ultrasounds' grunge influences, they often play anywhere that will hire them, be it bars, cafes, even hookah bars.
The best part of the fest for The Ultrasounds is just getting to perform, but "also seeing tons of friends and friends' bands play, and discovering new music and meeting new people." They added, "And hopefully getting into a little mild trouble."
The Ultrasounds will be doing what they love at Ed's (no name) Bar Thursday 24 at 7:30 for the Midwest Music Fest.