Dick Cheney: master puppeteer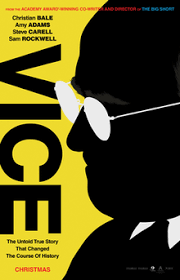 Vice hit theaters December and was met with both great acclaim and controversy by critics and movie-goers alike.
Vice was directed by Adam McKay, who has helmed many notable films such as The Big Short, The Other Guys, and The Anchorman series. In Vice, McKay has blended his masterful approach to drama and comedy, which is evident in the very first scenes of the film.
McKay solicited big names: Christian Bale (Dick Cheney), Amy Adams (Lynne Cheney), Sam Rockford (George W. Bush), and Steve Carrell (Donald Rumsfeld). Vice is both satirical and historically accurate, or at least attempts to be.
Vice is a biopic on Vice-President Dick Cheney, who served under George W. Bush during his tenure in the early 2000s. Dick Cheney is known for being pragmatic, cunning, and even ruthless in his desire for the ultimate power, the office of the presidency. The film does a great job of explaining in laymen's terms the political jargon to the audience and does so in a unique and entertaining way.
The movie follows Cheney's rise to power by chronicling the events of his life and the great influence his wife, Lynne, had on him. The transformation from an out of work drunk to an intern to Donald Rumsfeld (Steve Carrell), and eventually to the status of Chief of Staff during the Ford administration and subsequent positions in the Reagan and Bush White Houses afforded him great success, which albeit is something to admire.
The latter half of the movie focuses on Cheney and his role in George W. Bush's administration. Dick Cheney is known as being the de facto President during 43's administration because he arguably wielded far more power than any American Vice-President in United States' history. Dick Cheney has had an immense impact on American foreign policy which has reverberated for the past 19 years.
Vice should be watched by anyone and everyone regardless of political views or inclination for politics.
Christian Bale won the Best Actor award at this year's Golden Globes for his portrayal as Dick Cheney.
Youtube