2018 Adidas Ultraboost – comfort and performance worth the price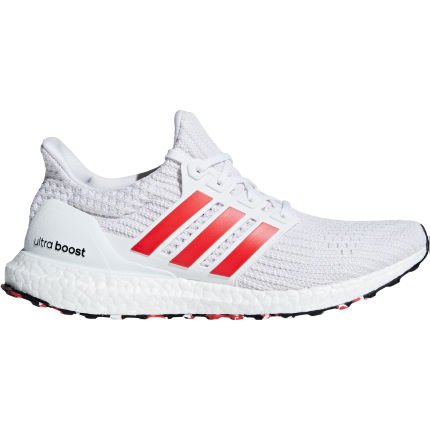 The 2018 Addidas Ultraboost shoe may be one of the nicest shoes on the market, but the question remains….Is it worth the 180 dollars it is typically retailed at?
The shoes best feature is the ¨boost¨ running along the side of the foot from heel to toe, which adds lots of comfort and a little bounce to your step. The boost design is what separates the shoe from many others, adding maximum comfort while still having a sense of stability.
The shoe is listed as a running shoe but I wear mine as a every day type shoe and I love them. The pricing was a bit of an issue for me but I found a good sale for $110 online,  which I was happy with.
I love the way the boost fits to your foot. They fit true to size but take a few days break in. My pair seemed to be small at first but then as I wore them more they worked out just fine, adjusting to my foot.
One question I had coming in was durability. If I was to be wearing this shoe every day could it last me my money's worth. The answer… Yes! The shoe provides a flyknit type mesh and it´s durability is very good, keeping your foot solid and stable while doing any normal day activities. Along with the durability the shoes grip is very good and the soles seem to never wear out, which is one more reason that shoes worked for me. The shoes can work during any weather condition whenever you want to take them out.
While the ultraboost may seem heavy and clunky, it is quite the opposite. The shoe is lightweight and very convenient to wear on any occasion. The outer sole of the shoe is elastic, allowing stretchability which helps the shoe be lightweight. The shoe at times can feel like you are wearing sock because it so lightweight.
A few cons I ran into were that the shoes stains very easily because of the meshed forefoot, which can put a damper on your style. The shoe takes a few days to a week to break in and I know that can be frustrating for many people. Lastly, the price point is a bit high, retailing at 180 dollars which is a deal breaker for some customers.
Overall, the Adidas Ultraboost is a very solid shoe and is worth the big bucks you pay for it. I will be investing in another pair in the future.