Freya's story: pandemic poses hurdle for those with hearing loss
Some were sparkly, some were bright orange, and some were the colors of her favorite sports teams, but the ones she uses now are barely noticeable.
Less than 1 in every 1,000 people in the US becomes deaf before the age of 18, according to a demographic report  from Gallaudet University.
Freya Brandvik, my older sister, is that 1 in 1,000. She was fitted with her first pair of hearing aids at 3 months old, and has worn them ever since.
"We were worried at first, about what her future would look like due to her hearing loss," our father David said.
"Freya has always been strong willed and we let her lead the way in terms of her hearing loss. I am proud of the way she has learned to advocate for herself."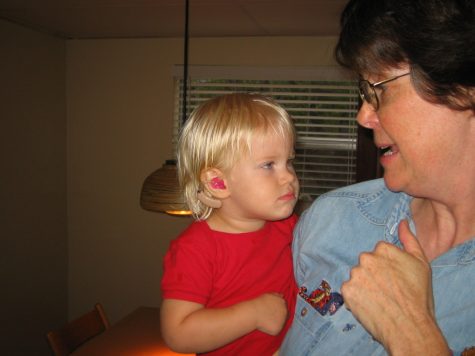 "When it was confirmed that Freya had a severe hearing loss as a baby, one of her audiologists suggested I could help her access the little bit of residual hearing she had by singing to her. And so for the first couple years of her life I kept Freya with me as most moms usually do, in my arms or strapped to my back, and we sang our made-up songs about all the little things in life. We sang about folding laundry, watering plants, sweeping floors, taking out the garbage, cooking food, and everything else. Even then I could see how Freya's hearing loss was not only a challenge, but also an incredible gift for our entire family," Freya's mom, Johanna Frisch, said.
Although her hearing loss have may seemed like an insurmountable obstacle to others, it doesn't hinder her abilities and she has found ways to work around it.
Freya moved to Minnesota in the summer of 2019 and is currently a senior at Cotter, where she is able to thrive in a classroom setting as well as participating in other sports and activities. This year, she was a starting defender on her undefeated soccer team.
"Freya is a powerhouse on the field, even though she's pretty quiet," teammate Megan Morgan said.
It is common for those with hearing impairment to be more quiet and introverted, according to Dr. Kate Salvatore, a Child & Adolescent Psychiatry Specialist.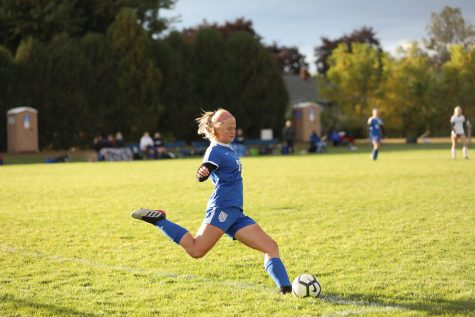 Hearing loss can potentially cause a student to miss up to 50% of classroom discussion, according to the Center for Hearing and Communication, but Freya has found ways to successfully navigate a school setting.
"I've learned to make small adjustments in my life that I don't even notice anymore- where I position myself in a classroom, watching someone's lips when they are speaking," Freya said. 
 Freya also finds that if she is familiar with someone's voice, she can understand them much better than someone she doesn't know well or whose voice she is unfamiliar with.
"If I know someone, I get used to their voice and the little nuances, making it easier to understand them when they are wearing a mask. So I can understand my family and friends better than I can understand strangers." 
"
I've learned to make small adjustments in my life that I don't even notice anymore- where I position myself in a classroom, watching someone's lips when they are speaking"
— Freya Brandvik
Even though she has learned how to navigate life with a hearing loss, the recent introduction of masks into everyday life has proven to be a challenge. Not only do they muffle the volume and clarity of the voice, but they also obscure the lips of the speaker, making lip reading impossible.
in and article published by AARP, Eryn Staats, audiology manager in the department of otolaryngology at the Ohio State University's Wexner Medical Center in Columbus, says that masks reduce the volume by 4 to 12 decibels, depending on the material with which they're made. While that may not seem like a lot, when paired with background noise and other factors, it adds up, and can really limit the ability to hear and understand.
"Masks make it really hard for me to take part in normal things such as school, sports, and other everyday activities," Freya said.
When speaking to someone with a hearing loss while wearing masks, it can be helpful to speak louder and with more clarity.
Although she has faced challenges due to her hearing loss, Freya  wouldn't change anything about her childhood and feels as though adapting to this challenge has taught her a lot of life skills which offset the difficulty she has encountered.
Leave a Comment