Family and sports are two intertwined pillars of Pat Wiltgen's life.
Growing up as the eldest of Ken and Mary Jo Wiltgen's seven children, there was always a game to be had in the driveway or neighborhood. "There were more than 40 kids just on our block, so you didn't have to look far to get something going," Pat's brother Steve said in his comments as his older brother's Hall of Fame presenter.
Pat was an excellent three sport athlete at Cotter, where he was a key performer on the football, basketball, and baseball teams. He was a two year starter at quarterback, earning honorable mention All-State honors as a senior, and also played defensive end.
In basketball Pat was an excellent shooter who was a tw0 year starter at guard. In baseball he pitched and played outfield and 1st base on a team that qualified for State his senior year. Even though his college basketball exploits outshone his work on the diamond. Steve, thinks his best sport was baseball.
"He was an excellent pitcher, he had a fastball, a curve, but his palm ball, or change-up, really set him apart," said Steve, who was an excellent catcher and athlete in his own right.
At St. Mary's College,  Pat was a starting pitcher for one year and three-year varsity player and two-time All-MIAC player in basketball, leading the MIAC in scoring as a senior at over 21 ppg, and scoring 1,156 career points.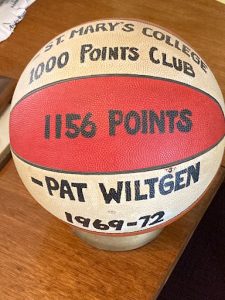 At St. Mary's Pat had the privilege of playing basketball for his dad, who was a long time teacher and coach at the school.
"At St. Mary's, I played for a great coach, my father Ken Wiltgen. Everything I learned about the game of basketball and coaching I learned from him, and I put those lessons to use for the rest of my life."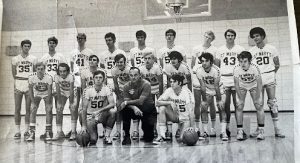 His involvement in athletics has continued throughout his life, he was the Athletic Director at Mabel Canton H.S. for 31 years, where he served as head coach in basketball, volleyball, baseball, and golf for a combined 43 seasons.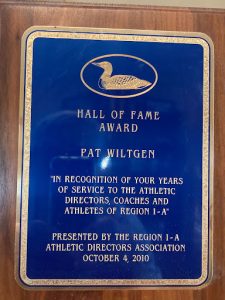 Packy was a high school and collegiate official in football, baseball, softball, and volleyball for 38 years.
"I  couldn't get enough of sports so I got into umpiring and refereeing. With my dad as head of our football crew, along with Bob "Spike" Kaehler,  and my good friend Mark Patterson, we spent a lot of Friday nights interacting with coaches, players, and each other. It was more quality time spent with my dad."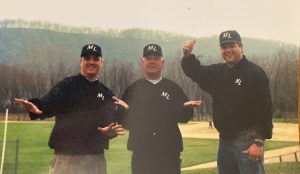 "As a baseball and softball umpire I worked with another good friend, Dave Gisvold, and my brother Steve.  The three of us did all the baseball games at Luther College in Decorah, Iowa, for 10 years in addition to the high school games in Southeast Minnesota.   Dave sold athletic clothing on the side and gave Steve and me shirts, jackets, and hats with the letters ML stitched on.  They were basically for decoration, but whenever players or coaches asked us what the ML stood for, we'd tell them, "Some say Midwest League and others say Minnesota League, but know if we have a disagreement on a call, it stands for MY LEAGUE!"  I think I even had to explain that to Coach Bowlin a time or two," Pat joked.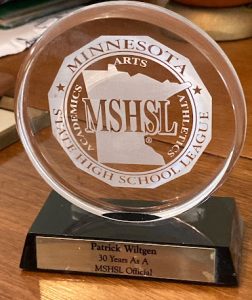 In addition to all of his officiating duties, Pat has also been the MSHSL Region 1A tournament director for over 80 tournaments, a total he continues to add to, in football, volleyball, girls basketball and golf.
"In the mid-1990's I got involved in managing Subsection and Section tournaments.  I really enjoy it because of the interaction with the players and coaches of the teams as well as the officials.  I also see many of my former students and athletes along with those from the other schools we competed with.  Many of them have children who are competing in these tournaments – as well as grandchildren. Yikes!," Pat said.
In his induction comments, Pat gave shout-outs to several other hall of famers.
"I want to mention Tim Browne, my good friend and teammate in football, basketball, and baseball who went on to play football with the Gophers.  Unfortunately, he passed away a year ago.  Secondly, and more importantly, my Big Little Brother, Mark, who also excelled at football, basketball, and baseball.  I'd also like to recognize my coach, Bob Welch, another Hall of Famer, who taught me many lessons in football and baseball as well as in life.  He was a great teacher and coach and passed away way to soon."
"I have to mention our high school principal, Father Paul Nelson.  He ran a tight ship but he was fair, understanding and respectful to and respected by all.  At our 50th reunion I was the emcee and when I mentioned his name in my opening remarks he got a standing ovation.  And he wasn't even there."
In the end, though, the common theme running through the Hall of Fame event was family.
"I have to mention my family and all the support we've given each other through the years.  I've talked about my Dad and what an influence he had on me.  My brothers, Steve, Dave, Jeff, and Mark were all 3 sport athletes at Cotter. When my sisters were at Cotter there were no sports for girls, but Carol was a cheerleader and Julie was a member of the drill team."
"And then there was our rock, Mary Jo, our mother.  She saw to all our needs, kept us well fed, and was always there for support when we needed it. When we'd be out in our driveway playing basketball on a winter night.  The  cold weather would take the bounce out of the ball and we'd take it to the side door where she'd be standing there with a ball she'd just taken off the heater and we'd trade so we had a ball that bounced. She was usually good for 3 or 4 trades per night."
"Packy has made a tremendous contribution to sports in Southeast Minnesota, he was an excellent coach, official, and administrator, he's passed on the love of the game and provided the opportunity to compete and grow for a lot young athletes. They don't make too many like him anymore," said Cotter coach and former athletic director Pat Bowlin.
And that's something the whole family can be proud of.