Toughness and determination are two qualities that stood out when Jessica was playing sports.  Just ask her brothers.
When presenting Jessica at the induction ceremony, her brothers Dan and Jon emphasized that her desire to win and compete until the end of the play was evident from an early age, whether it was throwing an elbow in a driveway basketball game or taking extra reps behind the plate or in the batter's box.
Jessica was a three sport athlete at Cotter who excelled as a post in basketball and as a catcher in softball, and was inducted into the Cotter Athletic Hall of Fame on September 29, 2023.
She also played volleyball, Cotter teacher Nick Whaley was Jessica's volleyball coach. "The HVL had some really strong volleyball teams then, so we were always in battles, but it was a tight knit group that really pulled for each other. Everyone loved having Jessica on the team because she was such a great teammate who always gave everything she had," Whaley said.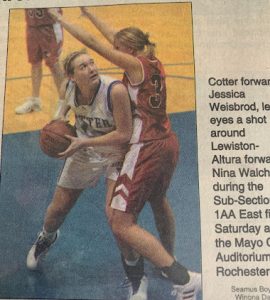 As a basketball player, Jessica twice earned All-HVL honors, was a team MVP, and was named Honorable Mention All-State.  Jessica was a post player, who excelled on defense, was a strong rebounder, and could either score from the post or attack from the wing.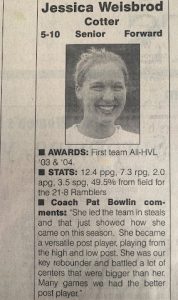 "Jessica always gave a little extra and did the little things to win.  That was never more important in our subsection final game against Lewiston-Altura.  We made a crazy comeback from down 8 with 1:17 left in the game.  Their center, Noelle Hall, grabbed a rebound on a floater that Kelly missed, for her 20th rebound of the game, and as she was bringing it down Jess ripped it from her hands and scored in one motion, it was an incredible play that illustrates the attitude and effort she brought to the game," Coach Bowlin said.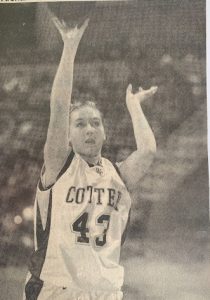 At St. Mary's University she played two years of softball and four years of basketball, earning All-MIAC honors twice and is in the Cardinal's all-time top 10 in rebounds, blocks, starts, minutes, and free throws attempted and made.
"Jess was an all-conference player for us at Saint Mary's, a team captain and our hardest worker.  She was always willing to do anything to help the team improve and led by example with her play and work ethic.  I truly enjoyed coaching Jess because of the energy she brought to the team and the fun she had while playing," said Shawn Stimmel, one of Jess's basketball coaches at St. Mary's.
As a Rambler softball player, Jessica was All-HVL and All-Section three times, was named State Tournament all-tournament team three times, and was named to the Pioneer Press and Coaches Association All-State teams. She was an outstanding defensive catcher who was not afraid take shots to pick-off runners or stop stolen base threats.
"I appreciated that Mr. Bowlin wanted to me to be aggressive whether I was hitting or behind the plate, he encouraged me to take shots to throw runners out and I always trusted our defense to make the tag or handle the throws," Jessica said.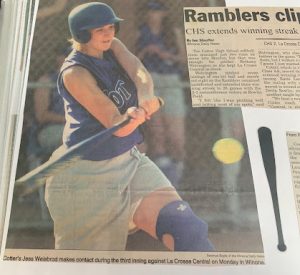 One of Jess's strength was her belief in her teammates.
"There are very few memories of my time at Cotter that don't involve Jess and Kelly both on and off the field and courts. I feel so lucky to have been able to play the sports that I love alongside my best friends; of course it was really awesome that my friends were the best players out there and that our teams were successful. I never once had to worry about being supported by my teammates, both in the game and in life," said 2004 graduate and teammate Lindsay (Maus) Dupic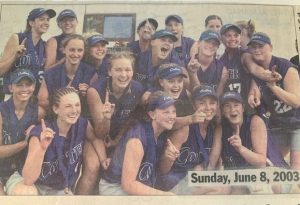 "Looking back sports is where I found my home in school," Jessica said. "I made my best friends through sports and my confidence in myself grew as I found success through sports and that carried over into academics and my life as a whole. Sports were everything to me. They gave me identity, pushed me to be better, tested me, built my community, and gave me a safe place to fail and get back up and try again. Every memory I have from my time at Cotter is connected to athletics in one way or another. There really isn't any way I can separate one from the other," Jess said.
"My first influence was of course my family.  I always wanted to keep up with my older brothers and my parents were always supportive and there for me every step of the way.  The other influence was Mr. Bowlin. He saw something in me early on and nurtured and pushed me to my greatest potential. His words were worth their weight in golf,  without him  I wouldn't have been the athlete and teammate I was or the educator and person I am today," Weisbrod said.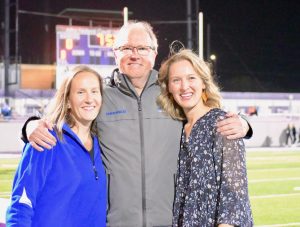 Jessica and Kelly share the 2004 Paul Gardner Memorial Female Athlete of the Year award.
Jessica has worked for the Rochester school district for almost 10 years. She and her husband Jason have three children, Levi, Isaiah, and Hannah.